Found October 30, 2012 on Red's Army:
PLAYERS:
LeBron James
,
Ryan Hollins
,
Chris Bosh
,
Rajon Rondo
,
Mario Chalmers
,
Dwyane Wade
,
Courtney Lee
,
Jared Sullinger
,
Ray Allen
TEAMS:
Miami Heat
,
Boston Celtics
,
Los Angeles Clippers
Tip: 8 PM     Court: Americanairlines Arena    Watch it: TNT  Hear it: WEEI Referees:  Monty McCutchen, Kane Fitzgerald, Sean Wright  Get your tickets here The Matchup   Record: (2011-12) 39-27 Record: (2011-12) 46-20 On road: (2011-12) 15-18 At home: (2011-12) 28-5 Streak: 0 Streak: 0 2011-12 Leaders 2011-12 Leaders Buckets: Pierce (19.4 ppg) Buckets: LeBron James (27.1 ppg) Boards: Garnett (8.2 rpg) Boards: James/Bosh (7.9 ppg) Dimes: Rondo (11.7 apg) Dimes: James (6.2 apg) For the Stat Geeks (2011-12 statistics): For the Stat Geeks  (2011-12 statistics): Offensive Rating: 101.0 (27th NBA) Offensive Rating:  106.6 (8th NBA) Defensive Rating:  98.2 (1st NBA) Defensive Rating:  100.2 (4th NBA) Pace:  90.4 (21st NBA) Pace:  91.2 (16th NBA) Last time Do we really want to get into the last time these two teams met?  Ok, fine… it was the Eastern Conference Finals, and the Celtics had just watched a 7 point halftime lead in Game 7 dwindle to nothing by the en...
Original Story:
http://feedproxy.google.com/~r/RedsAr...
THE BACKYARD
BEST OF MAXIM
RELATED ARTICLES
CANDID CAMERA
This may or may not be real, but it's funny regardless. From thebiglead.com who got it from lobshots.com. My money is on real.  I've already seen Rajon autograph a baby this week, and I know you can buy that shirt outside the Garden after games. Follow Mark on twitter @LucidSportsFan
Thanks to Sportsgal1972, I had the pleasure of attending today's open practice at the Garden. Despite all the action, the highlight of the afternoon was this woman's Rajon Rondo jacket. Straight money. I gotta get two of these for John and Jay. The Celtics treated this as a real practice. Assistant coach Kevin Eastman explained each drill to the crowd. How seriously does Doc...
The very moment that the  San Antonio Spurs won the 1999 NBA championship against the New York Knickerbockers, media-types everywhere took it with a grain of salt. HoopsDoctor columnist Kevin Burke wrote in his article Did the 1999 Labor Shortened Season Really Count at the time: "An NBA Championship is an NBA Championship no matter how you slice it. I'm sure "The...
ESPN Boxscore On this day today (October 29th in 2010), Rajon Rondo had the second most assists in a game ever by a Celtic with 24 (Bob Cousy had 28 in a game in 1959), in a win over the New York Knicks. Rondo had a triple double (10 rebounds and 10 points) and he also had as many assists as the entire opposing Knicks team. One of his better performances. Do you remember this? This...
Looks like that Boston Celtics-Miami Heat tense rivalry just got taken up a notch. Celtics point guard Rajon Rondo had an autograph signing in Portsmouth, New Hampshire, last week, and while he was there, he took a picture with a female fan who was wearing a "LeBron is a ******** T-shirt. There were plenty of questions on the 'net about the authenticity of the shirt, but a second...
LeBron James may post similar assist numbers to his tenure with the Cavaliers.
The super-deep Celtics team that is supposed to create matchup problems and push the Miami Heat for Eastern Conference supremacy never showed up. If this was the best the Celtics have to throw at the defending champions, then the team in green is in trouble. This is not the final product for the Celtics, however, and one uneven night in October will not doom their season on...
When Kevin Garnett loses in the NBA postseason, I imagine he locks himself in a 4 x 12 room, transforms into something resembling the Incredible Hulk, except harrier, howls at the moon continuously, and drinks nothing but V8 juice all summer just so he can feel as much pain as possible.Given how much he loathes his opponents (remember, he deleted Ray Allen's phone number this summer...
Every morning, we compile the links of the day and dump them here… highlighting the big storyline. Because there's nothing quite as satisfying as a good morning dump. Much of the talk about Tuesday night centered on Rajon Rondo's flagrant foul on Dwyane Wade in the closing seconds of the game. Legler did not have an issue with the play. Said Legler: "I look at it as a guy...
Rajon Rondo, Jeff Green, and Jason Terry talk after Sunday's open practice at the TD Garden. Videos courtesy of Chris Forsberg.
MIAMI -- Boston guard Rajon Rondo took out a Miami player. But it wasn't who you thought it might be. It wasn't Ray Allen, believed to be a traitor by some up north for bolting the Celtics last summer to join the Heat as a free agent. It was guard Dwyane Wade, who called Rondo a "punk" for clotheslining him in the final minute of Miami's 120-107 opening-night...
(Las Vegas) - It was just a few short months ago when I was traveling from my gorgeous Summerlin, Las Vegas home to Eastern Las Vegas to watch the USA olympic team practice, scrimmage, and prepare themselves for what would eventually be a gold medal in London. 25% of the team, was riddled with members of the Oklahoma City Thunder, who had just lost to the Miami Heat weeks before...
NBA News

Delivered to your inbox

You'll also receive Yardbarker's daily Top 10, featuring the best sports stories from around the web. Customize your newsletter to get articles on your favorite sports and teams. And the best part? It's free!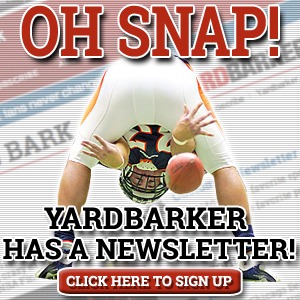 Latest Rumors
Best of Yardbarker

Today's Best Stuff

For Bloggers

Join the Yardbarker Network for more promotion, traffic, and money.

Company Info

Help

What is Yardbarker?

Yardbarker is the largest network of sports blogs and pro athlete blogs on the web. This site is the hub of the Yardbarker Network, where our editors and algorithms curate the best sports content from our network and beyond.