Found May 08, 2013 on BlackSportsOnline:
Normally, I would say this is petty on the woman's part, but considering Jason Collins wasted eight years of her life while out sleeping with other men, I think she is entitled to make as much money as humanly possible off this story. If Jason Collins is going to cash out, so should she.  Here is what she had to say about her upcoming book. "Carolyn will be writing a book as she reflects on her recent life events about her former fiancé. She welcomes submitted questions from the public about what they would like to hear more on given topics that were discuss at the surface level in the interviews. Send your questions to questions@carolynmoos.com and Carolyn will review all of them as she begins to write." I might send in some questions, because there are probably things she knows that Collins doesn't want to get out to the public.  Not trying to downplay him coming out, but to ignore in the process he hurt some people wouldn't be fair. While Collins has acknowledge that he was engaged, I would like him to come clean on how he perpetuated that lie for so many years. If you are going to come out, come all the way out, good and bad.
Original Story:
http://blacksportsonline.com/home/201...
THE BACKYARD
BEST OF MAXIM
RELATED ARTICLES
Carolyn Moos, the former fiancee of Jason Collins, revealed last week she is planning on freezing her eggs — after she said the basketball star wasted eight years of her life lying to her about his sexuality. Moos said she always thought she would get married to Collins and have his children but these dreams were understandably shattered when he broke up with her in 2009 without...
As Jason Collins continues on a world tour with a mic in his hand, some of his attempts to cash out on his announcement have been leaked to the media. Several publishers have said that Collins or someone in Collins' camp have shopped his memoir, it is something that Collins has denied. Officials at three publishing houses told The Associated Press on Monday that they had been contacted...
Jason Collins, the NBA veteran who recently announced he was gay, is seeking a book deal, The Associated Press has learned. Officials at three publishing houses said Monday that they had been contacted about a planned memoir by Collins, the first active player in any of four major U.S. professional sports leagues to come out as gay. The officials spoke on condition of anonymity...
Old Number 98 So a week or so after the Jason Collins announcement, the following thoughts. 1) There's around 2,500 active players in MLB, NBA and the NFL. By the commonly believed numbers for homosexuality, that means there are hundreds of closeted players, and even if you think that number is more like 1%, there's still dozens more. Note that no one else has followed...
Please Adam Silver, don't call any foreign names for the Wizards! The 2013 NBA Draft is not until June 27th, and while we won't know for certain where the Wizards will be selecting in the first round until May 21st, we do know that the Wizards own the 37th and 54th overall picks. More times than not 2nd round draft selections are overlooked and don't have much value in the...
Ernie, please but that European bait away! The Washington Wizards had a successful second half of the season minus Bradley Beal's injuries which eventually shut him down for the season. A lot of Wizards fans are excited about this team's future, especially the Wizards young backcourt of John Wall and Beal. That being said, Wiz fans are always worried that the front office will...
In the little more than a week since Jason Collins came out, some of the greatest wisdom on the situation has come from some unlikely sources. Metta World Peace offered one of the most memorable insights, claiming that Collins' announcement had inspired him to wear a Cookie Monster outfit to a news conference. Charles Barkley, who is also known to say some outrageous things, was...
The Democratic National Committee says NBA veteran Jason Collins will headline its annual lesbian, gay, bisexual and transgender gala. Last week, Collins became the first active player in any of four major U.S. professional sports leagues to come out as gay. President Barack Obama called the 34-year-old athlete the same day to congratulate him and tell him he was proud of his courage...
JR The Bossman (@JRTheBossman) will be joined by Robert Littal (@BlkSportsOnline), CEO/Founder of BlackSportsOnline.com to talk about the top stories in sports and entertainment such as how Jason Collins is still cashing out, the NBA Playoffs, Rob's trip to Vegas for the Mayweather fight and educate the Dollarnaires on things that will ensure success in their everyday lives. ...
Video: Chris Bosh turns Jason Collins straight
Random questions is back. I don't have a good name for the series outside of random questions. If you have an idea, please let me know and I'll put it to good use. If you aren't aware, this series is me asking people a handful of random questions that I think of at the time. That's pretty much it. Some are sports related. Most are not. This week I'm joined...
From Dave Zirin at The Nation: There's another side of this, however, that could not have escaped RGIII's precise mind as he considered the concepts of sports and sacrifice: There is no way in heaven or hell Muhammad Ali, who is of African, Native American and Irish ancestry, would have ever accepted being called a Redskin. Read the whole thing. Related: Cleveland Indians conscious...
Wizards News

Delivered to your inbox

You'll also receive Yardbarker's daily Top 10, featuring the best sports stories from around the web. Customize your newsletter to get articles on your favorite sports and teams. And the best part? It's free!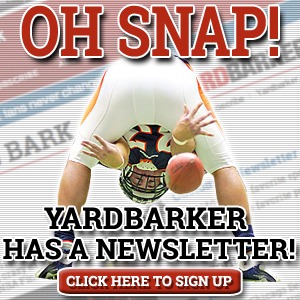 Latest Rumors
Best of Yardbarker

Today's Best Stuff

For Bloggers

Join the Yardbarker Network for more promotion, traffic, and money.

Company Info

Help

What is Yardbarker?

Yardbarker is the largest network of sports blogs and pro athlete blogs on the web. This site is the hub of the Yardbarker Network, where our editors and algorithms curate the best sports content from our network and beyond.