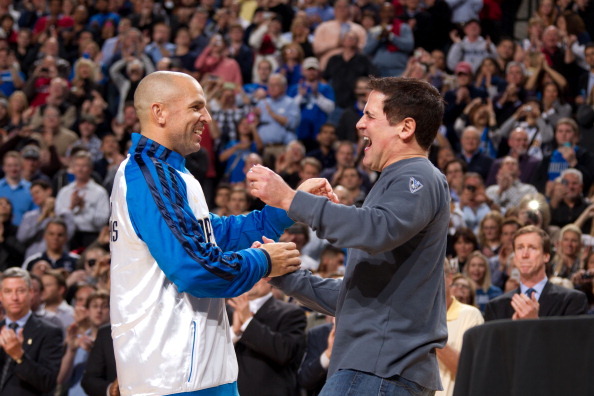 New York Knicks guard Jason Kidd will face off against his former team the Dallas Mavericks Friday night at the Garden for the first time since becoming a member of the Knicks.  Kidd said he wont be affected by the comments Mavericks owner Mark Cuban said after he left. "I'm sure I'll get over it at some point," Cuban said on a Dallas radio in August, "but as of now, I wouldn't put J-Kidd's number in the rafters." Kidd, 39, responded after practice Wednesday:"I don't play for a jersey [in the rafters], I play for my teammates, Cuban owns the team, so he has every right to his opinion. The one thing he can't take away is the championship ring that we helped him get." The Mavericks championship was two seasons ago, now Kidd and former Mavericks forward Tyson Chandler are teammates in New York. "It's a different team than I played with, especially with Shawn Marion going down and Dirk not being there," Chandler said of the team's two injured stars via The NYPost.com. "It's not the same, but Dallas will always have a special place in my heart because we won a championship together." Kidd signed a three-year, $9 million deal with the Knicks.  He reportedly was offered three years, $11 million from the Mavericks.
Read the rest of this story...
MORE FROM YARDBARKER
NBA News

Delivered to your inbox

You'll also receive Yardbarker's daily Top 10, featuring the best sports stories from around the web. Customize your newsletter to get articles on your favorite sports and teams. And the best part? It's free!