Found August 21, 2013 on Pass The Pill:
Photo Credit: AP It feels like 'Linsanity' was centuries ago at this point, and Houston Rockets guard Jeremy Lin was still feeling the affects of that pressure in his first season. Lin spoke candidly about his first season with the Rockets, primarily about his struggles, and even went as far to say that the Rockets coaches were "losing faith" in him. Here are some revealing quotes from Lin, courtesy of ESPN: "I became so obsessed with becoming a great basketball player … trying to be Linsanity, being this phenomenon that took the NBA by storm," Lin told a crowd of approximately 20,000 at the Dream Big, Be Yourself youth conference in Taipei, Taiwan. "The coaches were losing faith in me; basketball fans were making fun of me. … I was supposed to be joyful and free, but what I experienced was the opposite. I had no joy, and I felt no freedom." Lin admitted during the youth conference that he placed extremely high expectations on himself upon joining the Rockets. "I was ready to invigorate the entire city of Houston," he said. "I was supposed to save Houston basketball." Lin further explained the struggle of fame post 'Linsanity': "The one thing I learned was how empty fame and worldly success really are. … The desire for success never stopped," Lin said. "If the voice that you listen to the most isn't God's voice, then eventually you will experience that emptiness, confusion and misery that I felt when I listened to the voice of Linsanity." To me, Lin is somewhere in between the hype of his tenure with the Knicks, and the unimpressive inaugural season with the Rockets. However, basketball is all about confidence, and Lin will need to get some of that back before he will enjoy any success. A certain big man in Houston this season may be a bit of help as well.. By: Frank Santos- Pass the Pill Manager   The post Jeremy Lin: Rockets coaches lost faith in me appeared first on Pass The Pill - Kings of Hoops.
Original Story:
http://sports-kings.com/passthepill/j...
THE BACKYARD
BEST OF MAXIM
RELATED ARTICLES
Many a successful person has lived out the warning of Mark 8:36 without knowing there's a chapter and verse that predicts his or her troubles. Jeremy Lin at least realized the disconnect within a year. The Houston Rockets star, who rose to fame after an incredible run in 2011 with the New York Knicks, spoke about his sudden ascent and his struggles with his new identity at a youth...
  "Linsanity" was the best and worst thing that could've happened to Jeremy Lin. When Lin took the basketball world by storm two seasons ago while playing for the New York Knicks, it was supposed to be the beginning of something special for the California native, but after signing a lucrative deal with the Houston Rockets last year, he found it difficult to recapture that...
Jeremy Lin spoke candidly about his first season with the Houston Rockets, though it included 20,000 people at a youth conference in Tapei. "I was ready to invigorate the entire city of Houston," said Lin. "I was supposed to save Houston basketball." Lin was signed by the Rockets last offseason after becoming a productive scoring guard with the New York Knicks. "I...
Houston Rockets: What Projected Second Stringers MUST Work On By Mike Elworth: Owner and Publisher PG: Patrick Beverley- Field Goal Percentage - Beverley is an excellent defender, a solid rebounder and distributor and a capable scorer, but he needs to improve his field goal percentage. He is set to have a far bigger role next season, as he is a better fit in the backcourt with James...
Free agent guard Ronnie Brewer has agreed to sign with the Houston Rockets a person familiar with the deal told USA TODAY Sports' Jeff Zillgitt. Brewer's deal is for two years and is partially guaranteed. The person requested anonymity because the contract had not been made official. Brewer played the first half of the 2012-13 season with the New York Knicks before being...
Heading into last summer, life was just a bowl of cherries for Free Agent guard Jeremy Lin after signing a three-year deal with the Houston Rockets, however by last December the young man who took the Association by storm the season before, was looking at nothing but pits. Lin became the feel-good story of the 2011-2012 campaign as the 12th man on the New York Knicks roster was...
Tweet Last week Houston Rockets star James Harden recorded a terrible (yet hilarious) R&B song as part of a commercial for athletic apparel chain Foot Locker. This week, Foot Locker has released a remixed version of the song featuring Stephen Curry, who co-starred in the initial commercial. Check it out: This is so bad that […]
There is no question Jeremy Lin struggled at times last season with the Houston Rockets. Lin said he really struggled with the fame from Linsanity. Lin even said the coaches lost faith in him. I became so obsessed with becoming a great basketball player … trying to be Linsanity, being this phenomenon that took the NBA by storm," Lin told a crowd of approximately 20,000 at the...
For a two-week period, Jeremy Lin was the fascination of the whole basketball world. He revitalized the Knicks and was playing at the highest level on the league's biggest stage. It was awe-inspiring and the media latched onto him quicker than his ascendance. The breakout season put him out of the Knicks' price range ultimately and the he signed a three-year, $25.1 million...
The Kings hired Ryan Bowen as an assistant coach and assistant director of player development Wednesday. Bowen an assistant coach for the Denver Nuggets the past two seasons joins Brendan Malone Chris Jent Corliss Williamson Dee Brown and Micah Nori on new coach Michael Malone's staff. In 10 NBA seasons Bowen played in 507 games with the Nuggets (1999-2000 2003-04) Houston...
GOLDEN VOICE?
Previously on That NBA Lottery Pick, we featured James Harden/Stephen Curry's Foot Locker commercial that contained a song called "Harden Soul". Well, the song has a remixed version and Mr. Curry gets his chance to show off his vocal range in this one:
Last week, James Harden made his R&B singing debut on Foot Locker's latest commercial with Golden State Warriors star Stephen Curry being critical of the Rockets star's "ability." Now, Curry is taking his turn to display his own "talent" on a "Foot Locker approved" remix video of Harden's one hit wonder on YouTube. In the remix, Curry...
Rockets News

Delivered to your inbox

You'll also receive Yardbarker's daily Top 10, featuring the best sports stories from around the web. Customize your newsletter to get articles on your favorite sports and teams. And the best part? It's free!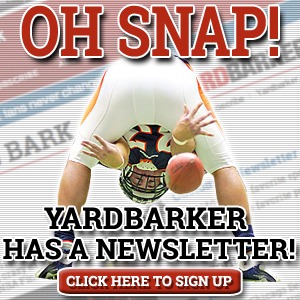 Latest Rumors
Best of Yardbarker

Today's Best Stuff

For Bloggers

Join the Yardbarker Network for more promotion, traffic, and money.

Company Info

Help

What is Yardbarker?

Yardbarker is the largest network of sports blogs and pro athlete blogs on the web. This site is the hub of the Yardbarker Network, where our editors and algorithms curate the best sports content from our network and beyond.