Found November 21, 2012 on Fox Sports Florida:
Do not think it happenstance when J.J. Redick sends defenders flying by him with his shot fake. Neither should you think it a coincidence the number of times Redick finds himself isolated in a pocket of space, basketball in hand and no defender in sight. Instead, credit Redicks attention to detail. The sharpshooter has it in abundance. On Tuesday night, Redick took a small break from turkey duty during the second annual Thanksgiving meal distribution he and his wife host, to explain his precision on the court. I take pride in cutting hard," the seventh-year guard said. "I know that if I go hard every time, the defender wont know the difference between my shot fake and my real shot. Thats dangerous. Sometimes I even make cuts knowing I wont get the ball just to set my defender up for the next cut. Its almost like a game I play within the game. Off the court, Redick is just as precise. When he began to define himself for his Twitter bio, he carefully considered the order of his first two words. Christian. Husband. After the next two descriptions, foodie and music lover, Redick casually threw in, I also play basketball, as if one the most prolific scorers in college basketball history almost forgot his record-breaking career at Duke. It sounds silly, but I didnt always have it in the right order, Redick said, referring to how careful he was in ordering his Twitter bio. The college star had managed to score more points than anyone in Duke history, rack up on national Player of the Year awards in his junior and senior seasons, and successfully make the transition despite many critics in his first few years to becoming a valuable offensive threat in the NBA. Still, Redick felt a void when it came to his identity and purpose. I had some dark periods of time in my life, Redick said. But, my life changed when I was 24 years old. September 2008, to be exact. Of course Redick would know the month and year. The shooting guards brain is wired to remember the specifics. As if to slow down a racing heart, he put his hand over his chest and breathed in deeply as he began to talk about his personal growth. Just the idea that God will meet me where Im at and clean up the mess, Redick said. When I finally surrendered it over, it was life-changing. It was like a weight I had been carrying for so long had been lifted off my back. Redick had found the first word in his Twitter bio and the foundation where his purpose would begin. Around that same time he also meet his future wife and came to know that the second word in his bio would be the next most important part of his life. Talk about Gods providence, Redick said as he looked over at his wife interacting with the families of Orlando. When I met Chelsea, I was finally ready to have a real relationship. The timing couldnt have been more perfect. She is the physical manifestation of Gods love for me. Since their marriage two years ago, the couple has been sharing their hearts and lives through service with people in the community. The Thanksgiving meal distribution will always hold a special place in their marriage. It was the first community event the newlyweds hosted as a couple. Last year, they also founded the JJ Redick Foundation, a not-for-profit organization established to benefit underprivileged youth. In Redicks inaugural celebrity golf tournament, the foundation raised more than 110,000. Earlier this year, his foundation gave 25,000 to begin the expanding effort for the Russell Home of Orlando, a private, non-profit facility for severely handicapped children. Redick has also helped organizations in his home town of Roanoke, Va. We cherish being able to give back, Redick said. Our service is a way for us to say thank you. Im a big fan of the passage John 15. When God tells us to abide in him and we will bear fruit. Not only in our lives, but our fruit will also impact the lives of others. Thats my No. 1 goal in life, to share the love that was given to me. How can I produce fruit in His kingdom? How can I witness in a way that doesnt turn people off? Redick views basketball as an opportunity to bear fruit as well, saying that his faith has given him a sense a perspective that he didnt have before. The competitiveness of professional sports often weighed him down. The inability to control things often stressed him out. The highs and lows of an NBA season kept in on an emotional rollercoaster. All the uncertainties, the peaks and valleys, its a lot to deal with, Reddick said. For a long time I didnt have a foundation. I found myself just tossing and turning with the wind. Now when I go through things, I am able to take a step back and focus on what I am supposed to gain. The shooting guard said one of the first lessons he learned through faith and basketball was patience. Coming out of college, patience was the characteristic he lacked the most. He struggled his first few years in the NBA to find his identity with limited minutes and a limited role with the Magic. Its not like now I cut harder or I work out harder. Ive always been a hard worker," Redick said. "Its more of a mindset for me. I can remember when I finally started to understand that these struggles come to build my character. As the years passed, Redicks hard work and newfound mindset would pay off. In the 2009-10 season, he became an instrumental part of the Magic with Stan Van Gundys system to surround center Dwight Howard with shooters on the perimeter. This year, in an new system under new head coach Jacque Vaughn Redick has redefined his game, becoming more of a creator rather than just a catch-and-shoot player. During many interviews after practice Redick has been asked about his consistent play despite a new offense and new head coach. I have never been more comfortable than I am right now on the court, Redick answered. Thats not to say, that Im entirely comfortable with Jacques system. We obviously still have a lot of things to learn. But, just reflecting on my personal game, Im definitely starting to see the benefits of my work over the years. Tuesday night, as the seven-year veteran handed out turkeys with his wife to the families who passed through Rosemont Community Center, the tattoos on each of his forearms were visible for anyone to see. On the left arm are lyrics from the band Kings of Leon. Single book of matches, gonna burn whats standing in the way. Redick explained that the lyrics mean that hes given a finite amount of time and resources to do something. Whatever obstacles and challenges that arise, he has to figure out a way to burn them down. On the right arm are verses from Psalm 40, a passage that reads, He lifted me out of a slimy pit and gave me a firm place to stand. In a career where highs and lows are extreme and unforeseeable, Redick depends on his faith to be his foundation. Through that foundation he has found his lifes purpose in serving others. But you dont have read the sharpshooter's forearms or even his Twitter bio to get a glimpse of his life story. Just like you can conclude Redicks attention to detail from his play on the court, he hopes his life will also tell of the things he is most passionate about. I want my actions to speak for me, he said.
Original Story:
http://www.foxsportsflorida.com/11/21...
THE BACKYARD
BEST OF MAXIM
RELATED ARTICLES
Magic rookies have begun to take over the lineup. Maurice Harkless made his first career start Wednesday against Detroit and it is becoming clear that the coaching staff is gaining confidence in his ability and potential. Andrew Nicholson too has made an impact coming off the bench for the Magic. Even Kyle O'Quinn made his non-garbage time debut Wednesday night against Detroit...
The Orlando Magic have been brutal offensively the last two weeks, with their lone win being the exception. The Magic will try to replicate that offensive showing in Wednesday night's rematch with the Detroit Pistons, who have been inconsistent defensively. After opening the season by averaging 108.5 points in a pair of wins and scoring 93 in a loss to a Chicago team known...
Game time: 7 p.m. ET TV: FOX Sports Florida The Orlando Magic have been brutal offensively the last two weeks, with their lone win being the exception. The Magic will try to replicate that offensive showing in Wednesday night's rematch with the Detroit Pistons, who have been inconsistent defensively. After opening the season by averaging 108.5 points in a pair of wins and...
The Magic entered the holiday with a win against the Pistons. But the real meaning of the holiday for the Magic is the yearly community service the Magic participate in every year at this time. Jameer Nelson, Maurice Harkless, Glen Davis and Jacque Vaughn were among the players who went to the Coalition for the Homeless to serve meals this morning. The Magic have gone to the...
Andrew Nicholson scored 15 points, Glen Davis had 11 points and 14 rebounds, and Orlando used a 21-0 run to open the third quarter to earn a 90-74 victory over the Detroit Pistons on Wednesday night. Orlando struggled to compete with Detroit's big men early, but used the big spurt to blow open the game. The surge included a more than 10-minute scoring drought by the Pistons...
Adam Silver was made available to the media while the Magic were in Atlanta and the Magic media contingent asked the deputy commissioner and commissioner in waiting his thoughts on how Dwight Howard exited Orlando (h/t Josh Robbins of the Orlando Sentinel): It's an unfortunate circumstance," Silver answered. "I don't want to sugarcoat it. It's been that...
Things have certainly been tough for Lawrence Frank and the Pistons so far this season. After starting the season with just two wins in the first 11 games, Detroit was looking to capitalize on a dominating effort against Boston from the other night. However, it was the Pistons dominating themselves Wednesday night in Orlando. After connecting on just 28 of their 85 field goal attempts...
Orlando, Fla. (2-9) vs. (3-7)    Time/TV: 7 p.m./FSFlorida Line: Magic by 1.5 Tickets: $8-$850 on Vivid Seats Season Series: Won 110-106 in Detroit on Nov. 18; Tonight in Orlando; Jan. 22 in Detroit; Jan. 27 in Orlando   Pace Off. Rtg. Def. Rtg. eFG% O.Reb.% TO% FTR ...
There were not any nuggets of wisdom for Jacque Vaughn to share after Orlando put the finishing touches on a 90-74 victory over Detroit at Amway Center on Wednesday. There was no inspirational speech or enlightening words for Vaughn -- or really anyone -- to share to explain what happened in the third quarter. It really might have been as simple as the team putting in the right...
Atlanta, Ga. (3-6) vs. (4-4)    Time/TV: 7:30 p.m./NBATV, FSFlorida Line: Hawks by 10.5 Tickets: $4-$238 on Vivid Seats Season Series: Tonight in Atlanta; Dec. 12 in Orlando; Feb. 13 in Orlando; March 30 in Atlanta   Pace Off. Rtg. Def. Rtg. eFG% O.Reb.% TO% FTR ...
NBA News

Delivered to your inbox

You'll also receive Yardbarker's daily Top 10, featuring the best sports stories from around the web. Customize your newsletter to get articles on your favorite sports and teams. And the best part? It's free!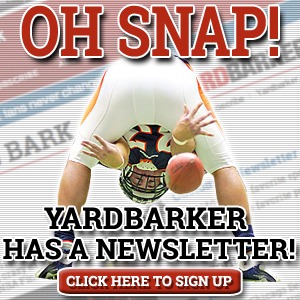 Latest Rumors
The Backyard

Today's Best Stuff

For Bloggers

Join the Yardbarker Network for more promotion, traffic, and money.

Company Info

Help

What is Yardbarker?

Yardbarker is the largest network of sports blogs and pro athlete blogs on the web. This site is the hub of the Yardbarker Network, where our editors and algorithms curate the best sports content from our network and beyond.