Found January 17, 2012 on State Of The Celtics:
Kevin Garnett and the majority of the Boston Celtics have looked old, slow and stuck in cement for the majority of the season. That shouldn't come as a major surprise to anyone watching the games since the Celtics actually are old and slow. It just seems to be that people are in denial about how old and slow this team actually is and continue to blame this season's issues on last season's trade of Kendrick Perkins.
John Hollinger of ESPN
says that the biggest problem for the Celtics isn't the absence of Perk, but the absence of Garnett's athleticism and physical attributes.
And that, in a nutshell, is the story behind the 2011-12 Celtics. Garnett, the linchpin of one of the best defensive teams in NBA history over the past four seasons, can't get off the ground, and it's affecting his game at every level. Monday night he used 25 possessions to produce 12 points, with several close-in shots providing particularly poignant reminders. One close-in flip that would have been a dunk two years ago went in, but another was instead rejected by Serge Ibaka.

Last season, Garnett made a staggering impact defensively. Boston gave up 6.19 fewer points per 100 possessions with him on the court than off it, and the Celtics already were among the league's best defensive teams without him. According to basketballvalue.com, only one player -- Chicago's Ronnie Brewer -- had opponents score less when he was on the court than Garnett's 97.84 points per 100 possessions.

This season, Garnett is nowhere to be found on that leaderboard; Boston gives up the same amount whether he's on the court or off it, even though his replacement is normally the defensive suspect Brandon Bass.
Hollinger couldn't be more right. KG can't jump anymore. It's been evident since Christmas Day. The explosion and the lift is gone. And I fear that it has nothing to do with conditioning or a shortened training camp. It has everything to do with age. There are too many miles on those legs and they're starting to betray him. See last night's game for some perfect examples. Perk and Serge Ibaka got their hands on a few of KG's jumpers, something that would have never happened a couple of years ago or maybe even as recently as last season. Garnett has been relegated to the use of the floater, lay-in and finger roll when he's close to the basket instead of throwing down monstrous two-handed dunks and finishing them off with primal screams. Even worse, he's been missing those easy lay-ins lately and hasn't been able to get off the ground enough to grab his own rebounds.
The sad part about all of this is that it seemed to happen overnight. I don't remember him consistently looking this bad last year. It only took seven months for one of the all-time greats to go from a still-effective defensive presence and floor leader to a liability.
The sadder part about all of this is that it isn't going to get any better.
Original Story:
http://feedproxy.google.com/~r/StateO...
THE BACKYARD
BEST OF MAXIM
RELATED ARTICLES
PBT: The Boston Celtics are off to a 4-7 start after Saturday's loss to the Pacers — and part of the problem is Kevin Garnett has been just average.
Last time Kendrick Perkins met Kevin Garnett and the rest of the Celtics team on the court we were a serious contender. We had beaten the Lakers, the Heat and were having quite a successful season. The problem then was who would be the starting center for us. We had Shaq, Jermaine, Semih and Perkins. We had been beaten by the Lakers in the previous Finals because of the lack of...
Some of us are optimistic the Celtics will get their sh*t together and turn on the jets... eventually. They can't be this bad for the duration of the season, can they? The Cs are 4-8. Twelve games represents 18% of a 66 game season. That's a decent sample. Here are some ugly numbers: Have two fewer wins than the Cavaliers One more win than New Orleans Are...
Yahoo's Adrian Wojnarowski says GM's are calling Danny Ainge and asking about Paul Pierce: As Kevin Garnett and Allen become free agents this summer, money will peel away from the salary cap. Between then and now, the bigger question promises to be: Does ownership and general manager Danny Ainge go for the complete rebuild and trade Pierce before the March 15 deadline...
Fans are busy making plans for the Boston Celtics' funeral. Danny Ainge is clearly disturbed by a 4-8 start that includes zero wins against the NBA's top 27 teams. Opposing GMs smell enough blood in the water that they're inquiring about Paul Pierce. John Hollingers says to blame Kevin Garnett. The Celtics have lost five straight games and nothing seems to come easy for them...
The Big Three -- Paul Pierce, Kevin Garnett and Ray Allen -- brought a championship to Boston in their first season, and have kept the Celtics among the Eastern Conference's elite since joining forces in 2007. But with the C's sitting at 4-8, and each player continuing to get older, is it time for Danny Ainge to break up the unit and start fresh? Things certainly aren'...
by Marcel Mutoni / @marcel_mutoni Despite last night's victory over the Toronto Raptors, things are grim in Boston. Rajon Rondo joked darkly that the W signaled the longest winning streak of the season for the Celtics, and there's growing talk that the front office could be looking to shake things up in dramatic fashion. With a 5-8 record, an old roster and growing doubts about...
John Hollinger on Dwight Howard's defense this year (Insider): "He hasn't been as impactful this season. He's also been noticeably more reticent to contest shots when he has fouls, which may be a tactical decision. However, it doesn't take a rocket scientist to connect the other dots -- at times he looks like a guy who is playing just hard enough to avoid...
NBA News

Delivered to your inbox

You'll also receive Yardbarker's daily Top 10, featuring the best sports stories from around the web. Customize your newsletter to get articles on your favorite sports and teams. And the best part? It's free!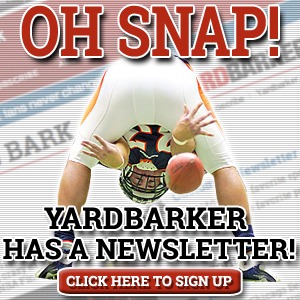 Latest Rumors
Best of Yardbarker

Today's Best Stuff

For Bloggers

Join the Yardbarker Network for more promotion, traffic, and money.

Company Info

Help

What is Yardbarker?

Yardbarker is the largest network of sports blogs and pro athlete blogs on the web. This site is the hub of the Yardbarker Network, where our editors and algorithms curate the best sports content from our network and beyond.