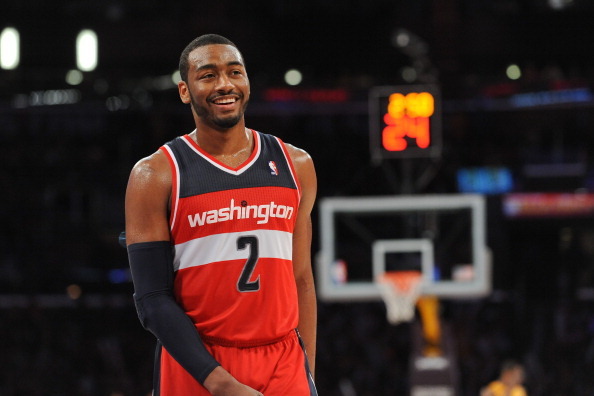 (Credit: deuceofdavenport.com) The NBA today is overloaded with talented athletes. Nowhere else in the world will you see so many fast and athletic players going at it on a nightly basis. One of the more intriguing matchups of late has been the point guard battles between John Wall of the Washington Wizards and Russell Westbrook of the Oklahoma City Thunder. During a recent game between the Wizards and Thunder, Wall broke lose on a one-man fast break, and was nearly chased down by Westbrook from the other end of the floor. This got the debate going as to who actually is the faster of the two. While Westbrook has claimed more overall success thus far in his career, Wall pulled no punches about his confidence in his ability. Via The Washington Post: After the game, Wall was asked if Westbrook was the fastest player in the league and replied, "No, I'm going to say myself." Wall then flashed a playful grin and refused to bite when asked if Westbrook was at least the second-fastest player in the league. "It's tough man," Wall said. "There's a couple fast guys in this league. He's up there, Derrick [Rose] is up there, when he's healthy. Mike Conley's pretty quick. It's different guys. Ty Lawson's quick. So there's a lot of guys, but I put myself first. Just for fun." In stride with the trends in pretty much every professional sport, players in the NBA are getting bigger, faster, and stronger every day. The game has really evolved in an amazing fashion, so to say he's the fastest really says something about John Wall. Whether he is or not, we won't know unless someone organizes a forty yard dash putting all the superstar point guards against each other. But Wall says he's the fastest. I won't disagree with him.   The post John Wall says he's the fastest player in the NBA appeared first on Pass The Pill - Kings of Hoops.
Read the rest of this story...
MORE FROM YARDBARKER
NBA News

Delivered to your inbox

You'll also receive Yardbarker's daily Top 10, featuring the best sports stories from around the web. Customize your newsletter to get articles on your favorite sports and teams. And the best part? It's free!
Best of Yardbarker
NFL News
MLB News

Today's Best Stuff

For Bloggers

Join the Yardbarker Network for more promotion, traffic, and money.

Company Info

Help

What is Yardbarker?

Yardbarker is the largest network of sports blogs and pro athlete blogs on the web. This site is the hub of the Yardbarker Network, where our editors and algorithms curate the best sports content from our network and beyond.