Found July 18, 2012 on Fox Sports South:
While visions of Dwight Howard might be dancing in the heads of Hawks fans, the future of another free-agent-to-be is more central to the teams long-term success. Hes one of their own -- Josh Smith. Anyone who watched the Hawks last season knew it was a travesty that Smith did not earn a spot on the NBA All-Star team. He was the Hawks co-leader in points-per-game (18.8) and leader in rebounds-per-game (9.6) while averaging 3.9 assists and 1.7 blocks in playing all 66 games. In the playoffs, he upped his game, averaging 13.6 rebounds and 4.8 assists (his points dropped off by 2.0 per game, but its harder to score in the playoffs when defense and intensity pick up) and its arguable that by Smiths getting injured and missing a game, the Hawks might have missed an opportunity to eliminate Boston in the first round. For a while now, multiple reports have stated that Smith has asked to be traded, a situation that he has resisted commenting on publicly. If new general manager Danny Ferry didnt consider Smith as integral to the Hawks future, Smith probably wouldve been gone already. Joe Johnson was traded despite the teams owing him 90 million and having six All-Star appearances under his belt. Marvin Williams, who also reportedly asked for a trade, was dealt almost as soon as Ferry took over. But not Smith. Instead, Ferry met with the immensely talented forward soon into his tenure, indicating that keeping Smith is probably high on Ferrys priority list. The GM hasnt divulged too many details about the meeting, only telling FOXSportsSouth.com that I had a good meeting with Josh. I enjoyed talking with him and enjoyed starting to get to know him. Nonetheless, the intention would appear that Ferry is trying to get Smith to stay beyond 2012-13, after which Smiths contract expires and that Ferrys entreaties may be working. In a story published on Tuesday with SI.com, Smith promptly responded, No when he was asked if he still wanted to be traded. Its interesting, Smith told SI.com. I think we have a great GM in Danny Ferry and he has a plan that hes putting together. It looks good. I really am just trying to get to know these guys, to build a relationship and see where the team is going to end up closer to veterans camp. Im just excited. We have a lot of elite shooters and I can see us being a run-and-gun shooting team. Maybe its also that fans werent the only ones who were tired of the Hawks having Johnson as their first option on offense. Johnsons absence means that Smith will get more touches and more shots. In the six games that Johnson missed, Smith averaged 23.2 points per game (Al Horford also was out at the time so the Hawks had fewer options but that remains a big jump) compared to 18.3 with Johnson in the lineup. In addition, some of Smiths best games with Johnson out came against some of the best teams in the league: 23 points at eventual league champion Miami on March 7, 27 at Indiana on March 6 and 30 against Western Conference champion Oklahoma City on March 3. In the Oklahoma City and Indiana games, Smith shot better than 50 percent (22 of 41). Ferry already has said that by adding more and better shooters to the roster, he expects to free things up for Smith. That has to be music to Smiths ears (even if fans continue to emit their collective exasperation when he lets fly a long jumper next season). Smith is such an amazing athlete that if hes defended one-on-one on the low block next season, his scoring average (and possibly field goal percentage) could skyrocket in the same manner as his vertical leap does. In the lockout-shortened season, Smith set a personal best with 1,101 field goal attempts. Johnsons fewest were his 931 last season and in his seven seasons in Atlanta, he averaged 17.6 shots per game. As a result, Smith is likely to pick up a good number of those. Back in May, Smith was singing a somewhat different tune. He gave some ambiguous answers when he was asked about returning for 2013-14. He referred to the fact that he owes his last contract to an offer sheet from Memphis, which the Hawks matched a tactic that does not seem to sit well with him. Well, I cant be extended because they didnt give me my money, he said in May. I had to go get it. Thats something I have to play it out and see how it goes from there. One thing the Hawks dont want is for Smiths situation to play out the way his childhood friend Dwight Howards has with the Magic, with the organizations very future a daily soap opera on whether he will stay or whether it can get the best return for him in a trade. One would imagine that if Ferry, who is building for the future, cant get a commitment from Smith to stay, then Smith wont be around for long. But if Smith does elect to stay, then he will definitely be bait in the attempt to lure Howard in a Christmas-in-July moment for the Hawks and their fans. You never know Smith told SI.com of luring Howard to his hometown Hawks. I mean, everybody has a possibility of getting him. To have a guy of that caliber would definitely be awesome. But he has so much going on right now that I dont want to clutter his head with any more of it. I know that hes going through a lot right now with that decision and its a long process for him. I dont really bother him about it. I just call him sometimes to check up on him and see what hes doing. For now, the Hawks seem to have a firmer idea of what Smith is doing and it seems to be in the organizations best interests.
Original Story:
http://www.foxsportssouth.com/07/18/1...
THE BACKYARD
BEST OF MAXIM
RELATED ARTICLES
Dwight Howard's agent has denied reports that Howard had decided he would sign an extension with the Los Angeles Lakers if he's traded to the Lakers, ESPN.com reported. "Dwight's position has remained unchanged since the end of this past season," Dan Fegan of LaGardere Unlimited told ESPN.com. "He fully intends to explore free agency at the end of next...
Ballertainment Apparently, Dwight Howard is cool enough with one of his Twitter followers that he sent a series of direct messages to the guy via his account. The information he shared offers us enough information to know that Howard is the misguided piece of work many have been thinking he is. Catch the tweets after you advance the ball. Who does this? Ok, more so, who STILL...
Monday morning, Jordan Schultz of The Huffington Post dropped a bit of a bombshell on Magic fans. In a time when some were hopeful/dreading Dwight Howard showing up to camp at Amway Center for the beginning of the season and convincing him into staying, that thought certainly ended. Sources close to Howard told Schultz that Howard is prepared to sit out the entire 2012-13 season...
I am SO SICK of the Dwight Howard saga. However, I understand what a benefit Howard would be to the Lakers if they were to get him. So with that caveat out of the way, I'll present you another update on the "Get Dwight to LA" campaign. Wednesday night, Real GM reported that Dwight is [...]
As the Dwightmare continues for both the Orlando Magic and their fans, a dream is how the Los Angeles Lakers and their fan base are seeing the whole situation. Rumors of where Dwight Howard may land have been circulating for over a year now but the latest reports have the superstar center possibly heading to the LA Lakers in a deal that would [...]
Much like all other Dwight Howard trade talk, take this with a grain of salt. According to Ric Bucher of ESPN, the Cleveland Cavaliers have emerged as the new favorite to be the team that facilitates Dwight Howard being traded to the Lakers. In the deal, the Cavaliers would get Andrew Bynum, the Lakers would get Dwight Howard, and the Magic would get Anderson Varejao and a slew of...
Dwight Howard's agent said that his client intends to explore free agency regardless of the team he finishes the 12-13 season with.
NEW YORK, NY –The NBA continues its push to become as popular abroad as they are in the United States. Today the league announced that the Orlando Magic will play the New Orleans Hornets on Oct 7th in Mexico City in a preseason/exhibition contest. Please click the link below to read this story.
Just a short time ago, the New York Knicks have reportedly declined their chance to match the Houston Rockets offer of 3 years, 25 million dollar deal for the Harvard grad. The Knicks decided to let Lin go and take their money somewhere else which shows that they believe the roster they have is good enough without him. As Lin rose to fame last season, his stock went up as teams...
Hoopsworld.com's Alex Kennedy joins Rob and Amy to discuss the latest news in NBA Free Agency and the constant rumors surrounding the trade status of Dwight Howard.
Magic Masters is Orlando Magic Daily's attempt to recognize the best in Magic history. In this edition, we are trying to rank the best teams in Magic history. To see the full tournament bracket, visit the introduction page. Today, we crown a champion. And a worthy champion it is. When I embarked on this task of determining the best team in Magic history last summer, I suspected...
NBA News

Delivered to your inbox

You'll also receive Yardbarker's daily Top 10, featuring the best sports stories from around the web. Customize your newsletter to get articles on your favorite sports and teams. And the best part? It's free!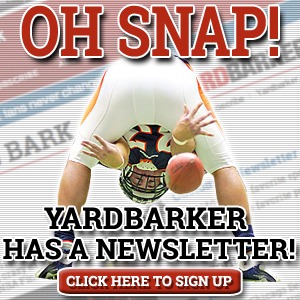 Latest Rumors
The Backyard

Today's Best Stuff

For Bloggers

Join the Yardbarker Network for more promotion, traffic, and money.

Company Info

Help

What is Yardbarker?

Yardbarker is the largest network of sports blogs and pro athlete blogs on the web. This site is the hub of the Yardbarker Network, where our editors and algorithms curate the best sports content from our network and beyond.