Found May 17, 2013 on Jocks and Stiletto Jill:
The Knicks had their backs against the wall on Thursday night. Down 3-1 to the Pacers and with their game four star George Hill out with a concussion, the Knicks had to come out swinging. New York won 85-75 but after the game, the most important question on everyone's mind? How would Sixth Man of the Year, JR Smith respond to Rihanna's comments that he was "desert thirsty" and that his shot was off because he parties too much and has a hangover? Smith took the high road and stated, "I'm not worried about Instagram, I'm worried about the playoffs." Smart move Earl! He really can only address this through his play. If he claps back, he looks weak. But wait until the playoffs are over. JR is the king of emo subtweets and I assure you a tweet or Instagram will end up on social media.   J.R. Smith's response to Rihanna question: "I'm not worried about Instagram. I'm worried about the playoffs." — Tim Bontemps (@TimBontemps) May 17, 2013   Plus, Rihanna can always his JR with "still got mo money." How many times has he dealt with a woman that can say that to him? **UPDATE** What did I tell you. This is a small lil softball toss… I'm waiting for a bigger one later. But shout out to you Earl, way to be cute.
Original Story:
http://jocksandstilettojill.com/2013/...
THE BACKYARD
BEST OF MAXIM
RELATED ARTICLES
J.R. Smith has been shooting the ball terribly during the playoffs, and Rihanna says that's because the New York Knicks guard is hungover from partying in clubs every night. Smith shot the ball well in Games 2 and 3 of the Knicks-Boston Celtics series, which the Knicks won in six games. He went 13-of-27 (48 percent) including 4-9 (44 percent) on 3-pointers those two games. But...
Your browser does not support iframes. Your browser does not support iframes. The post J.R. Smith and Amar'e Post Game: Game 6 appeared first on Knickswag - A New York Knicks Blog - News, Rumors, and more!.
JR Smith responded to all the Rihanna gossip by posting a "Men in Black" meme to his Instagram account on Friday. The meme shows Will Smith's character in "Men in Black" holding up a neuralyzer, which is a tool he and Tommy Lee Jones' character use in the movie series to erase the memory of subjects by flashing a light in their eyes. Smith and Rihanna were rumored to...
  (Source) - Is Rihanna to blame for J.R. Smith's struggles during the Knicks/Pacers playoff series? Some Knicks fans out there think so. Rih-Rih and J.R. were spotted partying together after a Knicks win in Game 2 of the series last week and he hasn't been the same since. So one Knicks fan in particular who goes by the name @peruvian_gawd took it upon himself to call...
New York Knicks sixth man J.R. Smith has been struggling in the playoffs, to the point where he's blaming himself for his team's second-round woes against the Indiana Pacers. But if an Instagram comment posted Thursday by R&B singer Rihanna is to be believed, there could be a simple explanation for why Smith is stuck in such a rut on the court: He may be spending too...
J.R. Smith says he's only worried about the playoffs as he disregarded Rihanna's claims that his shooting woes were due to his recent partying during the postseason. According to ESPN: "I'm not worried about Instagram, I'm worried about the playoffs," Smith said after the New York Knicks' Game 5 win over the Indiana Pacers.
Even though Smith has been shooting 28% this series against the Pacers in the 2nd round playoff, the Sixth Man of The Year cant let his slumps get the best of him. From NY Daily News, speaking after their disappointing 93-82 lost to the Indiana Pacers on Tuesday night, JR Smith gave every Knick fan a place to take their blame… him. "My frustration with myself is extremely high...
Since JR Smith was suspended for throwing the People's Elbow…………. 30-117 25% FG and 13-47 27% 3pt FG Keep that in mind when you read this. J.R. Smith, who will become a free agent, says he wants to retire as a Knick. — Frank Isola (@FisolaNYDN) May 19, 2013
John Starks gets a bit of a bad rap, without him the Knicks wouldn't have been as good during the 1993-94 season and he was a tough of a player that there ever was, but his playoff failures that year are similar to JR Smith on a much grander scale. The 1993-94 season was Starks best as a pro, he averaged 19 points and 6 assists a game. In the playoffs though , all his numbers were...
J.R. Smith will become a free agent this offseason but said after Saturday night's 106-99 season-ending loss to the Indiana Pacers that he hopes to return to the New York Knicks. "I want to retire a Knick," Smith said when asked about his future 
By Chris Connolly The Knicks had a grind out 85-75 victory over the Pacers in Game 5, forcing the series back to Indy for a Game 6 show down. After the Knicks failed to protect home court in Game 1 at the Garden, it has become apparent the team would need to steal one game in Indy. The Knicks failed to do so in Games 3 and 4, but will have the opportunity at redemption in a must...
Well that just sucks, eh? The New York Knicks season came to an end tonight with a 106-99 loss to the Indiana Pacers. It was a frustrating end to an enjoyable season and kicks off an off-season of limited flexibility for the Knicks, who will still have their share of question marks to sort out. When looking back on this series, it really came down to a few factors. Roy Hibbert completely...
NBA News

Delivered to your inbox

You'll also receive Yardbarker's daily Top 10, featuring the best sports stories from around the web. Customize your newsletter to get articles on your favorite sports and teams. And the best part? It's free!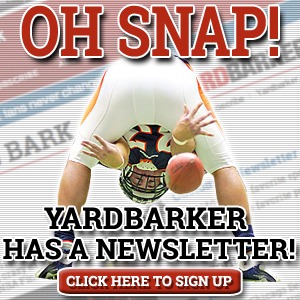 Latest Rumors
Best of Yardbarker

Today's Best Stuff

For Bloggers

Join the Yardbarker Network for more promotion, traffic, and money.

Company Info

Help

What is Yardbarker?

Yardbarker is the largest network of sports blogs and pro athlete blogs on the web. This site is the hub of the Yardbarker Network, where our editors and algorithms curate the best sports content from our network and beyond.