Found February 02, 2012 on The I in Team:
So I was cruising around the Internet and I stumbled upon this column by Marc Spears. The main point in the column is basically Kendrick Perkins defending Russell Westbrook, specifically against the barbs that he isn't a true point guard. This quote caught my eye:
"The thing that bothers me … is Derrick Rose is not a true point guard, he is a scoring point guard, but nobody gets on Derrick Rose like they get on Russ."
Full disclosure, I'm obviously a huge DRose fan being a Bulls fan and all, but I'm also a huge Westbrook fan as I was at UCLA while he was playing for the Bruins (ah, the good ol' days of competent UCLA basketball).
I can appreciate Perkins wanting to back his teammate up. That's something I would want to do if I saw one of my guys getting bothered by the constant analysis provided by the media, but his comments on Rose bothered. There's two elements to it that got to me. First, he's weirdly dissing Rose by calling him a scoring point guard, as though the ability to score from the PG position is something bad. It's a weird juxtaposition. The second thing that annoys me is that Perkins is missing the point entirely.
Yes, Derrick scores a lot. He was the MVP due to this as well as the fact that he racked up a number of assists while also leading the Bulls to the best record without the help of another superstar. There's no reason to give him flack for this. People would, however, question Rose if he was jacking up contested jump shots when he has one of the top 5 players in the league as a teammate. That is the reason why people get down on Russell so often. He's not a good shooter, yet he goes through stretches where he gets tunnel vision with the hoop and will force up shots if he can't make his way closer to the hoop.
Let's just look at some career numbers:
Russell
FG%: .425
3P%: .271
eFG%: .437
TOV%: 16.1
USG%: 28.1
Derrick
FG%: .468
3P%: .308
eFG%: .488
TOV%: 13.0
USG%: 27.4
So a quick primer on these stats. FG% and 3 point % are obvious. eFG is effective field goal percentage; this is a stat simply adjusts for the fact that 3 pointers are worth more points (3, if you're slow) than 2 pointers (2, if you're really slow). TOV% is turnover percentage which is an estimate of the number of turnovers a player makes over the course of 100 plays. USG% estimates the percentage of plays a player uses up on the floor. Basically, it takes assists + shots + non-And 1 FT trips + turnovers as a percentage of plays.
Looking at those numbers, Russell, unfortunately, looks pretty bad. His field goal percentage is subpar and his 3pt shooting is abysmal. Rose's shooting is decent, not great, and his overall 3pt numbers are less than you would want, especially for someone who shoots 3′s so often. When you convert that into eFG, Russell really starts to look like a chucker. This is born out even more so when you look at TOV% and USG%. Once again, Russell Westbrook is on the same team as Kevin freaking Durant and he averages more turnovers and uses up more possessions than Derrick Rose. Something is wrong with that picture, and that something is why people get on Russell's case. So Perkins, I can appreciate that you're looking out for your teammate, but there's no reason to drag Derrick Rose's name through the mud, especially when you're not even addressing the correct issue.
Original Story:
http://theiinteamblog.com/2012/02/02/...
THE BACKYARD
BEST OF MAXIM
RELATED ARTICLES
Okay so I am probably the last sports blogger in the world to post this dunk. Whatever, give a guy a break, life is busy. Anyways, I think it is a great dunk but I still think Vince Carter had many better dunks and let's not even compare him to Shawn Kemp. Regardless, Kendrick Perkins is becoming the new "it" guy to show up in under the net looking scared. addthis_url ...
Wikipedia has since deleted this message, although every word of it has factual evidence [via Thunder Treats]: "Ever since January 31 of 2012, when Blake Griffin forcibly removed Perkins's soul from his body, he has been a highly-sought subject of existential and spiritual researchers." The powerful dunk layup throw-up by Blake Griffin is as overrated as Blake Griffin...
Derrick Rose scored 15 of his 32 points in the fourth quarter as the Chicago Bulls held on to take down the New York Knicks, 105-102.
Derrick Rose scored 32 points to outduel fellow All-Star starter Carmelo Anthony, and the Chicago Bulls beat the New York Knicks 105-102 Thursday night.
Derrick Rose scored 32 points to outduel fellow All-Star starter Carmelo Anthony, and the Chicago Bulls beat the New York Knicks 105-102 Thursday night.
In the latest sports-related installment from NMA World Edition, the creators of the always-bizarre Taiwanese Animation Treatment videos reveal their take on Los Angeles Clippers dunkmaster Blake Griffin's epic slamma jamma on the Oklahoma City Thunder's Kendrick Perkins. Among the amusing — yet borderline psychotic — imagery featured: fans, upon witnessing a powerful Griffin dunk, [...]
It may be too early to call it a statement game, but with their 98-82 thrashing of Derrick Rose and the Bulls, the 76ers served notice they'll be a force in the playoffs, writes Zach Lowe.
Fans of the Chicago Bulls probably rejoiced when Dwight Howard indicated to the Chicago that he would be open to playing on the same team as reigning NBA MVP Derrick Rose .
NBA News

Delivered to your inbox

You'll also receive Yardbarker's daily Top 10, featuring the best sports stories from around the web. Customize your newsletter to get articles on your favorite sports and teams. And the best part? It's free!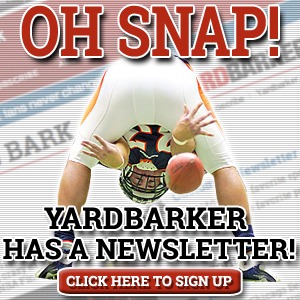 Latest Rumors
Best of Yardbarker

Today's Best Stuff

For Bloggers

Join the Yardbarker Network for more promotion, traffic, and money.

Company Info

Help

What is Yardbarker?

Yardbarker is the largest network of sports blogs and pro athlete blogs on the web. This site is the hub of the Yardbarker Network, where our editors and algorithms curate the best sports content from our network and beyond.