Found December 08, 2012 on Sports-Glory:
Oklahoma City star Kevin Durant, who is now at 10,517 career points after scoring 36 in the Thunder's 114-108 victory over the Lakers Friday night, remembers growing up and watching Kobe Bryant dominate.  "I didn't really get to see a lot of Jordan in his prime," said Durant, who then playfully took a jab at Bryant. "But seeing Kobe, I know he's an old fart." Durant continued, saying: "Since I was about 8 years old, I've watched him dominate," Durant said of Bryant. "Every year he's been in the league, he's been a joy to watch and it was just an honor and a blessing to play on his team this summer in the Olympics. To get 30,000 points, man … it's just an unbelievable accomplishment. "It's good to say you played in a game with a great player, probably the best player in my era that I've ever seen. It's great to have somebody to kind of aim to and look up to and just compete against on a high level. I'm looking forward to playing against him (Friday). It's going to be fun." According to Ric Bucher of CSNBayArea.com, both Durant and teammate Russell Westbrook are motivated to do well against Bryant and the Lakers because of all the smack talk Bryant laid on them during the Olympics.   source says the Black Mamba talked relentless smack during the Olympics that the Thunder stars weren't going back to the Finals after the Lakers acquired Steve Nash and then added Dwight Howard right before the U.S. played Spain for the gold medal. Kobe also made a point of guarding Westbrook during practices and pumping him up, the theory being that he wanted to incite Russ to bump heads with KD over who the team's best player is. (If you think that's too conspiratorial to be real, you don't know Kobe.) KD, in particular, got tired of hearing him. For what it's worth: KD and Westbrook's combined 69 points is the highest single-game total they've posted this season.
Original Story:
http://sportsglory.com/xn/detail/6286...
THE BACKYARD
BEST OF MAXIM
RELATED ARTICLES
Pau Gasol will remain a starter when the tendinitis in his knees subsides to the point that he can play again. For the time being. Subject to change. Lakers Coach Mike D'Antoni said he wanted to see how the power forward and injured point guard Steve Nash play together before making any adjustments to his lineup. "I'm not going to mess with Pau," D'Antoni...
How can we talk about the Los Angeles Lakers without continuing to question Pau Gasol and whether or not he's going to stick around or be shipped off?
Kobe Bryant and Turkish Airlines.. What?
FUNNY GUY HERE
The Lakers went to watch the movie "Lincoln" as a team, and Kobe cracked a funny joke about it.
As you know, Kobe Bryant joined an elite group as the Lakers defeated the Pelicans on Wednesday night.  With his driving score at the 1:15 mark of the second quarter, Bryant became the NBA's fifth 30,000-point scorer, putting his name among the likes of Michael Jordan, Karl Malone, Wilt Chamberlain, and Kareem Abdul-Jabbar.  Pretty special company for one of the most remarkable...
Similar to Ricky Rubio and backyard wrestling, Dwight Howard gives ghost hunting a try in this new Foot Locker x adidas commercial:
  The Lakers certainly have been a lightning rod team of sorts for most of their history, but more so in this past offseason than at any other time in recent memory. Obviously, being dragged into the Dwight Howard saga--and eventually trading for the center-- along with trading for Steve Nash and firing head coach Mike Brown after just five games are just some of the...
The Lakers saw the movie "Lincoln" together Thursday evening, a film that elicited mixed reactions from the players. Tweeted Pau Gasol: "We've watched "Lincoln"! Very good movie! It describes one of the most important moments in the history of the USA. Highly recommended!" Jordan Hill was not as impressed. "I fell asleep 8 times," he...
Timberwolves president of basketball operations, David Kahn, debunked ESPN.com's report earlier this week that the team had offered Minnesota's Derrick Williams and Nikola Pekovic to the Los Angeles Lakers for forward Pau Gasol at this morning's shootaround: According to Ray Richardson, Pioneer Press: Timberwolves president of basketball operations David Kahn refuted an ESPN...
This was the summer of the center, even the summer of the centers. In the NBA today, it's so rare to hear centers, plural, for there to be so much discussion of big men, period, and so there was reason to think that it might carry over. Dwight Howard was shipped to the Lakers, Andrew Bynum to the 76ers, and there was reason to think that Howard might be the missing piece in the...
Lakers News

Delivered to your inbox

You'll also receive Yardbarker's daily Top 10, featuring the best sports stories from around the web. Customize your newsletter to get articles on your favorite sports and teams. And the best part? It's free!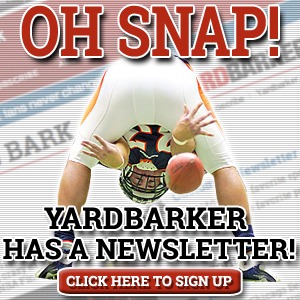 Latest Rumors
Best of Yardbarker

Today's Best Stuff

For Bloggers

Join the Yardbarker Network for more promotion, traffic, and money.

Company Info

Help

What is Yardbarker?

Yardbarker is the largest network of sports blogs and pro athlete blogs on the web. This site is the hub of the Yardbarker Network, where our editors and algorithms curate the best sports content from our network and beyond.