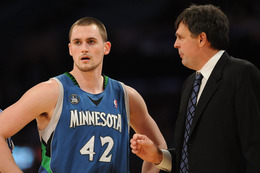 If the below video can't encourage you to donate a coat, then I don't know what will. The Minnesota Timberwolves' Kevin Love has once again partnered with Comcast and The Salvation Army to host a coat drive to help those in need this winter. From now until Dec. 12, Love is inviting all fans to bring new and gently used coats to any of eight metro-area drop-off locations. Love will then personally deliver all donations to The Salvation Army on Dec. 19. You can see all the details about this great cause here. The coat drive video "The Session" is just full of comedy gold. Look at Nicola the "Peksecutioner" breathing through his "neck gills" at the 0:47 mark. And of course there is K-Love playing his sax throughout.  Take a gander at the legendary Greg Stiemsma above. If only Alexey Shved could have made an appearance, this would be the best. video. ever. Even better, as a thank you to those who donate, Love has purchased tickets to the Timberwolves' Dec. 26 game vs. the...
Read the rest of this story...
MORE FROM YARDBARKER
NBA News

Delivered to your inbox

You'll also receive Yardbarker's daily Top 10, featuring the best sports stories from around the web. Customize your newsletter to get articles on your favorite sports and teams. And the best part? It's free!