Found August 01, 2013 on The Juicy Online:
It appears that Khloe Kardashian has already met up with Lamar Odom's mistress, according to the Aug. 5th edition of Life & Style magazine. The two met up on January 19th at a Los Angeles Clippers game where Khloe confronted the woman, Jennifer Richardson, who was even then talking about her affair with Lamar.The report goes on to say that Khloe went off on Jennifer asking her why she was even at the game and demanding that she leave the Staples Center and stop following her husband. Jennifer was startled by Khloe's words but Lamar was even more freaked out by the confrontation. It appears this was the reason why Lamar put Jennifer on the back burnered until the whole thing died down, which took several months, which angered Jennifer and caused her to end her relationship with Lamar. However, Khloe isn't believing a word that Jennifer is saying about the affair she had with Lamar, as sources are claiming that she has decided to blindly trust Lamar again. Khloe is so desperate to repair things that she's even willing to give up her reality television career to appease Lamar, who absolutely hates that business.
Original Story:
http://www.thejuicyonline.com/2013/08...
THE BACKYARD
BEST OF MAXIM
RELATED ARTICLES
KEEPING UP WITH THE...
Khloe Kardashian reportedly is going to make husband Lamar Odom take a lie detector test in an attempt to establish whether or not he cheated on her.
It's the dog days of summer – and the NBA – so this Blake Griffin of the Los Angeles Clippers commercial spot came at the most opportune time and is quite entertaining with the Dr. Drain bit. Even better, it was shot on the  same court that 'White Men Can't Jump' was filmed.The post Los Angeles Clippers' Blake Griffin stars in new Jordan commercial (Video) appeared...
Is the Los Angeles Clippers Blake Griffin the next guy  to take over the Jordan brand?  This video clip of his new spot provides room to think so. Either he or his buddy Drain are about to elevate themselves to a higher level. Blake Griffin and Drain form a dynamic duo Please click here to read/watch this story The post Video: Blake Griffin sidekick soars during Nike spot appeared...
NBA Star Chris Paul (LA Clippers) knows how to dress for a baseball game, take a look at his essentials (styled by @notasocialite) for the LA Dodgers game he attended yesterday. Chris' coordinated look consisted of a $51 Jack Spade 'Boorman' Henley, Shades of Grey sweats, LA Dodgers snapback hat, and $104 Air Jordan 1 sneakers. Are you a fan of the look? Chris Paul's Dodgers...
TELL ME I WON'T
Chris Paul reportedly threatened to leave the Clippers and sign with the Rockets when the Doc Rivers trade talk initially broke down.
The Los Angeles Clippers may have re-engaged the Boston Celtics in trade talks for Doc Rivers in June because of a threat from Chris Paul. Writing at Grantland, ESPN's Bill Simmons says the Clips went back to the negotiating table after initially turning down a deal with the Celtics because their all-star point guard threatened [...]
LOOK ALIVE, FELLAS
All basketball players should look to the great Michael Jordan for guidance. His performance on the court should be something to aspire to, but sometimes a line needs to be drawn. Chris Paul, Blake Griffin and Carmelo Anthony crossed that line when they jumped from the court to the baseball field. OK, so the basketball stars only threw out ceremonial first pitches, but they were...
A couple of weeks ago, Los Angeles Clippers stars Blake Griffin/Chris Paul and New York Knicks star Carmelo Anthony got the chance to throw out the ceremonial first pitches at a Taiwanese baseball game. The announcer on the field instructed the three NBA stars to throw their pitches at the same time but due to some miscommunication, Carmelo delivered his pitch a little later than...
Chris Paul runs the Los Angeles Clippers. You know this. I know this. But in case you need just a little more proof, Bill Simmons of Grantland provides a tale of how Chris Paul ultimately made the Clippers pony up for Doc Rivers.I'm sure you recall the back and forth that went on between the Celtics and Clippers regarding Rivers leaving Boston to take over the Clippers. I'm sure...
The Doc Rivers to the Clippers deal was on and off, several different times before it was finally agreed to. What finally nudged the Clippers over the hump, and allowed Donald Sterling and management to pull the trigger on the deal? Well if you believe Bill Simmons and the crew over at GRANTLAND, then it was a threat from star point guard Chris Paul that finally pushed the Clippers...
He's been compared to Chris Paul, led tiny Long Island University to two NIT titles and began his professional career in the club leagues that predate the NBA. Ossie Schectman, who boasted many long-forgotten accomplishments on the basketball court, died Tuesday, according to CNN. He was 94. Schectman is best known — if he is known at all — for scoring the first basket in NBA...
Cal baseball's latest 2014 commit only started watching college baseball when childhood friend Chris Paul debuted for the Golden Bears, and now, two years later, he's set to join Paul and fellow former Long Beach Breaker Robbie McInerny in blue and gold.
Clippers News

Delivered to your inbox

You'll also receive Yardbarker's daily Top 10, featuring the best sports stories from around the web. Customize your newsletter to get articles on your favorite sports and teams. And the best part? It's free!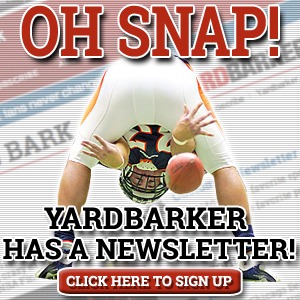 Latest Rumors
The Backyard

Today's Best Stuff

For Bloggers

Join the Yardbarker Network for more promotion, traffic, and money.

Company Info

Help

What is Yardbarker?

Yardbarker is the largest network of sports blogs and pro athlete blogs on the web. This site is the hub of the Yardbarker Network, where our editors and algorithms curate the best sports content from our network and beyond.