Found July 16, 2012 on Evil Cowtown:
Here we go again. Another move to placate a fan base that "we are trying" to win. Another player that doesn't really fit a great need (although I guess you can say Brooks has proven production?) but is a veteran that has been part of a winning organization at one point in his career. Or something. Rinse. Wash. Repeat. That's my main gripe. This is not about Aaron Brooks. It's about valuing what matters to this team, rather than making cosmetic changes that make it look like they are trying to show how they are going  to win. I got a much longer much nastier much more mean spirited post against Geoff Petrie and the Maloofs on that front. That's not Aaron Brooks fault. I'm just not a huge fan of smallish PG's like Brooks whose main value is to score. Even more so on a Kings team that already struggles on the selfishness/chemistry front due to two young players who don't understand the concept of what "running a play" actually means. (Yes I mean Cousins and Evans.) Brooks is a smallish PG (about 6'0) whose primary ability is on the offensive end and is scoring the ball. And to play with the ball in his hands. (Let me know where you've heard that one. The Kings are collecting a whole set. They got a white guy from Upstate NY, a black guy from LSU country, and a black guy from Seattle. They're all the same player give or take an atribute here or there! An albano, a Princess Bride reference, and a partridge and a pear tree and the Kings will have the whole set. Way to go Petrie!) Career 24.6 USG% rate, eat your heart out! Lovely. Just.....lovely. These are Brooks stats. Not historically a great 3pt shooter. (Which is what the Kings are hoping would return no doubt.) Decent in that Brooks is a 36% career 3pt shooter (he regressed in a big way his last season in Houston and Phoenix). Which means what? I'm hoping that regression doesn't continue, but not hopeful. The good news is that if Brooks doesn't work, it means that the Kings won't have to pay him much beyond next season. But, yikes! If it does work? Well, okay. I'm not opposed to that. But as of right now, with 7 G's, yes count them, 7 Guards on the roster (Evans, Thomas, Salmons, Thornton, Garcia, Brooks and Fredete), that's a bit much yes? There has to be a trade (or two), and 50 wins before I feel happy about this move. Which won't happen, and that's the damning shame of it. This roster isn't being buiilt to win. It's being built on the appearances of trying to win. Which just means, as all things Maloof, it's just one big happy glitzy sham that doesn't mean jack ****. It's good to be a Kings fan isn't it? Yay! Aaron Brooks! We spent money. Now, the Sacramento Black Holes isn't just a somewhat silly Bill Simmons joke; it's a very scary almost foregone conclusion.      
Original Story:
http://bloguin.com/evilcowtown/2012-a...
THE BACKYARD
BEST OF MAXIM
RELATED ARTICLES
The Sacramento Kings have reached an agreement on a two-year deal with free agent guard Aaron Brooks, the Sacramento Bee reported Monday. Brooks tweeted "Sacramento Kings" on Monday afternoon. The deal is expected to be for about $3 million this season, the Bee reported. Brooks, 27, played in China this past season, not the NBA. In 2009-2010, he averaged 19.6 points...
The Kings have signed Aaron Brooks to a two-year, $6.6 million deal.
Slapping five and giving "propers" has turned into an absolute given following every foul shot in NBA and college basketball games.  Teammates are all about letting the foul shooter know how proud of them they are because they have made (or even missed) a 15 foot shot without any defenders in their face. A strange twist to free throw congratulations has come about in recent...
There are some NBA players that are so dialed in during a game that they can lose sight of the people around them.During a recent NBA summer league game, Kings rookie Thomas Robinson was at the free throw line and teammate Alex Young extended his hand to congratulate Thomas on the made attempt.Robinson doesn't return the favor and leaves Young hanging:
According to Marc Stein, the Kings have acquired James Johnson of the Toronto Raptors for a future 2nd round pick. Sam Amick has confirmed it's a 2nd round pick in 2014.   Look for that one to be finalized Monday. Kings to add Johnson on last-year deal for their frontcourt rotation. Raps to shed a $2.8M salary — Marc Stein (@ESPNSteinLine) July 16, 2012   Jason Jones...
Kings News

Delivered to your inbox

You'll also receive Yardbarker's daily Top 10, featuring the best sports stories from around the web. Customize your newsletter to get articles on your favorite sports and teams. And the best part? It's free!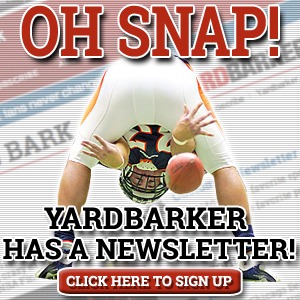 Latest Rumors
Best of Yardbarker

Today's Best Stuff

For Bloggers

Join the Yardbarker Network for more promotion, traffic, and money.

Company Info

Help

What is Yardbarker?

Yardbarker is the largest network of sports blogs and pro athlete blogs on the web. This site is the hub of the Yardbarker Network, where our editors and algorithms curate the best sports content from our network and beyond.