Found October 22, 2012 on Evil Cowtown:
PLAYERS:
Dwight Howard
,
DeMarcus Cousins
,
Thomas Robinson
,
Chuck Hayes
,
Jason Thompson
,
Jimmer Fredette
,
Tyreke Evans
,
Aaron Brooks
,
Marcus Thornton
,
Francisco Garcia
,
Travis Outlaw
,
Tony Mitchell
,
Isaiah Thomas
,
James Johnson
TEAMS:
Los Angeles Lakers
,
Sacramento Kings
I'm not one to ever put stock into the pre-season for any reason. There are lots of variables. Like, a player playing his first game with a team (a la Dwight Howard with the Lakers), and thus what does it mean? Usually nothing. Tonight had an interesting wrinkle: The Lakers played their starters down the stretch, and the Kings played all of their reserves and DeMarcus Cousins. And, yes, the Kings won. The key important part is that A) I think the Kings showed they can play with the Lakers and B) the Lakers bench needs a whole lot of help. A whole lotta help even. Whatever it is, fixing that bench won't just be helped by playing with the Lakers starters unless they just play better wholesale any way you slice it. I don't really care about the Lakers bench though. I care whether or not a pre-season win can establish this young team moving towards the direction they certainly wish to move in. And, I suppose, any positive moment in pre-season that can help this young team along is better than nothing. Beyond that, it still very much is pre-season. The pre-season proves nothing. It's a tool that helps teams, and I bet it will help the Lakers. Whether you go 8-0 or 0-8, the pre-season isn't real. The games don't matter. Rotations are being monkeyed with. It's really hard to say who gives maximum effort and who doesn't. What I do know is that the Kings are better off for winning at Staples if for no other reason than it's better to win than to lose I guess. Does it mean anything for the regular season? Nope, and it never does. Bank on it. After the jump the rest of the observations.... I was pleased with Thomas Robinson's dunk in the 2nd quarter off a missed shot. That was some impressive stuff. You'll see it in many highlights, and the most exceptional part is that T-Rob really didn't need a 10 step launchpad to do it. If you notice, T-Rob's head is at the rim. Not so shabby. Chuck Hayes and Jason Thompson do well together as a tandem. As backup's, that could be a big boost to this team if Robinson ever nails down the starting spot. In fact, one could argue that having such a varied and talented group of bigs makes the Kings a strong candidate for serious improvement this season.  Jimmer Fredette looked good offensively in some real ways. He got to the basket, hit a 3, had a nifty layup, and looked more like a NBA player than he had during much of last season. But again, it is preseason and one must note that. DeMarcus Cousins is nothing else if maddening. But that lefty driving layup at the end of the game was exceptional if nothing else because Cuz drove with his left and finished with his left. Tyreke Evans looked okay at times, and less than stellar at others. Tyreke is feeling his way along, and the quicker he adapts the better this team will be. What it means yet? Who knows. Aaron Brooks had a monster game off the bench. If Brooks is anything near that consistently (and he won't be consistently naturally), Jimmer is going to have a tough time getting minutes. Marcus Thornton hit some big shots tonight, and managed to hit 4-13 from the field (2-6 from 3) and went 5-5 from the FT line. That's something, and yet, I like Marcus as a 6th man for that reason. Hamady N'Diaye came off the bench and gave some minutes that were worthwhile to the Kings tonight. I wouldn't make the claim that N'Diaye is anywhere near a roster spot right now, but things can change I suppose. For a 5th big man, I could see the Kings rolling the dice on N'Diaye.  Francisco Garcia played relatively well, and Travis Outlaw didn't play relatively well. Strangely enough, Tony Mitchell, the big invitee to camp, hasn't seen many minutes this pre-season. Whatever that means, it might mean that Cisco and Outlaw are showing enough to make the Kings think that using a roster spot on a project like Mitchell isn't worth it. Isaiah Thomas and James Johnson were what they were. They didn't play incredible or terrible or much of anything really that mattered. After all, it is pre-season. Plus Brooks had it going for awhile, and Jimmer got quite a few minutes too. All in all, Isaiah will play plenty of minutes. As will Johnson, but tonight wasn't that night. And that's okay. Despite the Lakers getting 19 points from the FT line (19-29), the Kings outscored the Lakers by 2 at the FT line because they went a perfect 21-21. Treasure that folks: We might not see that again all season. (And I'm hoping I'm really wrong.) The Kings turned the ball over 13 times to the Lakers 22 times. That's something, and that's important. If the Kings can continue to shoot well from the FT line on the road, and not turn over the ball excessively (13 times is an excellent number on a consistent basis), that could be a significant recipe for more success on the road this season than in recent years past. Here is the Box Score in case you care about such things. Just in case you didn't know, the Kings play tomorrow (Monday night) in Phoenix at 7pm PST (the game is not on local TV), and Thursday against the Lakers in San Diego at 7pm PST to finish the pre-season. The season starts a week from Wednesday on Halloween, October 31st, in Chicago against the Bulls. This season just might be something interesting after all which may be the best news we could have received from pre-season.  Until later then.
Original Story:
http://evilcowtown.com/2012-articles/...
THE BACKYARD
BEST OF MAXIM
RELATED ARTICLES
Dwight Howard was so happy to be traded from the Orlando Magic to the Los Angeles Lakers back in August that the situation called for some unprecedented celebrating. The 26-year-old was so overwhelmed with joy that he decided to try something he had never tried before in his life — alcohol. According to ESPNLosAngeles.com's Dave McMenamin, Howard had never consumed an alcoholic...
They may have lost to the Sacramento Kings, but the Los Angeles Lakers pulled out a win in one respect on Sunday.   Please Click Here To Read This Story
After a back and forth week of will he or won't he, today is the day we all find out.  Dwight Howard has been cleared and is available for today's preseason game against the Sacramento Kings.  Howard said a couple days ago he felt ready to play, then coach Mike Brown told reporters that it was no guarantee Howard would play.  But the fact is, he is ready.According to...
In the building Dwight Howard's exploits helped build it's hard to find even the smallest remnant of the former Orlando center these days. The photographs, murals and other likenesses that once adorned virtually every other crevice inside the Magic's Amway Center have been scraped away, now just painful reminders of championship aspirations never realized. After taking...
Latest Dwight Howard musings, Howard feels he should've won "Defensive Player of the Year" last season. "I thought I should have won it last year, to be honest with you," Howard told reporters after practice Monday. "I was a little bit upset about that." [...] "I felt like I did my job to win it. [...]
LeBron James has traversed the rockiest terrain of stardom and ambition: From beloved prodigy to betrayer of the place that drafted him and loved him most to uncomfortable villain to brutal failure to, now, NBA champion. Two years. One long journey. And, in transitioning from The Decision to The Debacle to The Champion, a rewriting of the zeitgeist and the very functioning of...
Dwight Howard can sign a five-year, $117.9 million contract with the Lakers this offseason, as opposed to a four-year, $87.6 million deal with a rival team.
Dwight Howard played his first NBA minutes during Sunday's preseason game between the Lakers and the Kings. Howard had a decent Lakers debut scoring 19 points, pulling down 12 rebounds and blocking 4 shots. But as expected, all of his game isn't completely there yet. Namely, the part of his rebounding game where he can effectively box-out his man. Kings rookie Thomas Robinson...
In an industry in which DUI arrests are more rampant than the common cold, Dwight Howard apparently lays off the sauce completely. Dave McMenamin, who covers the Lakers' beat for ESPN.com, sent out a tweet Monday that revealed some things he didn't know about Howard before training camp. Among the interesting facts: Howard wears glasses only because he has...
The news of this NBA off season has no doubt been the trade of Dwight Howard to the Lakers. Howard, who was recovering from back surgery, played his first preseason for the Lakers over the weekend against the Kings. In that game Kings rookie, Thomas Robinson welcomed Howard back to action. Off a Kings three pointer missed shot Robinson took the rebound and threw down a one handed...
Every October, while you are trying to figure out a quirky name for you fantasy football team (the name of my historically bad team is "Ochostinko"), NBA GM's are filling out their annual survey. And very often, these surveys follow the lines of conventional thought. Which makes me wonder if (a) these GMs are actually filling these things out or (b) they are just putting...
NBA News

Delivered to your inbox

You'll also receive Yardbarker's daily Top 10, featuring the best sports stories from around the web. Customize your newsletter to get articles on your favorite sports and teams. And the best part? It's free!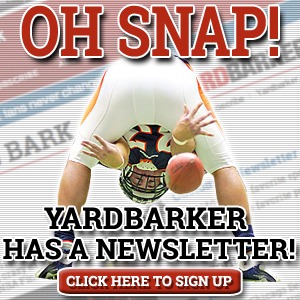 Latest Rumors
Best of Yardbarker

Today's Best Stuff

For Bloggers

Join the Yardbarker Network for more promotion, traffic, and money.

Company Info

Help

What is Yardbarker?

Yardbarker is the largest network of sports blogs and pro athlete blogs on the web. This site is the hub of the Yardbarker Network, where our editors and algorithms curate the best sports content from our network and beyond.