Found January 17, 2013 on Evil Cowtown:
Numbers are deceptive. Sometimes numbers are not deceptive. Tonight, there are some really big deal type numbers, and well there are also some numbers that are probably not as big of a deal as they look like. First, look at minutes. 83: The combined amount of minutes DeMarcus Cousins and Tyreke Evans were on the floor tonight (Cousins had 43 of those). 62: Points in the paint the Kings scored. 46: Points in the paint the Wizards scored. 68%: The Kings DRB% tonight, and on the season it's at 68.6% (which is dead last). The Kings are also dead last at DRtg at 111.4 points per 100 possessions (which is what O and D Rtg's are).  15: The amount of shot attempts John Salmons took. Another number: 9. The amount of shots John Salmons hit tonight. 2: The amount of 3's Salmons hit. 21: The minutes Jimmer Fredette played in the 2nd half. 22: The amount of wins the Kings could have at home on the season. 7: The wins on the road the Kings could have based on current win rates. Okay, after the jump my expanded thoughts on the game..   Tyreke Evans was vintage Tyreke Evans tonight. 21 points (and one badly clanged FT after a badly run possessions where Tyreke just stood around waiting to drain the clock....), 8 assists, 8 rebounds, 3 steals on 8-15 shooting and 4-7 from the line. On that last FT Tyreke clanged, he said it slipped out of his hand. You could see in the postgame interview he was very glad it didn't cost the Kings the game. On the other hand, the biggest negative was the open court play where Tyreke should have passed to Jimmer Fredette. Many other positives tonight starting with the defense, the efficient scoring and 40 minutes played too. The most important thing: Tyreke looks healthy and ready to pick up where he left off in late November. DeMarcus Cousins had a pretty good game by his standards, and that's saying something for a guy who had 21 points, 16 boards (4 offensive), 5 assists and 3 steals. There were also 6 turnovers and 5 personal fouls several of which were dumb offensive fouls that a 3rd year player should know better. But, in these moments, you can live with a guy who plays 43 minutes and gives you most of the production DeMarcus Cousins gave tonight. That 50% FG shooting Keith Smart talked about before the season started? Cousins, despite jacking up some really ill-advised shots throughout the game, still ended up 9-19. Shot selection is your friend young man. Use it on occasion (or all the time) and it will serve you will Trust me: I'm not a developer. Oh and 3 for 3 from the FT line? Yessah.  However, the most important part for me with Cousins was that with 5 fouls, and with Nene finding his groove since Cousins had gone out, entered the game with 4:05 remaining. The Kings were down 91-86, and after a minute of missed baskets by both sides, Cousins would score 5 straight points, the last of which a FT after a timeout, to tie the game. The fact that Nene didn't get a quality look again was also a highlight of that point. Perhaps our Boogie is starting to figure a few things out after all. (I'm shocked as hell as to be writing that quite honestly.) John Salmons. The man was......excellent. Just stop complaining about him is all I ask. 43 minutes, 2-3 from 3 point land, excellent defense. What more do you want? Fun fact: Salmons has now attempted 108 3's on the season making 41 for a tidy 37.9%. Jimmer Fredette's 2nd half with Tyreke Evans was exactly why Jimmer was drafted in the first place. That's what the hope was. Now I'm hoping the Kings can do that to better teams than the Wizards. (Call me cynical, or whatever, but large sample sizes matter. This is not anywhere near enough of a large sample size.) I don't know what was wrong with Jason Thompson tonight. But there was something wrong with his mojo tonight. With a 3 game road trip going to Mempnis, Charlotte and New Orleans coming up starting Friday, it's pretty important JT get back on track as soon as possible. Outside of DeMarcus Cousins (43 minutes), John Salmons (43 minutes), Tyreke Evans (43 minutes), the only players who got more than 20 minutes were Jason Thompson (22), Jimmer Fredette (21), Chuck Hayes (21) and Isaiah Thomas (20). Keith Smart is definitely tightening his rotation right now, and that's a very good thing. Earn your minutes. Nice to see the Kings did that. Keith Smart pushed a lot of right buttons tonight even if it didn't seem evident at the time. He gets a lot of crap (sometimes understandably so), but tonight he should be congratulated for getting his guys up to play a Washington team playing well (3 wins in a row coming in out of a 6 win season to date; that's going up you can bank on it) Last thought, all it really takes to be a 500 team, especially with as long a losing streaks as the Kings have had, is to get 3 or 4 games in a row at the right time. Sneak a few out on the road, maybe a few surprise wins at home, and there you go. The Kings are 15-24. Their next 5 games are all winnable (hell this team can beat and lose to anyone after all), but 3 of them are on the road. 2 of them are against top tier competition (@Memphis & home against OKC), and the other 3 are against bottom feeder teams that are rebuilding (@Charlotte, @New Orleans on MLK day) and home against Phoenix a week from now. If the Kings go back on a season high 6 game road trip that starts in Denver at 18-26, sneak a 3-3 trip out on the road (@Denver on a back to back, @Washington, @Boston, @Philadelphia, @NewYork and @Utah) and suddenly a 500 season, or just a 35 win season is still very possible. When this team starts to put things together, and starts putting things together against the right opponents consistently, this team will take off. The ingredients are almost already there as it is. Once Cousins and Evans (and make no mistake they are the two best players on this team) really take the reigns of this team and start doing what makes them special players, this team has a great deal of potential that often gets overlooked nationally and even by the very knowledgable NBA junkie crowd. While this roster has tight fits, especially on paper, it also has a group of players that once you start stripping at the veneer some you find there are some strengths/weaknesses that do a quality job complementating each other.  As amazing as it is, this roster could actually find a way to work some of the time if Cousins and Evans can perform at the same level they did tonight for the rest of the season. This team isn't that far from ascending up the standings as it is (they currently own the 9th worst record), and that's with all the dysfunction and nonsense that has been going on. Just imagine if they settle down and get themselves on the right path? I know I'm being a stupid ass sucker, but what else do I have to do but dream a hopeless dream? I'm a Kings fan baby!    
Original Story:
http://www.evilcowtown.com/site/kings...
THE BACKYARD
BEST OF MAXIM
RELATED ARTICLES
Sacramento Kings forward Thomas Robinson has been one of my favorite players since he came on the scene at Kansas.  I like his work ethic and his story is inspiring all in itself. Robinson has been steady as a rookie and showing signs that he'll be a big time forward once he gets the hang of the NBA game. In the meantime, Robinson needs to get the hang of driving fast or not driving...
Talk about one eye-opening ally-oop from Kings' Isaiah Thomas to teammate Thomas Robinson. What made this alley-oop even more amazing is where Isaiah threw the ball to Robinson - at half-court and with a no-look pass! Right at the end of the first quarter between the Kings and Cavaliers, Isaiah was out n the break, looking to close the quarter when he found a streaking...
Sacramento Mayor Kevin Johnson said Tuesday he has been given permission by Commissioner David Stern to present a counter-offer for the Kings NBA franchise directly to the league's board of governors. The Maloof family, which owns the Sacramento Kings, reportedly has received an offer of $525 million from a group that wants to buy the team and move it to Seattle. Johnson...
Two people familiar with the decision say the Maloof family has agreed to sell the Sacramento Kings to a Seattle group led by investor Chris Hansen. The people spoke on condition of anonymity to The Associated Press on Sunday night because the deal is still pending approval from the NBA Board of Governors. One person said the Maloofs are selling all 65 percent of their share for...
DeMarcus Cousins had 21 points and 16 rebounds while Tyreke Evans and John Salmons each scored 21 points to help the Sacramento Kings beat the Washington Wizards 95-94 on Wednesday night. With the score tied, Evans was fouled on a drive to the basket with 11.4 seconds left. He made one of two free throws to give the Kings a 95-94 lead. Bradley Beal missed a runner in the closing...
For the second year in a row... Kevin Johnson had to do this last year to keep the Sacramento Kings from going to Anaheim and be owned by the Samueli family. Now, he's having to defend his town and arena against the Maloof brothers desire to take the Kings north to Seattle. This morning, at the State of Downtown Breakfast, Johnson admitted that he's in a "six-week...
Over the weekend, Dallas Mavericks forward Dirk Nowitzki was doing his best to check out a review near the end of the Mavericks/Kings game at Sleep Train Arena.As Dirk attempted to get a better look at the review, a Kings security guard did his best to block of the path of Dirk from getting a closer look:
Bradley Beal was scorching hot Wednesday night, hitting six three-pointers on the way to 26 points (9-14 FG and 2-2 FT) in a loss to the Sacramento Kings. The rookie out of Florida grabbed three rebounds, handed out six assists and added a block and a steal. Beal has been on a heater his last five games: 17.6 points, 4 rebounds, 3.2 assists, 2 steals and .2 blocks with 10 three...
Dion Waiters blew up Monday night for 33 points (12-18 FG and 6-8 FT) with three three-pointers, two rebounds and five assists, but it was all for naught in a 124-118 loss to the Sacramento Kings. Waiters has been a super sub since going to the bench. In seven games off the pine, he's averaging 18 points (46.9 FG% and 87.1 FT%), 1 three-pointer, 2.4 rebounds, 2.1 assists...
TNT NBA analyst Charles Barkley is never one to mince words, so when he was asked what his advice to Sacramento Kings forward DeMarcus Cousins would be, he kept it short and simple. "Grow up", Barkley told ESPN's Pardon the Interruption on Wednesday. "Just grow up. He's got a world of talent…he's not in college anymore. We're men. NBA stands for No Babies Allowed...
SACRAMENTO -- This was no time for Sacramento Kings coach Keith Smart to be picky. He and his team needed a victory, so although there was no domination, holding on for a 124-118 victory over the Cleveland Cavaliers on Monday night was just fine. An announced crowd of 12,194 at Sleep Train Arena watched DeMarcus Cousins lead the Kings with 26 points, 14 rebounds, six assists...
It's pretty funny to see this guy's attempt at being a hard-ass without cracking a smile while Dirk dicks around with him. Being a Kings security guard can't be an easy task -- I'm sure they're always on high alert because DeMarcus Cousins could snap at any time and choke anyone in the building. It was pretty funny that both announcers noted the security guard...
Kings News

Delivered to your inbox

You'll also receive Yardbarker's daily Top 10, featuring the best sports stories from around the web. Customize your newsletter to get articles on your favorite sports and teams. And the best part? It's free!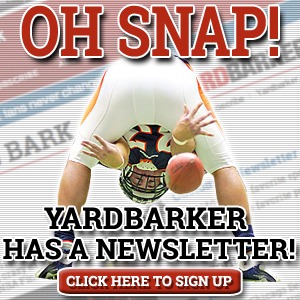 Latest Rumors
Best of Yardbarker

Today's Best Stuff

For Bloggers

Join the Yardbarker Network for more promotion, traffic, and money.

Company Info

Help

What is Yardbarker?

Yardbarker is the largest network of sports blogs and pro athlete blogs on the web. This site is the hub of the Yardbarker Network, where our editors and algorithms curate the best sports content from our network and beyond.