Posted November 03, 2012 on AP on Fox
PLAYERS:
Carmelo Anthony
,
Dwyane Wade
,
Raymond Felton
,
Steve Novak
,
LeBron James
,
Chris Bosh
,
Rasheed Wallace
,
Erik Spoelstra
,
J.R. Smith
,
James Dolan
,
Alonzo Mourning
,
Tim Hardaway
,
Marcus Camby
,
Mike Woodson
TEAMS:
New York Knicks
,
Miami Heat
,
Denver Nuggets
Carmelo Anthony heard the news about the New York City Marathon being canceled, then came out to warm up and saw plenty of empty seats at Madison Square Garden. At that moment, it would've been easy to agree with Dwyane Wade and others, that this wasn't the time to be playing games. By tip-off, Anthony and the Knicks knew otherwise. Fans had filled the place, when even the players weren't sure how many of them would show up. ''It gave us some more energy,'' Anthony said. ''When we first went out there, the crowd, it wasn't crowded. As we started warming up, we seen the crowd started getting packed and packed. Just for all the fans to come out and still support this game tonight in the wake of everything that's been happening, that just goes to show you and tell you a lot about this city.'' Anthony thanked them for coming, then had 30 points and 10 rebounds as the Knicks gave suffering New Yorkers something to cheer with a 104-84 victory over the Miami Heat in their storm-delayed season opener Friday night. ''Over the last couple of days, we didn't even know if this game was going to be played. Then before the game we look up and they say they canceled the Marathon, so it was like, we have to go out there and play,'' Anthony said. ''So today was something to give New York a couple hours of some peace. Come to the game, support us. We gave them a good show out there tonight, that's the least that we can do.'' In the first sporting event in New York since Superstorm Sandy, the Knicks dominated a game the Heat players weren't sure should even be played with the region still so devastated. But the Knicks hoped they could provide a distraction for a few hours, and fans who were able to watch surely loved what they saw from a team that could barely compete with Miami last season. ''I think this win meant a lot for us, for the city, fans, you know, just everybody in New York,'' guard Raymond Felton said. ''This was a big win, so I'm happy we got it.'' Steve Novak, a non-factor against the Heat in last season's playoffs, added 17 points off the bench and Felton had 14 points and nine assists to begin his second stint with the Knicks. LeBron James scored 23 points for the Heat, so impressive in a season-opening victory over Boston on Tuesday but never really in this one. Wade, who thought the game should be postponed, finished with 15 points and Chris Bosh had 12 points and 11 rebounds. The Heat beat the Knicks in five games in last season's first round, and at least for one night New York appears to have closed the gap on the champs. But the focus surrounding this one had little to do with basketball. Knicks players said Thursday they weren't sure what kind of crowd to expect with many New Yorkers in such bad shape and perhaps unable to travel to the game with the city's transit system crippled. But Madison Square Garden was packed with a sold-out crowd of 19,033 and lively from well before the tip right through their loud cheers when Rasheed Wallace, retired the last two seasons, entered with about 3 minutes left. ''Right from the get-go you could tell there was a difference in energy, disposition, quickness to the ball (on) both ends of the court,'' Heat coach Erik Spoelstra said. ''They played a very good basketball game. Got us on our heels pretty much the whole game and we weren't able to recover from there. We have to move on. We're clearly much better than this.'' Anthony went to center court and took the microphone before the game, telling fans that this was the ''most important time for the city of New York to come together as one and build the city back up.'' Then there was a moment of silence for the victims of the disaster. It wasn't long before it was loud again. Anthony hit two 3-pointers in a 10-0 run that gave New York a quick 11-point lead, and he followed six consecutive points by JR Smith by pulling up for a long 3-pointer and a 30-12 lead with 1:14 left in the first quarter. Anthony was even further away when he tossed in another 3 at the buzzer, capping his 16-point period and giving the Knicks a 33-17 advantage. The Heat couldn't get the deficit into single digits in the second, but were within 55-44 at halftime following 13 points from Wade after his scoreless first period. Anthony was 1 of 9 in the second after hitting six of 10 shots in the first. But he had consecutive baskets in the Knicks' run of seven straight points early in the third, and the lead grew to 75-52 on Novak's 3-pointer with 3:12 remaining in the period. New York was ahead 81-63 heading into the fourth. The Knicks' scheduled opener at Brooklyn on Thursday night was postponed, and Heat players thought this game would be, too. Wade was so sure the Heat weren't coming to New York that he didn't even bother to pack until after practice Thursday. Miami flew afterward and finally arrived in New York after a three-hour bus ride from nearby Newark, N.J. Seeing all the traffic as New Yorkers tried to recover, Wade wrote on his Twitter account that the game shouldn't be played, a feeling he reiterated Friday morning after the Heat's shootaround. ''If we're in a car and we're in traffic for three hours, what are other people who are really affected by this, what are they doing? How are they getting around, how are they moving, et cetera?'' Wade said. ''So it was just like, come on man, we shouldn't be here to play a basketball game. If anything, we should be here to do something to help the city.'' He decided Friday to donate his game check, around $210,000 before taxes, to relief efforts. The Knicks finished 19 of 36 from 3-point range. Wallace made one with 41 seconds left. NOTES: The Madison Square Garden company is donating $500,000 for storm relief and is hosting a telethon on MSG network during the Knicks' game against Dallas on Nov. 9. MSG chairman James Dolan said he was glad Friday's game was taking place, believing it was good for the city and that many people had told him they were either coming or planned to watch on TV. ... The Heat announced Friday they will unveil a banner to commemorate James' gold medal with the U.S. basketball team Saturday before they play the Denver Nuggets. It will be displayed alongside three others for players who won Olympic gold as members of the Heat - Wade, Alonzo Mourning and Tim Hardaway. ... Marcus Camby sat out after missing most of the preseason with a sore left calf. He recently returned to practice, but Knicks coach Mike Woodson said Camby hadn't gone through enough contact workouts. --- Follow Brian Mahoney on Twitter: http://www.twitter.com/Briancmahoney
Original Story:
http://msn.foxsports.com/nba/story/Kn...
THE BACKYARD
BEST OF MAXIM
RELATED ARTICLES
The New York Knicks lined up at center court at Madison Square Garden before Friday night's game against the Miami Heat, which was the first NBA game held in New York City since the Hurricane Sandy tragedy. Carmelo Anthony addressed the crowd to thank the fans that came to the game to show their support for the Knicks and acknowledged the lives and families impacted by the tragedy...
NEW YORK — Carmelo Anthony gave a heartfelt pre-game speech to the citizens of New York before the Knicks came out to dominate the world champion Miami Heat. Please Click Here To Read & Watch This Story
Dwyane Wade may have put his foot in his mouth on Thursday.  The Miami Heat superstar drew the ire of some on Thursday afternoon when he fired off a tweet complaining about New York City traffic. Anyone who's ever tried to drive in New York City may think that's pretty harmless and would probably agree. Of course, things are different when those complaints...
NEW YORK -- Carmelo Anthony scored 27 points to lead four New York Knicks in double figures as New York routed the Philadelphia 76ers 100-84 in a Sunday matinee at Madison Square Garden. J.R. Smith scored 20 points, Jason Kidd scored 12 points and Raymond Felton added 11 points for the Knicks, who have trailed just once -- at 2-0 for a 39-seconds span against the 76ers -- in winning...
The New York Knicks (1-0) beat the Miami Heat (1-1) 104-84, last night at Madison Square Garden from New York, NY. Carmelo Anthony and rest of the Knicks team told the fans yesterday that hurricane Sandy was a horribe storm that ruined NYC and he also told the fans that we will pull through together as New Yorker's. Later on, the Knicks dominanted the game against the Heat...
Doc on Wade's "punk play" comment: "Don't forget about Rondo's elbow injury (in 2011 playoffs)…that was created by Dwyane Wade."— Boston Celtics (@celtics) November 1, 2012 Yeah, cause Dwyane Wade has never done a punk move in his life. Seriously, I'm sick of Wade already. I never hated him before the Heat got LeBron and Bosh but since then...
Miami Heat guard Dwyane Wade was among the players who questioned the decision to play Friday night's game against the Knicks in New York as scheduled while the city is still struggling to recover from devastating Hurricane Sandy. "I just felt that (there are) bigger things to be concerned about than us being here to play a basketball game," Wade said after practice...
Rajon Rondo was called for a flagrant foul during the Miami Heat's win over the Boston Celtics after he wrapped Dwyane Wade up to prevent him from walking in for a layup. It was somewhat of a hard foul as Rondo certainly wasn't playing the ball, and Wade ripped Rondo after the game and called it a "punk play." Not surprisingly, Rondo saw it differently. In fact, he thinks...
All this talk about Dwyane Wade whining about Rondo's hard foul had me thinking about how basketball used to be played. You know by now that I read a lot of books on Celtics history. I love reading the story about how the Celtics didn't back down from anyone. Those Celtics teams in the old days had some swagger. I know that part of that swagger came from winning, but...
Dwyane Wade called Rajon Rondo's hard foul in the opener a "punk play" and said that only knowing his children were watching kept him from retaliating. Today after practice, Rondo talked a little about the foul although he wouldn't say too much, asking the reporters if they were trying to get him a fine. But he did say at the end of the interview, "I mean...
Seriously, Shaun White. You've ruined the Little Mermaid for millions of perverts.Now here's the weekend's best sports action, as I get ready to go prepare for the Orlando Magic opener in the only acceptable manner – drowning myself in bourbon.TonightNBA: Miami Heat at New York Knicks – 8 PM ET on ESPNI'm not too fond of this whole dickhead Dwyane Wade thing. He must...
Herald  Rajon Rondo, Dwyane Wade exchange more barbs Celtics look to fix communication breakdown Globe  For Celtics, time to turn talent into a team Kevin Garnett's return was critical factor in the Celtics' retooling Celtics Green  Glue GuysDowns Among 8 Invited to Red Claws CampWho's the Punk?? Practice Report 11/1 Bucks (0-0) at Celtics (0-1) 11/2 Celtics Life  Celtics...
NBA News

Delivered to your inbox

You'll also receive Yardbarker's daily Top 10, featuring the best sports stories from around the web. Customize your newsletter to get articles on your favorite sports and teams. And the best part? It's free!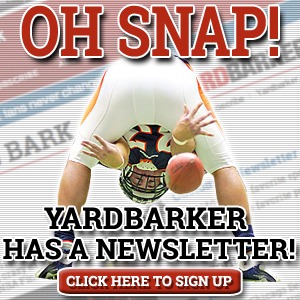 Latest Rumors
The Backyard

Today's Best Stuff

For Bloggers

Join the Yardbarker Network for more promotion, traffic, and money.

Company Info

Help

What is Yardbarker?

Yardbarker is the largest network of sports blogs and pro athlete blogs on the web. This site is the hub of the Yardbarker Network, where our editors and algorithms curate the best sports content from our network and beyond.