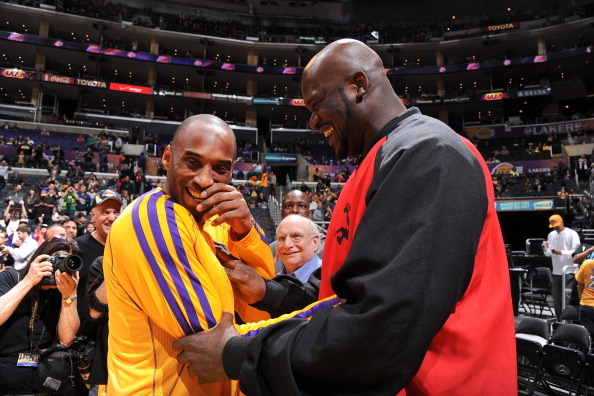 Photo by Jed Jacobsohn | Getty Images It's not a secret that Kobe and Shaq had their differences when they played with each other.  With the Lakers having so much success during that perioid one wouldn't believe that there could be any problems between players, right? Well, Shaq and Kobe had some of the biggest problems in sports, and it was definitely made public.  However they seemingly have fixed that poor relationship they once had and now are good friends again, here's what Kobe said after seeing Shaq at last night's game (via ESPN.com): "It was good to see him," Bryant said after O'Neal sat in courtside seats for the Lakers' 91-85 win over the Phoenix Suns on Tuesday. "I had a chance to kind of catch up with him a little bit after the [Miami] Heat game here at Staples [on Jan. 17], and tonight we got a couple good laughs, a couple good inside jokes." I must say it's nice to hear Kobe and Shaq have repaired their relationship.  They were THE DUO back in 1996-2004, and no one even came close to their PhotoCredit:Jed Jacobsohn/Getty Images caliber of play during that time in the NBA, and it's great to hear they are back to having a close bond. "Shaq and I have a really, really good relationship now," Says Kobe about his dominant partner in crime, Shaquille O'Neal. "I think we appreciate each other more now than ever," Bryant said. "I think the further you get away from the history that you had together, the more you put perspective on it on how dominant we were. It's interesting to think their relationship got better because of the passage of time and how they can look back at their championship runs and reminisce.  More from what happened at the game including how Howard felt about Shaq being there can be read here. Kobe was recently caught saying he was going to "force Shaq" to present him at his retirement.  With Shaq's retirement game coming up on April 2 against the Dallas Mavericks, one can only be relieved to hear the best duo in sports history have a great relationship again, and maybe, just maybe Kobe won't have to "force" Shaq to present him now at his future retirement.   The post Kobe and Shaq Have Renewed Relationship appeared first on Laker Nation.
Read the rest of this story...
MORE FROM YARDBARKER
NBA News

Delivered to your inbox

You'll also receive Yardbarker's daily Top 10, featuring the best sports stories from around the web. Customize your newsletter to get articles on your favorite sports and teams. And the best part? It's free!