Found January 10, 2013 on Larry Brown Sports:
Via Larry Brown Sports:
The Los Angeles Lakers lost on Wednesday night — again. This time, it was the San Antonio Spurs that added to L.A.'s losing streak, which currently sits at five games. As the new head coach who is supposed to turn his talented roster into a championship contender, Mike D'Antoni is under a tremendous amount of pressure. Perhaps even too much.
"At least they put my (hotel) room on the third floor, so if I did jump I would just hurt my ankle a little bit," D'Antoni said Wednesday night, via the LA Times.
The Lakers are doing plenty of scoring. Kobe Bryant is averaging over 30 points per game. Steve Nash has averaged over 10 assists per game during the losing streak and the team has scored 100 or more points in 18 of its last 20 games. Their defense, on the other hand, has been abysmal.
With a record of 15-20, it won't be long before L.A. fans have to start wondering if their team is in danger of missing the playoffs. It may only be January, but the pressure continues to build as the losses pile up. And if the team wasn't struggling enough when healthy, Dwight Howard has missed the last two games with a shoulder injury.
Most NBA fans thought this Lakers team would be fun to watch, but they thought that fun would come in the form of blowout victories — not gross incidents involving towels. If D'Antoni can't get his team to figure out how to stop opponents from scoring on every possession, L.A.'s season could be ending early.
Original Story:
http://larrybrownsports.com/basketbal...
THE BACKYARD
BEST OF MAXIM
RELATED ARTICLES
Kobe Bryant's wife, Vanessa, recently finalized the sale of one of her three Southern California mansions, TMZ reports. Kobe signed the couple's three properties over to her wife when they were beginning divorce proceedings in late 2011. Vanessa listed the 6,000 square foot mansion on sale for $3.75 million in September. TMZ reports and a listing service confirms that the property...
CALIFORNIA LOVE
It didn't look too promising for the tumultuous Bryant marriage of late, but now Kobe's better half has let the world know that things might workout for these crazy kids after all.
Ballertainment Kobe Bryant and Vanessa Bryant are one again Remember when Kobe and Vanessa Bryant were getting a divorce? Me neither. They allowed the heat from the initial divorce announcement to die down so subtlety that its easy to forget. As a refresher, Vanessa Bryant filed for divorce in December 2011. Now, in January 2013, the divorce papers have been tossed in the fire place...
NBA TV had a minor mishap to start off the broadcast of Tuesday night's LA Lakers/Houston Rockets game when they displayed the starting lineups, which featured Kobe Bryant playing all five positions for the Lakers. If Bryant could clone himself, Lakers fans would probably be pretty excited about that starting lineup. H/T SCP. Related: Steve Nash reaches milestone...
Just so everyone is aware, the Los Angeles Lakers lost, again. They were beat up by the Rockets and their problem may have been due to the lineup they put out on the court. The team is missing Dwight Howard and Pau Gasol, and we all know that Kobe Bryant can be a ball-hog at times, but this was taking it to another level. For what it is worth, this was Chris Webber's suggestion H/T Game On!
What chemistry issues? The comedy that is the Lakers' 2012-13 season kicked up a notch recently when the New York Daily News reported that Kobe Bryant and Dwight Howard were involved in a "heated exchange" following the team's loss to the Knicks on New Year's Day. But while the news led to further speculation that the Lakers are a team in disarray, a photo tweeted out by...
Meet Clutch. He's the beloved mascot of the Houston Rockets. As you can see, Clutch seems like a delightful character, harmless enough, exactly what folks have come to expect out of a mascot. Cute, over-sized and loveable. A mascot children as well as adults can love. But when it comes to commitment to a bit, Clutch doesn't take that kind of responsibility lightly. He's a committed...
Kobe and Vanessa Bryant didn't give up on their marriage, but Magic Johnson has divorced himself from this Los Angeles Lakers season. Facing their 6th-straight loss against the Thunder on Friday night, the former Lakers legend called it a season for the Lakers as they trailed by 16 at halftime. "It's over for my Lakers. No playoffs, no nothing," The Lakers ended up losing...
Sports Media Watch recently caught up with Washington State University professor David J. Leonard, author of the book "After Artest: The NBA and the Assault on Blackness." The primary topic of conversation is race in the sports media, including differences in coverage of Kobe Bryant and Duke Lacrosse, fighting in [...]
At the beginning of the season, it seemed like the Lakers had it all. Kobe Bryant, one of the best players in NBA history. Dwight Howard, who is widely considered as the best center in the game. Steve Nash, who will end his career as one of the top three assist leaders in NBA history. Pau Gasol, one of the top five international players to ever play the game. Not to mention a supporting...
The Mike D'Antoni error is in full swing in the Los Angeles. Remember when Steve Nash's return was going to save the Lakers? Ah, seems like only yesterday. Well, it was only about two weeks ago. And now we have reports that Kobe Bryant and Dwight Howard almost got into it in the locker room. Welcome to LA, the land of soap operas.Since Steve Nash returned from his leg injury...
NBA News

Delivered to your inbox

You'll also receive Yardbarker's daily Top 10, featuring the best sports stories from around the web. Customize your newsletter to get articles on your favorite sports and teams. And the best part? It's free!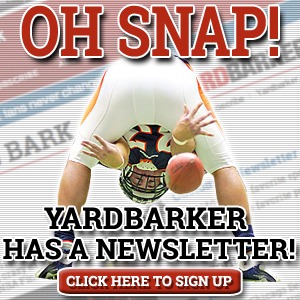 Latest Rumors
Best of Yardbarker

Today's Best Stuff

For Bloggers

Join the Yardbarker Network for more promotion, traffic, and money.

Company Info

Help

What is Yardbarker?

Yardbarker is the largest network of sports blogs and pro athlete blogs on the web. This site is the hub of the Yardbarker Network, where our editors and algorithms curate the best sports content from our network and beyond.