Found May 08, 2012 on The Juicy Online:
Lebron James doesn't believe that the next NBA champions -- for the shorten 2011-2012 NBA season -- should receive an asterisk next to their name. The season was shorten due to the 2011 NBA lockout, as the season was shorten by 3 months and 3/4 of the games being kept on the schedule.
James says that a championship is a championship and that there shouldn't be an asterisk next to the 2012 NBA champion, according to
Pro Basketball Talk
.
"I don't think that's right to say. I'm not going to get involved in it.", James said. "Every team works hard no matter if it's a lockout year or not. There's not much difference between 82 games and 66 games... I don't discredit the effort San Antonio had when they won it in 1999 after the lockout.", James went on to say. "They won multiple [titles] after that, so are we going to say that first one wasn't good enough? I don't think that's true at all."
Original Story:
http://feedproxy.google.com/~r/mediad...
THE BACKYARD
BEST OF MAXIM
RELATED ARTICLES
This video is CLASSIC! Hilarious compilation of the best of LeBron James flops from the 2012 NBA Playoffs, first round series. Late yesterday, Tim Donaghy submitted his latest blog post to CLNS Radio. Of course, the former NBA official honed in on the ugly officiating in these 2012 playoffs, particularly the Miami Heat vs New [...]
MIAMI - The game time on the box score read 2 hours, 24 minutes. With that in mind, LeBron James and Carmelo Anthony were best of friends Wednesday for 21 hours, 36 minutes. When the ball is thrown up, it all changes. "Our friendship goes behind basketball, but, during the game, there's really no friends," Miami's James said before he faced off against New York...
LeBron James gets a lot of heat and most of the time it is deserved but now Reggie Miller is calling him out for a silly reason. TNT analyst Reggie Miller thinks James should not seek advice from NBA hall of famers about what it takes to win a championship. Sure you can criticize James for his horrible play in the NBA finals and in clutch moments but calling him out...
Cavaliers owner Dan Gilbert says ''nothing in the NBA surprises'' him, so he was not shocked when superstar LeBron James said he could envision playing again for Cleveland. When Miami visited Cleveland in February, James said a return to the Cavs ''would be great'' and he would not rule out it happening before his career ends. Following a news conference...
The NBA is typically known as a "Diva's sport." LeBron James carrying a man's handbag or Dwight Howard whining about his head coach creates a stereotype of a sport where players are both pampered and needy. Then again, there are plenty of basketball players that are full of aggression and fueled by the intensity and passion for the sport. But that can draw a fairly...
MIAMI (AP) -- LeBron James had 29 points, eight rebounds and seven assists, and the Miami Heat beat the New York Knicks 106-94 on Wednesday night to win the Eastern Conference first-round series in five games. Chris Bosh and Dwyane Wade each scored 19 points for Miami, which meets Indiana in the East semifinals starting Sunday. Mario Chalmers added 10 points for the Heat. Carmelo...
LeBron gives the current defensive player of the year, Tyson Chandler, a quick lesson in his own craft with a big-time denial on Chandler's dunk attempt. This rejection by "King james" came with about 4 minutes and 20 seconds left in the 1st quarter of Wednesday night's game five matchup between the Heat and Knicks in Miami. Chandler does a nice job of faking the screen...
I have had it with NBA officials in the playoffs. The league is softening up to protect stars and I don't like it one bit. It's hard to watch a game when there are nearly 50 fouls called per game. The playoffs are about letting defensive players get away with more, not about giving the stars more "star treatment". I understand that the NBA is a star-driven league. It's...
Carmelo remains in LeBron's shadow as Heat oust Knicks.
MIAMI -- Here's an ideal way for the Heat to put a stop to all these questions about last-second situations. Blow out the Knicks in Wednesday's Game 5. Ever since Sunday's 89-87 loss at New York, there's been plenty of talk about why Shane Battier, not LeBron James, was guarding Knicks sharpshooter Carmelo Anthony down the stretch. Anthony hit a key three-pointer...
1. Lebron James: Miami Heat 27.1 points, 7.9 rebounds and 6.2 assists per game. PER: 30.80. Team Record: 46-20 - Regardless of what people think of him, Lebron James deserves the MVP trophy, as he was simply the best player in the NBA this year. Doubters always talk about his lack of 4th quarter success and the fact that he plays with Dwayne Wade, but the numbers are simply astonishing...
The game of basketball is a lot easier if you have a player like Kevin Durant, LeBron James, Derrick Rose, or Kobe Bryant. But having a superstar on your team doesn't always guarantee you success. Every team that is a favorite to make it to the NBA Finals has a playmaker or two, who they wouldn't trade for anyone in the world. When you look at the teams that have a legitimate...
Heat News

Delivered to your inbox

You'll also receive Yardbarker's daily Top 10, featuring the best sports stories from around the web. Customize your newsletter to get articles on your favorite sports and teams. And the best part? It's free!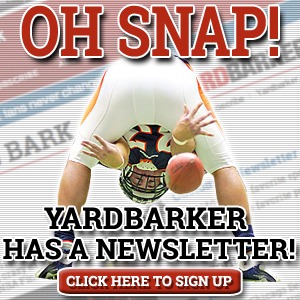 Latest Rumors
Best of Yardbarker

Today's Best Stuff

For Bloggers

Join the Yardbarker Network for more promotion, traffic, and money.

Company Info

Help

What is Yardbarker?

Yardbarker is the largest network of sports blogs and pro athlete blogs on the web. This site is the hub of the Yardbarker Network, where our editors and algorithms curate the best sports content from our network and beyond.