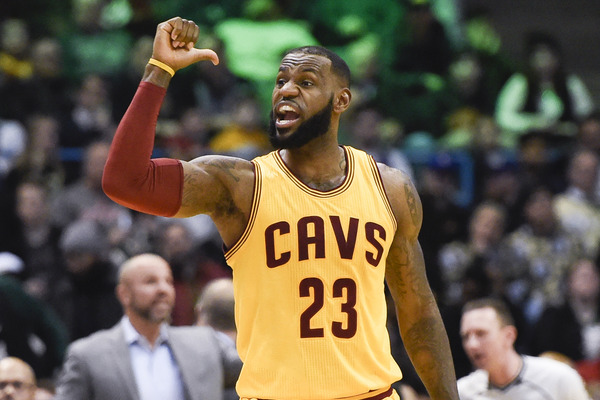 LeBron James believes the Cavaliers need to acquire another point guard.
Benny Sieu-USA TODAY Sports
LeBron James on Friday proclaimed the Cleveland Cavaliers shouldn't be done wheeling and dealing after acquiring Kyle Korver from the Atlanta Hawks. In the superstar's eyes, there's one position still in desperate need of an upgrade.
"We still got a couple more things we need to do," James said at Cavs shootaround ahead of Friday's game against the Brooklyn Nets, via ESPN's Dave McMenamin. "We got to get a point guard."
Reports from ESPN's Marc Stein indicate Jarrett Jack, Mario Chalmers and Norris Cole may be of interest to the Cavaliers to serve as an experienced backup to Kyrie Irving.
Of perhaps greater interest, Cleveland.com's Chris Vardon reports the Cavaliers are paying close attention to the deteriorating situation involving Rajon Rondo and the Chicago Bulls. The point guard continues to languish on the bench and has indicated a desire to be traded.
Regardless of which point guard, if any, are targeted, the Cavaliers would need to make some significant roster moves to effectuate bringing in another player. Mike Dunleavy reportedly is the only player who will be jettisoned by the Cavs in the Korver deal, meaning the team still will be up against the 15-player max roster. Negotiating buyouts of either Mo Williams or Chris Andersen has been floated as an option.
However it's accomplished, James insists acquiring a point guard needs to get done.
"I think that's the next step," James said of a point guard addition. "I think that's the next step. I think that's the next step and uh you know, you look at our league, most teams have three point guards. We only have two with (Kyrie Irving) and our rook in Kay (Felder). I think just having that secure blanket (is important). ... We'll see what happens, but, we're happy with our team right now."
It's hardly surprising for James to speak so candidly about a potential roster move, something that would get players with less power and pedigree in other organizations in a lot of trouble. After all, James has long served as the Cavs' de facto player-coach-general manager in essence if not in name.
MORE FROM YARDBARKER:
Can Russell Westbrook win the MVP on a team that's not elite?
MORE FROM SPORTRESS OF BLOGITUDE:
MORE FROM YARDBARKER
Cavaliers News

Delivered to your inbox

You'll also receive Yardbarker's daily Top 10, featuring the best sports stories from around the web. Customize your newsletter to get articles on your favorite sports and teams. And the best part? It's free!