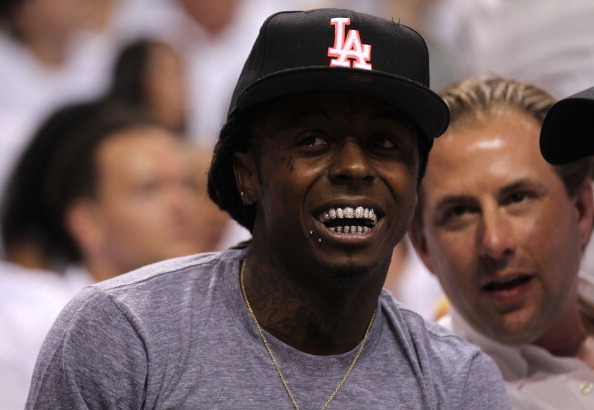 Is there a person on the planet who has more complications when it comes to attending sporting events than Lil Wayne? The rapper attended the Miami Heat-Los Angeles Lakers game in Miami Sunday and claims he was kicked out for cheering the Lakers: So I'm @ da Heat game right, rootin 4 da Lakers kuz dats my team & would u believe they got police 2 make me leave?! Wow! F#€k da Heat — Lil Wayne WEEZY F (@LilTunechi) February 10, 2013 Fans don't get ejected from games for cheering the opposing team unless they are doing something inappropriate or crossing lines of decency, so Weezy isn't telling the full story. A man who goes by the name of Senor Danny Vega on Twitter, and who says he is the social manager for DJ Irie, has another explanation. He says Lil Wayne was kicked out for making a gun gesture at a fan, which would actually justify an ejection. Weezy, you may recall, made a big stir last year when he said he was denied playoff tickets by the Oklahoma City Thunder. He was eventually allowed to attend a Thunder NBA Finals game, but then he complained he was treated poorly by security. Weezy has even complained in the past that LeBron James and Dwyane Wade ignored him when he attended Heat games. Does Lil Wayne even go to games to watch basketball, or is his goal to become the center of a controversy? It's beginning to feel like the latter is his purpose. The post Lil Wayne claims he was kicked out of Heat game for cheering Lakers appeared first on Larry Brown Sports. Related posts: Lil Wayne Happy LeBron James Finally Acknowledged Him at Miami Heat Game Lil Wayne says he was 'treated like s***' by the Thunder arena staff before Game 1 Kevin Durant offering tickets to Lil' Wayne after Game 3 denial
MORE FROM YARDBARKER:
Best athlete by state all time
MORE FROM YARDBARKER
NBA News

Delivered to your inbox

You'll also receive Yardbarker's daily Top 10, featuring the best sports stories from around the web. Customize your newsletter to get articles on your favorite sports and teams. And the best part? It's free!