Found July 30, 2013 on A Stern Warning:
PLAYERS:
LeBron James
,
Kyrie Irving
,
Andrew Bynum
,
Anthony Bennett
,
Paul George
,
Chris Paul
,
Dwyane Wade
TEAMS:
Miami Heat
,
Cleveland Cavaliers
,
Indiana Pacers
,
Los Angeles Clippers
,
Boston Celtics
,
Penn State Nittany Lions
It has been less than a year since the United States men's national basketball team was adorned with gold medals for their victory against Spain in the 2012 London Olympics finals.  In what should have been a quiet summer for Team USA, they have been making headlines for LeBron James seemingly ending his career with the team, with the recent announcement that he will not participate in 2014's FIBA Basketball World Cup. He is likely also out of the 2016 Olympics Games in Rio de Janiero. James averaged 13.3 points per game in the London games and was named MVP in the London Games. He is the face of not only the NBA, but international basketball as well. LeBron's shoes are hard to fill, but many other players have stepped up into the spotlight.  The new era of USA Basketball will be headed by Kevin Durant.   Durant shined in the London games, averaging 19.5 points and 5.8 rebounds per game.  He also shot 52% from downtown, hitting 34 three-pointers in eight games.  Many fans questioned whether Durant would play in the world championship, so his commitment to the team gives them a go-to scorer that will put up big numbers to help the team excel.   "It's USA. That's it," Durant told USA TODAY Sports. "To play amongst the world and travel throughout this beautiful world and play basketball, you can't beat that. It's a great opportunity." Another guy coming off a strong performance in the 2012 Olympics and will board a plane to Spain next summer is Kevin Love.  Love averaged 11.6 points, and led the team in rebounds at 7.6 per game in London.  Love's presence on the boards was a key factor to Team USA's success, especially against the height of Spain led by the Gasol brothers.  Although he sat out parts of the 2012-2013 NBA season, if he can stay healthy for the 2014 World Cup, there is no doubt he will be a superstar for the squad. Making a big splash in the team's minicamp are power forward Anthony Davis and guard Kyrie Irving.  During Team USA's internal scrimmage on July 26, Irving and Davis were excellent on offense, scoring 23 and 22 respectively.  Irving dished out seven assists, leading all players, and Davis picked up seven boards.  Although Davis and the Hornets had a disappointing rookie season, he has experience playing at the international level and has a gold medal with the 2012 team.  Irving has emerged as one of the most exciting point guards in the league.  He averaged 22.5 points last season and was named an All Star as only a sophomore to the association. With the acquisition of center Andrew Bynum and #1 pick Anthony Bennett in the 2013 NBA Draft, Irving and the Cleveland Cavaliers have lofty expectations for the 2013-2014 NBA season. A guy who has been projected to join Irving at the guard position is Stephen Curry.  Curry became a fan favorite in the 2013 NBA Playoffs where he averaged 23.4 points per game.  He is a sharpshooter from the three point line, and his 18 three pointers in his first four playoffs game is an NBA record.  He can change the pace of the game and has potential to be a top five point guard in the upcoming years. Paul George another player who emerged in the spotlight of the playoffs is expected to play for the United States.  George averaged 17.4 points in the regular season for the Indiana Pacers and 19.2 points in the 2013 playoffs.  He has proven to perform in the clutch, hitting a three-point field goal at the end of the fourth quarter in game one against the Miami Heat in the Eastern Conference semi-finals. His size, 6'8 feet and 220 pounds, is comparable to LeBron's, and there is no doubt he would be a decent replacement in the small forward position for the United States. Big question marks remain with Russell Westbrook, Chris Paul and James Harden.  As of right now they do not have plans to participate in the World Cup, but if they do become interested next summer there is no doubt room on the roster will be made for the gold medal winners.  Paul has come out in a statement saying he is leaning towards playing in the 2016 Rio Games, but the possibility of him playing in Spain is still in the air. With the combination of veterans, young talent and an incredible coaching staff led by future Hall Of Famer Coach Mike Krzyzewski, the United States should be in contention for top spot in Spain next summer.  Although they are losing big names in LeBron, Kobe Bryant, Dwyane Wade and potentially Paul, the NBA still has a history of producing the world's best basketball players, earning the gold medal 14 out of their 17 appearances in the Olympic Games.  Behind Durant, Love, and Irving, the team should continue to shine on the international level and show the world that they can still win without LeBron in the World Cup and eventually, the Olympics. This guest post was contributed by Heather McDevitt -- she is a Boston Celtics fan with a BA Public Relations from Penn State. 
Original Story:
http://www.asternwarning.com/articles...
THE BACKYARD
BEST OF MAXIM
RELATED ARTICLES
Clearly, Miami Heat star LeBron James is dedicated to improving his game and judging from the below clip, he might be adding a hook shot to his offensive repertoire. Check out this short video that LeBron posted on Instagram back on Tuesday that shows him practicing his hook shot and having about a 50% success rate:
LeBron James is considering a run to become president of the NBA players union. "It's something he has talked about with a small group of people," a source close to James said. "There is a new executive director coming in and new commissioner. He recognizes that this is the time for the union to change." It is still "unlikely" that James takes the presidency...
As was the case during the 09-10 season, speculation on where LeBron James will play following the upcoming season is one of the NBA's favorite storylines. James can elect for free agency in the 2014 offseason with both the Los Angeles Lakers and Cleveland Cavaliers in position to offer a max contract for him to leave the Miami Heat. "In general, the beauty of our league...
Following in the footsteps of Jay Z, Lebron James will curate the 20-song-soundtrack of the upcoming "NBA 2K14." Lebron will also be working double duty as the game's cover boy. James said in a statement that he is honored to be the first cover athlete to choose songs for the soundtrack. "2K is letting me take control of some important elements in NBA 2K14, including this...
Kyrie Irving of the Cavaliers and Nate Robinson of the Denver Nuggets played in some weird pick up game. I'm not sure if they were invited. I assume they were, but who knows. Maybe they're those guys that just walk on the court and say, "I got now, I don't care who has next."   Or maybe they showed up to a terrible game, and everyone welcomed there presence like the Nike...
The NBA players association could be on the brink of a seismic power shift that goes well beyond the naming of a new executive director . LeBron James, the game's best and most popular player, is mulling a bid for the union's presidency. "It's something he has talked about with a small group of people," a source with close ties to James told FOXSports.com on...
Summer is serious. And Kevin Durant is not nice. Okay so those are both Nike slogans, but they were proven to be 100% truthful yesterday at the Nike-sponsored Drew League in Compton, CA. The high-school sized gym was filled from wall to wall, with media cramming the baseline under each basket to witness some of the most start-studded summer basketball in Drew League history. For...
The Miami Heat obviously have a lot to be happy about.  Three straight years of Eastern conference dominance coupled with two titles alongside two MVP trophies proves that Miami is the cream of the NBA's crop, and rightfully so, analysts and critics can't talk NBA without talking Heat basketball. When Derrick Rose called himself the best player in the league the criticism...
NBA News

Delivered to your inbox

You'll also receive Yardbarker's daily Top 10, featuring the best sports stories from around the web. Customize your newsletter to get articles on your favorite sports and teams. And the best part? It's free!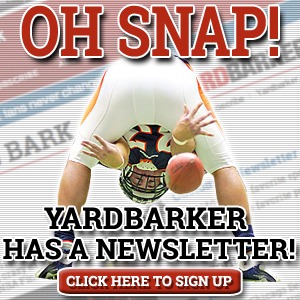 Latest Rumors
Best of Yardbarker

Today's Best Stuff

For Bloggers

Join the Yardbarker Network for more promotion, traffic, and money.

Company Info

Help

What is Yardbarker?

Yardbarker is the largest network of sports blogs and pro athlete blogs on the web. This site is the hub of the Yardbarker Network, where our editors and algorithms curate the best sports content from our network and beyond.