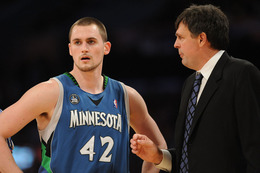 MINNEAPOLIS Kevin Love wasn't hiding his frustration. With just four points in the first quarter and six at the half, the forward was not in his usual form through much of Sunday's 92-91 win over Philadelphia. For a player averaging 25.6 points per game, that's almost unheard of, and Love made his displeasure known. Each time he walked to the bench for a rest or quick gulp of water, Love commented. Complaints like, "I can't make a shot," or, "Nothing seems to fall for me," were met by encouragement from his teammates and coaches. Keep shooting, they told him. Keep shooting. And he did. Love finished the night with a respectable 20 points, a statistic that obscures his struggles for most of the game. In the fourth quarter alone, Love scored 12 points, including the two free throws that sealed the Timberwolves' win. It was the second consecutive game in which Love has taken his play to a new level in the fourth quarter; he scored 14 in the fourth quarter in Houston on Friday to push the game out of the Rockets' reach. "That just shows the kind of player he's become," Timberwolves' coach Rick Adelman said of Love. "He made the plays in the fourth quarter that we needed. He made the big free throws at the end of the game there, and that's what you expect out of him." It's hard to fault Love his early struggles, especially against the 76ers, who have the best defense in the league and give up an average of only 87.3 points per game. Love said that for most of the game Sunday, the ball just didn't feel right in his hands. "Sometimes I have nights like that," Love said. "It's once in a blue moon, but still." It's easy to see there's no lack of confidence on the part of the 23-year-old. With this year's team and the standard he's set for himself, Love knows that other players will pick up the slack. On Sunday, it was Rubio, who had a season-high 22 points, marking the first time he'd scored more than 20 points in a game since 2007. But more than his teammates stepping up, Love has also negotiated a measure of inner calm when it comes to poor offensive nights. It's his fourth year in the league, so Love has had games like Sunday's before. He said that he's learned from each of them, and he's realized that it can take even less than a quarter of good basketball to change a game, especially a close one. With that knowledge has come an added maturity, the realization that a half hour of struggles doesn't have to mean 48 minutes of disappointing play. "I probably could have done it, but playing three quarters of basketball like that in the past, I don't think I was mature enough to overcome that and persevere through that," Love said. Sunday night's win might have been another tally in the loss column earlier this season, but the team's persistence showed a maturity that's only recently developed, the belief that any close game is theirs for the taking. And though Nikola Pekovic, in his dead-pan voice, may not have cut Love the slack most of his teammates did "I think he should start from the beginning, so we don't struggle so much," Pekovic said, smiling the team gave him much of the credit for its renewed belief in itself. "A lot of that goes to Kevin," Derrick Williams said. "It's just, he struggled for three quarters, and that last quarter he really turned it on. We needed him to score and rebound like he did in that fourth quarter." Because they can't always rely on that last-second shot, those final minutes of playing focused, air-tight basketball. Some nights they'll need a commanding lead, and Love is bound to snap out of his early funk soon. But games like Sunday's are fun to watch, to see a player find his game out of nowhere and seal a win in the final gasping milliseconds of a game. "To get this one here, and the one the other night as they go through experiences like that, when you play close games and you have to make plays, you get used to knowing what you're going to do," Adelman said. "I think we're figuring that out, what we're going to do." Sunday night showed that the Timberwolves have learned how to negotiate drama and suspense. They're still proving, however, that they can secure the easy wins. Follow Joan Niesen on Twitter.
Read the rest of this story...
MORE FROM YARDBARKER
Timberwolves News

Delivered to your inbox

You'll also receive Yardbarker's daily Top 10, featuring the best sports stories from around the web. Customize your newsletter to get articles on your favorite sports and teams. And the best part? It's free!