Found May 21, 2013 on Fox Sports Florida:
PLAYERS:
Dwight Howard
,
Shaquille O`Neal
,
Nerlens Noel
,
Nikola Vucevic
,
Glen Davis
,
Ben McLemore
,
Trey Burke
,
Arron Afflalo
,
Jameer Nelson
,
Beno Udrih
,
Otto Porter
,
Victor Oladipo
,
LaMarcus Aldridge
,
Tyrus Thomas
TEAMS:
Los Angeles Lakers
,
Orlando Magic
,
Cleveland Cavaliers
,
Denver Nuggets
,
Chicago Bulls
,
Portland Trail Blazers
,
Charlotte Hornets
,
Kentucky Wildcats
,
Kansas Jayhawks
,
Michigan Wolverines
,
Georgetown Hoyas
,
Indiana Hoosiers
Theres no equivalent of Dwight Howard or Shaquille ONeal for the taking in this year's NBA Draft. Not even close. So while the Orlando Magic and good-luck charm Pat Williams would have been ecstatic to emerge from the draft lottery Tuesday night in New York with the No. 1 pick, like they did in 2004 and in back-to-back years during the 1990s, this isnt the worst year for the ball not to have bounced their way. Let the Cleveland Cavaliers wrestle with the questions about whether Nerlens Noel will return by Christmas from a torn left ACL or has the type of body and shooting touch required for the pro game. The Magic, at No. 2, can explore any number of options before the night of June 27 without the intense scrutiny that comes with picking first. Should the Cavs have misgivings about the health of the 6-foot-11 Noel, who spent one season at Kentucky, it could create an interesting situation for the Magic, who have never owned a second pick in their history. Video: Highlights: Nerlens Noel With Nikola Vucevic coming off a season in which he was one of the NBAs most improved players, and with Glen Davis expected to be back at full strength after fracturing his left foot four months ago, theres not a pressing need for a center or power forward. Guards have been chosen first overall in three of the past five years, and either Ben McLemore of Kansas or Trey Burke of Michigan and possibly both will still be available when the Magics turn rolls around. If general manager Rob Hennigan intends to draft based on greatest need, which can be a risky strategy, this could be the biggest advantage of going second. McLemore is regarded as the best wing player in the draft and could stand to benefit from the veteran leadership of Arron Afflalo, who came over from the Denver Nuggets last summer and started 64 games this season. Video: Highlights: Ben McLemore Burke, the star of Michigans run to the national championship game, figures to be coveted by a team looking to get younger at a position where 31-year-old Jameer Nelson has been susceptible to injuries and 30-year-old Beno Udrih is an unrestricted free agent. Video: Highlights: Trey Burke Small forward Otto Porter, the All-American from Georgetown, and power forward Anthony Bennett of UNLV are the only other prospects generally regarded as top five selections. Video: Highlights: Otto Porter Considering the Magic were near the bottom of the league in steals, they might take a look at Indianas Victor Oladipo, a swingman and consensus All-American who was named the best defensive player in the country in at least one poll. Video: Highlights: Victor Oladipo Rarely has a team in the Magics position traded down in the draft. The last time it happened was in 2006, when the Chicago Bulls took LaMarcus Aldridge second overall but traded his rights to the Portland Trail Blazers. The Bulls wound up with Tyrus Thomas, whose career has paled in comparison to Aldridges. Aldridge and Kevin Durant have been the only No. 2 picks over the past decade to make a major impact. The Magic were heavily criticized in some quarters for taking Howard in 2004 instead of Emeka Okafor, who shared player of the year honors with Nelson and helped lead Connecticut to an NCAA title. While Okafor wound up as Rookie of the Year with the Charlotte Bobcats, Howard has gone on to have the far better career. It should make for an interesting five weeks ahead for the Magic. You can follow Ken Hornack on Twitter @HornackFSFla or email him at khornack32176@gmail.com.
Original Story:
http://www.foxsportsflorida.com/nba/o...
THE BACKYARD
BEST OF MAXIM
RELATED ARTICLES
The latest news surrounding Dwight Howard and the Los Angeles Lakers should come as a surprise to no one. While most people feel that Howard will return to LA next season if for no other reason than the Lakers can offer him over $30 million more than any other team, the decision may not be that simple. According to ESPNLosAngeles.com's Dave McMenamin, Howard is reportedly frustrated...
Dwight Howard is considering signing with the Golden State Warriors as well as the previously reported Los Angeles Lakers, Houston Rockets, Dallas Mavericks and Atlanta Hawks, a source close to the player said Thursday. According to the source, Howard's main concern involves "what team he feels has the best chance to win championships, has the best team and system around...
Dwight Howard isn't rational, but if you were to look at this logically, it is pretty simple. $30 Million and the life of a Laker (which is different from any other team in the league) or go to a younger team where the scrutiny and attention wouldn't be as great. According to USA Today that is what Dwight is struggling with. Despite all signs pointing to his Lakers return late...
On July 1, Dwight Howard will test the waters of free agency and there is no guarantee he will return to the Los Angeles Lakers.  According to a report, the Rockets are the most intriguing team to the All-Star center. According to Ken Berger of CBS Sports: With the Lakers hoping for a swift decision from Dwight Howard on his free agency this summer, the All-Star center has given...
From the time the Los Angeles Lakers announced Mike D'Antoni would be their new head coach, questions surrounded how he would fit with All-Star center Dwight Howard. During the big man's exit interview following the disappointing season, Howard expressed his frustration with D'Antoni to general manager Mitch Kupchak, according to Dave McMenamin of ESPN Los Angeles.Howard...
According to Mark Medina of the Los Angeles Daily News, the Golden State Warriors are also among the teams Dwight Howard is considering in free agency. A source familiar with Howard's thinking says he plans to test free agency and has considered the Lakers, Dallas, Houston, Atlanta and Golden State. Nothing remains binding, though. The source added Howard's main concern involves...
It seems that there is a terrible trend happening for NBA player Dwight Howard. For the past few years in the offseason it seems that Howard is involved with trade talks and team chemistry issues. Howard has been working on his diva role more than his free throws. Los Angeles is not the right fit for Howard because the media puts a ton of pressure on stars to win NBA titles. Howard...
Kobe isn't a dumb person, no matter what you think of Dwight Howard personally, if he leaves the Lakers, it will lessen their chances of winning next year. Next year, maybe all that Kobe has left, so it makes sense that he will try to convince him to stay. He has no real alternative  but to try to make it work with Dwight. Lakers are ready to hitch their wagon to Dwight for the...
Dwight Howard isn't the only one questioning Mike D'Antoni. It started the moment they overlooked Phil Jackson. Fans, radio personalities, and now even Dwight Howard can't make sense of D'Antoni's system and the lack of player the Los Angeles Lakers have to run it. In retrospect the Lakers made a mistake when they brought in Mike D'Antoni. They should have either let...
    There's a prevailing sentiment out there, that Dwight Howard will re-sign with the Los Angeles Lakers simply because they're the Los Angeles Lakers. Phil Jackson isn't certain that will be the case when Howard finally makes a decision on his future. According to Eric Pincus of the Los Angeles Times, when asked if Howard should return to the organization, Jackson didn't...
NEW YORK (AP) -- Pat Williams is pretty good at being lucky, and he's got a hunch. "I got a funny feeling that this could be another Magic year, here. For some reason, I've just got the feel," Williams said. Orlando sure could use it. Following a difficult first season after trading Dwight Howard, the Magic are hoping Williams can bring them more lottery luck...
This is a similar injury to what Dwight Howard played with for a good portion of the year. It isn't bad enough to sideline you, but it is bothersome. Carmelo Anthony played 12 playoff games with a partially torn left shoulder, the Daily News has learned. An MRI of Anthony's shoulder revealed a partially torn labrum, according to a Knicks source and there is a possibility that...
NBA News

Delivered to your inbox

You'll also receive Yardbarker's daily Top 10, featuring the best sports stories from around the web. Customize your newsletter to get articles on your favorite sports and teams. And the best part? It's free!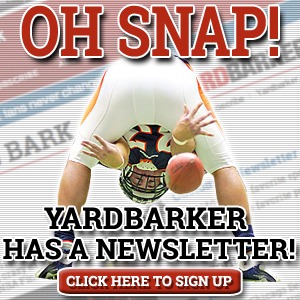 Latest Rumors
The Backyard

Today's Best Stuff

For Bloggers

Join the Yardbarker Network for more promotion, traffic, and money.

Company Info

Help

What is Yardbarker?

Yardbarker is the largest network of sports blogs and pro athlete blogs on the web. This site is the hub of the Yardbarker Network, where our editors and algorithms curate the best sports content from our network and beyond.