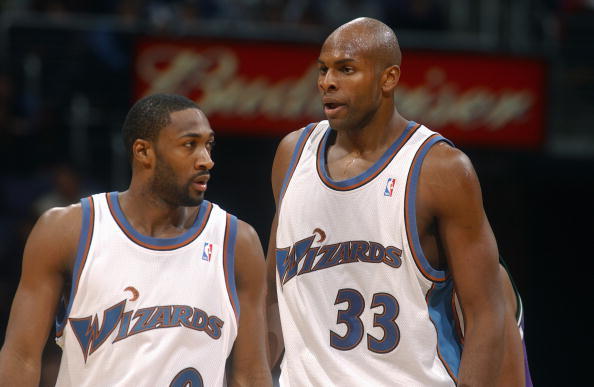 Washington Wizards Gilbert Arenas falls hard after committing a foul on the Miami Heat during the fourth quarter at the Verizon Center in Washington on November 4, 2009. The Heat defeated the Wizards 93-89. UPI/Alexis C. Glenn Photo via Newscom
Getty Images
The new Amnesty Clause in the NBA labor agreement update claimed it's first ever victim today. Gilbert Arenas of the Orlando Magic. Yes, "Hibachi," "Agent 0," or as I call him "shooty mcshootington" or "gunsy mcgunsington" walks away from the Magic with a cool $60+ million; without having to do a thing.
The Magic get to take his albatross of a contract off their salary cap hit. Now, with the new rule in place teams under the cap will be able to bid on him. If there are no bids, he simply becomes an unrestricted free agent.
If Arenas is not picked up, the Magic owe him $62.4 million. If he signs as a free agent, he keeps all his Magic money and gets whatever the new team is willing to pay him. And the Magic will have to pay Arenas the difference between the winning bid for him and his $62.4 million guarantee.
The Detroit Pistons waived Rip Hamilton today. It was thought the Piston used the amnesty clause, but they did not. It was a simple contract buyout, and this gives Hamilton more freedom in choosing his next team.
The Chicago Bulls are pretty quiet right now on the transaction front,  but lots of chatter on them trying to possibly Hamilton. The Bulls are looking for a ball-handler/scorer, and desperately need an upgrade at the two. Expect the Boston Celtics to maybe make a move on Hmailton too.
Paul M. Banks is CEO of The Sports Bank.net, an official Google News site that generates millions of unique visitors. He's also a regular contributor to Chicago Now, Walter Football.com, Yardbarker, and Fox Sports
A Fulbright scholar and MBA, Banks has appeared on live radio shows all across the world. The President of the United States follows him on Twitter (@Paul_M_BanksTSB) You should too.
Read the rest of this story...
MORE FROM YARDBARKER
NBA News

Delivered to your inbox

You'll also receive Yardbarker's daily Top 10, featuring the best sports stories from around the web. Customize your newsletter to get articles on your favorite sports and teams. And the best part? It's free!