Found October 03, 2012 on Larry Brown Sports:
From Larry Brown Sports:
Matt Barnes was caught on video using profanity and a homophobic slur during a July arrest, and he has apologized for his language.
Barnes was arrested on July 30 for an outstanding traffic warrant and for threatening an officer. The Clippers forward was released on $51,000 bail later that night, and now we have video that shows his alleged uncooperative behavior from that evening.
TMZ obtained and published video from the arrest, and it shows Barnes and his wife, Gloria Govan, appearing to give the officers a difficult time while resisting arrest.
The video shows an officer telling Govan, who was standing next to Barnes, to "turn around and put your hands behind your back."
"For what?" she responds.
Govan continues to refuse to move away from her husband and complains that another officer wouldn't tell them why Barnes was being arrested. She suggests the officers "pow-wow" and then let them know why the arrest is being made.
"And why don't you ask [the] officer how he found Matt in the first place?" she asks one officer.
"Yeah, by f—ing stalking me, which is probably illegal," Barnes chimes in.
The officer then explains to Govan that they have a warrant for Barnes' arrest, and he tells her to step aside so that her husband can be handcuffed. She begins pushing the officer's hands away as they attempt to move her away.
Barnes continues to move around as the officers attempt to handcuff him. At one point he slips his hand away to give car keys to Govan, which the officers appear to consider an act of resistance.
"I'm going to jail because you're a f—ing fa–ot and you followed me," Barnes angrily complains about one of the officers.
The Clippers forward then drops a few more f-bombs before he is led toward the police car, which is when the video cuts out.
It's unclear what happened leading up to the point when the video begins, but TMZ previously reported that the officer whom Barnes accuses of stalking him knew that Barnes had an outstanding arrest warrant and waited two hours outside a restaurant before confronting him. TMZ also reported that Barnes' arrest warrant was for failing to appear in court for driving on a suspended license.
Last week, Barnes, through his attorney, pleaded no contest to misdemeanor charges of unlicensed driving and resisting arrest. He was sentenced to two years of probation, and ordered to complete 30 hours of community service and attend 13 counseling sessions with a private therapist.
Barnes issued an apology for his offensive language.
"I would like to apologize for the unfortunate language I used," Barnes said, according to TMZ. "I know that certain words are extremely hurtful.
"I meant absolutely no disrespect to anyone. This comment, spoken in the heat of a difficult moment, does not accurately reflect my actual point of view.
"I hope that any and all offended parties can accept my sincerest apologies."
Also from Larry Brown Sports
Lolo Jones commits major Twitter gaffe
Video: Billionaire Mark Cuban dances 'Gangnam Style' at bar
How Tiger Woods cost sports books millions
Original Story:
http://larrybrownsports.com/police/ma...
THE BACKYARD
BEST OF MAXIM
RELATED ARTICLES
PLAYA VISTA, CA -- Los Angeles Clippers' reserve forward Matt Barnes had an off-season he'll never forget. Not because he was able to spend June, July and August celebrating an NBA title; his former team, the LA Lakers lost in the second round of the playoffs. Not because he agreed to a ginormous free agent deal with the Clips; he signed for the veteran's minimum of...
  TMZ managed to locate Clippers Matt Barnes arrest video for a warrant late last summer in Manhattan Beach, Ca. Matt has settled the case by pleading "no contest" to the warrant charge. I'm still rolling with the Barnes on this one, seems to me the initial arresting officer as well as his back up [...]
WON'T TAKE LYING DOWN
Clippers star Blake Griffin criticized the NBA instituting new flopping rules, saying the associated fines are a "good way for the NBA to get more money."
Photo courtesy of: Terez Owens
  The Clippers held their open scrimmage Wednesday night at USC's Galen Center. In addition to showcasing an array of dunks, Blake Griffin hit a 75-foot shot. And then there are the DUNKS! Hopefully Blake worked on his jumper this summer too! His knee looks good. First preseason game is this Saturday in Las Vegas [...]
Los Angeles Clippers' Blake Griffin usually gives us unbelievable dunking highlights.  This time he shows us he can throw a basketball like a quarterback and make the shot from the opposite free throw line.  Griffin made the shot during the Clippers public scrimmage at USC's Galen Center.  
It turns out Blake Griffin isn't just good at dunking. During Los Angeles Clippers open scrimmage at USC, Griffin sinked a 75-foot shot that made the crowd get wild.The NBA is back. Blake Griffin's knee appears fine. Highlights like these are expected:
We all know that Los Angeles Clippers forward Blake Griffin is a pretty amazing dunker but did you think he could hit a 75-footer?Watch as Blake drains on from beyond half court before the Clippers scrimmage at the University of Southern California:
CP3 doesn't want us fans and media to worry about him dragging us through some egotistical non-sense come time for his free agency. He wants to keep it quick, concise and casual. "At the end of the season, I'll evaluate everything. But it's no secret. Everyone knows I love it here. I love our team, I love everything that's going on."              - Chris Paul
Contributed by guest blogger Frank PalmasaniThere is a new sheriff in Los Angeles… Right?Maybe, but not likely.Yes, they have Chris Paul running the court in the Staples Center painted red, white and blue. And yes, they have the always entertaining and high-flying Blake Griffin. But are those two players along with a talented to decent entourage of role players and back-ups enough...
Clippers News

Delivered to your inbox

You'll also receive Yardbarker's daily Top 10, featuring the best sports stories from around the web. Customize your newsletter to get articles on your favorite sports and teams. And the best part? It's free!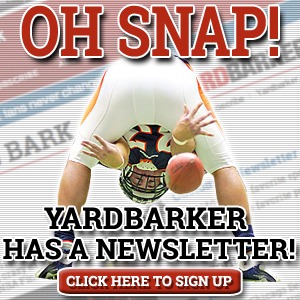 Latest Rumors
Best of Yardbarker

Today's Best Stuff

For Bloggers

Join the Yardbarker Network for more promotion, traffic, and money.

Company Info

Help

What is Yardbarker?

Yardbarker is the largest network of sports blogs and pro athlete blogs on the web. This site is the hub of the Yardbarker Network, where our editors and algorithms curate the best sports content from our network and beyond.