Posted April 03, 2013 on AP on Fox
PLAYERS:
Carmelo Anthony
,
J.R. Smith
,
Raymond Felton
,
Chris Bosh
,
LeBron James
,
Dwyane Wade
,
Mario Chalmers
,
Mike Miller
,
Ray Allen
,
Norris Cole
,
Erik Spoelstra
,
Steve Novak
,
Flo rida
,
Ben Roethlisberger
TEAMS:
New York Knicks
,
Miami Heat
,
Pittsburgh Steelers
Carmelo Anthony tied his career high with 50 points and the New York Knicks won their ninth straight game, topping the injury-depleted Miami Heat 102-90 on Wednesday night. Anthony finished 18 of 26 from the field, reaching 50 on a jumper with 16.9 seconds remaining. J.R. Smith scored 14 and Raymond Felton added 10 for New York. Chris Bosh scored 23 points for Miami, which played without LeBron James, Dwyane Wade and Mario Chalmers, all held out with injuries that are not believed to be serious. Mike Miller scored 18, Ray Allen finished with 16 and Norris Cole had 14 for the Heat, whose 17-game home winning streak was snapped. The Knicks beat the Heat in three of their four regular-season matchups. They likely would not meet again before the Eastern Conference finals. Miami's magic number for clinching home-court throughout the NBA playoffs remained at five, and the Heat already have the No. 1 spot in the Eastern Conference wrapped up. The Knicks now lead Brooklyn by five games in the race for the Atlantic Division title. It was only Miami's second loss in its last 31 games. Much of the star power was taken out of the equation more than eight hours before game time, when the Heat announced that James, Wade and Chalmers would not play. James has a sore hamstring, and Wade and Chalmers are dealing with ankle sprains. All are listed as day-to-day. ''The No. 1 thing, obviously, is try to get as healthy as we can,'' Heat coach Erik Spoelstra said. ''Obviously, that's a priority. From there, we have time to still try to improve - not just stay in rhythm, but to improve, and also get these guys an opportunity that haven't been getting minutes to play in these meaningful minutes. We didn't script San Antonio or this like this to happen, but that's what this league is about. It's unpredictable.'' Anthony surely did not mind their absences. He made three shots, a combined 65 feet of swished jumpers, in the game's first 2:17 as the Knicks ran out to an 8-0 lead. Plenty of blue-and-orange shirts in the Miami crowd roared, and the early indications were that Anthony was on his way to a monster night and the Knicks were on their way to a blowout victory. That assessment was half-right. Anthony came in averaging 27.5 points and was practically there by halftime with 27 on 9-for-12 shooting - a display the Knicks absolutely needed, since Miami more than held its own without James, Wade and Chalmers. After trailing by as many as nine early, Miami actually roared back to lead 58-50 at the half. Miller and Cole combined for 30 at the break; Miller's 18 were five more than he had scored in any game this season. Anthony - who had one more field goal than every other Knick managed, combined, in the first 24 minutes - didn't exactly cool off at halftime. By the time the third quarter was 4 minutes old, Anthony was up to 37 points and, other than two fouls, absolutely nothing else. No rebounds, no assists, no steals, no blocked shots. Just scoring. His first rebound came with 7:02 left in the third, and his first assist came as the clock was expiring to end the period, setting up Steve Novak for a 3-pointer from the right corner that allowed New York to take a 78-76 lead into the final 12 minutes. Anthony actually went 10 minutes without scoring, then made two jumpers - the second a 3-pointer - 40 seconds apart, giving the Knicks a 95-88 lead with 3:32 left. The Heat had tied the game twice in the fourth, but never led after Novak's 3 that closed the third. NOTES: It was the fourth time in 25 career games, including playoffs, that Anthony eclipsed the 40-point mark against the Heat. ... Wade and James looked on intently as the Heat showed a video to promote the looming playoffs after the third quarter. Wade shimmied his shoulders a bit afterward, and James started to nod at one of the final images - his sideline dance in the final seconds of Game 5's title-clinching win over Oklahoma City last June. ... Rapper Flo Rida was at the game, as was actor Andy Garcia and Pittsburgh Steelers quarterback Ben Roethlisberger. ... Of the Knicks' nine remaining games, six are against likely playoff-bound teams.
Original Story:
http://msn.foxsports.com/nba/story/ca...
THE BACKYARD
BEST OF MAXIM
RELATED ARTICLES
With the playoffs quickly approaching, Carmelo Anthony and the New York Knicks are looking like a force to be reckoned with. The slumping Milwaukee Bucks, in contrast, appear to be falling apart at a less than opportune time. Enjoying their longest winning streak in 19 seasons, the Knicks try for a three-game season sweep of the visiting Bucks on Friday night. One night after...
Sure the Miami Heat did not have LeBron James and Dwyane Wade last night, but even if they did play Carmelo Anthony would have been the best player on the court last night. Last night Anthony dropped 50 points as the Knicks beat the Heat. Anthony was 18 of 26 from the field, with most of his made baskets coming outside the paint. Check out all of Anthony's 50 points in the video...
Carmelo Anthony was on fire Tuesday night as he scored 50 points in stylish fashion, while leading the Knicks to their 9th win in a row a 102-90 past the Heat. As LeBron James didn't play due to a strained right hamstring, I'm sure many will question how much stock this performance holds when talking about this match-ups come playoff time. Either way it was fun to watch. -18...
By Max Marcilla Knicks 102 Heat 90 Boxscore With the news earlier in the day that the LeBron James, Dwayne Wade, and Mario Chalmers were all sidelined for the matchup between the Knicks and the Heat, many Knick fans thought this would be an easy win. Luckily, the Knicks did win, but it wasn't at all easy, especially in the first half. Immediately in the first quarter, Carmelo Anthony...
Here are three observations from the Atlanta Hawks' 95-82 loss to the Eastern Conference's No. 2 seed, the New York Knicks, on Wednesday night: 1. Carmelo Anthony and J.R. Smith controlled the game from the tip. Anthony, who has been on a ridiculous tear during the Knicks' current 10-game winning streak, made the first basket of the game which was not a problem for...
MIAMI (AP) -- Carmelo Anthony tied his career high with 50 points and the New York Knicks won their ninth straight game, topping the injury-depleted Miami Heat 102-90 on Wednesday night. Anthony finished 18 of 26 from the field, reaching 50 on a jumper with 16.9 seconds remaining. J.R. Smith scored 14 and Raymond Felton added 10 for New York. Chris Bosh scored 23 points for Miami...
By Kenneth Teape Pre-Game News and Notes Knicks vs. Hawks: ESPN, MSG 7PM The Knicks will look to continue their nine game winning streak in Atlanta tonight against the Hawks on the second night of a back-to-back.  The Knicks have been very successful thus far this season in the second games of back-to-back, going 10-6 in the season so far.  The Knicks have some history in their...
He had plenty to smile about. Lebron was not playing, neither for that matter was Dwayne Wade or Mario Chalmers as the Knicks beat the Heat 102-90. Carmelo Anthony scored 50 tying his career high in a Knick uniform.This means the Knicks season record against the Heat is 3-1. What will that mean come playoff time? not much unless they face each other in the Conference finals. Then...
MAKES SENSE
The fact that the Knicks beat an undermanned Heat team doesn't change Chris Bosh's belief that his squad could handle them in a playoff series.
Kobe Bryant might be the most predictable man on Earth. He took the court knowing that Carmelo Anthony had just gone for 50 points against Miami, with a stat sheet thick with shots and little else. In L.A., Shaquille O'Neal's jersey was being retired at halftime. Phil Jackson was in the house. Was there even the slightest chance that Bryant, for a night, wasn't going...
Was this the greatest single week in the history of New York Knicks basketball? No, no it wasn't. But at times it felt like it, especially in the immediate seconds following not one, but TWO blowout victories over the Boston Celtics. Now the Knicks have won eight in a row and are peaking at the right time. There have been contributions up and down the lineup since our last rankings...
NBA News

Delivered to your inbox

You'll also receive Yardbarker's daily Top 10, featuring the best sports stories from around the web. Customize your newsletter to get articles on your favorite sports and teams. And the best part? It's free!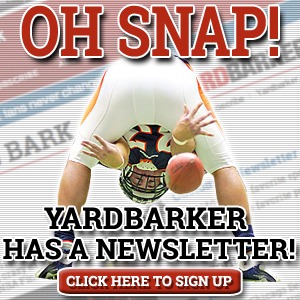 Latest Rumors
The Backyard

Today's Best Stuff

For Bloggers

Join the Yardbarker Network for more promotion, traffic, and money.

Company Info

Help

What is Yardbarker?

Yardbarker is the largest network of sports blogs and pro athlete blogs on the web. This site is the hub of the Yardbarker Network, where our editors and algorithms curate the best sports content from our network and beyond.