Posted November 02, 2012 on AP on Fox
PLAYERS:
Carmelo Anthony
,
Steve Novak
,
Raymond Felton
,
LeBron James
,
Dwyane Wade
,
Chris Bosh
,
Rasheed Wallace
,
J.R. Smith
,
James Dolan
,
Alonzo Mourning
,
Tim Hardaway
,
Marcus Camby
,
Mike Woodson
TEAMS:
New York Knicks
,
Miami Heat
,
Denver Nuggets
Carmelo Anthony had 30 points and 10 rebounds, and the Knicks gave suffering New Yorkers something to cheer with a 104-84 victory over the Miami Heat in their storm-delayed season opener Friday night. In the first sporting event in New York since Superstorm Sandy, the Knicks dominated a game the Heat players weren't sure should even be played with the city still so devastated. But the Knicks hoped they could provide a distraction for a few hours, and fans who were able to watch surely loved what they saw from a team that could barely compete with Miami last season. Steve Novak, a non-factor against the Heat in last season's playoffs, added 17 points off the bench and Raymond Felton had 14 points and nine assists to begin his second stint with the Knicks. LeBron James scored 23 points for the Heat, so impressive in a season-opening victory over Boston on Tuesday but never really in this one. Dwyane Wade, who thought the game should be postponed, finished with 15 points and Chris Bosh had 12 points and 11 rebounds. The Heat beat the Knicks in five games in last season's first round, and at least for one night New York appears to have closed the gap on the champs. But the focus surrounding this one had little to do with basketball. Even Knicks players weren't sure what kind of crowd to expect with many New Yorkers in such bad shape and perhaps unable to travel to the game with the city's transit system crippled. But Madison Square Garden was packed and lively from well before the tip right through their loud cheers when Rasheed Wallace, retired the last two seasons, entered with about 3 minutes left. Anthony took the microphone before the game and thanked fans for coming out, telling them that this was the ''most important time for the city of New York to come together as one and build the city back up.'' There was then a moment of silence for the victims of the disaster. It wasn't long before it was loud again. Anthony hit two 3-pointers in a 10-0 run that gave New York a quick 11-point lead, and he followed six consecutive points by JR Smith by pulling up for a long 3-pointer and a 30-12 lead with 1:14 left in the first quarter. Anthony was even further away when he tossed in another 3 at the buzzer, capping his 16-point period and giving the Knicks a 33-17 advantage. The Heat couldn't get the deficit into single digits in the second, but were within 55-44 at halftime following 13 points from Wade after his scoreless first period. Anthony was 1 of 9 in the second after hitting six of 10 shots in the first. But he had consecutive baskets in the Knicks' run of seven straight points early in the third, and the lead grew to 75-62 on Novak's 3-pointer with 3:12 remaining in the period. New York was ahead 81-63 headed to the fourth. The Knicks' scheduled opener at Brooklyn on Thursday night was postponed, and Heat players thought this one would be, too. Wade was so sure the Heat weren't coming to New York that he didn't even bother to pack until after practice Thursday. Miami flew afterward and finally arrived in New York after a three-hour bus ride from nearby Newark, N.J. Seeing all the traffic as New Yorkers tried to recover, Wade wrote on his Twitter account that the game shouldn't be played, a feeling he reiterated Friday morning after the Heat's shootaround. ''If we're in a car and we're in traffic for three hours, what are other people who are really affected by this, what are they doing? How are they getting around, how are they moving, et cetera?'' Wade said. ''So it was just like, come on man, we shouldn't be here to play a basketball game. If anything, we should be here to do something to help the city.'' He decided Friday to donate his game check, around $210,000 before taxes, to relief efforts. The Knicks finished 19 of 36 from 3-point range. Wallace made one with 41 seconds left. Notes: The Madison Square Garden company is donating $500,000 for storm relief and is hosting a telethon on MSG network during the Knicks' game against Dallas on Nov. 9. MSG chairman James Dolan said he was glad Friday's game was taking place, believing it was good for the city and that many people had told him they were either coming or planned to watch on TV. ... The Heat announced Friday they will unveil a banner to commemorate James' gold medal with the U.S. basketball team Saturday before they play the Denver Nuggets. It will be displayed alongside three others for players who won Olympic gold as members of the Heat - Wade, Alonzo Mourning and Tim Hardaway. ... Marcus Camby sat out after missing most of the preseason with a sore left calf. He recently returned to practice, but Knicks coach Mike Woodson said Camby hadn't gone through enough contact workouts.
Original Story:
http://msn.foxsports.com/nba/story/ne...
THE BACKYARD
BEST OF MAXIM
RELATED ARTICLES
Moments before the Knicks took the court against the Miami Heat, Carmelo Anthony had a few words for the Madison Square Garden crowd. (Quote from ESPN New York) "We want to thank everybody that came out tonight and showed some support. We really appreciate you," he said. "We know a lot of lives and a lot of families have been deeply impacted by the tragedy of Hurricane Sandy...
The New York Knicks lined up at center court at Madison Square Garden before Friday night's game against the Miami Heat, which was the first NBA game held in New York City since the Hurricane Sandy tragedy. Carmelo Anthony addressed the crowd to thank the fans that came to the game to show their support for the Knicks and acknowledged the lives and families impacted by the tragedy...
NEW YORK — Carmelo Anthony gave a heartfelt pre-game speech to the citizens of New York before the Knicks came out to dominate the world champion Miami Heat. Please Click Here To Read & Watch This Story
NEW YORK -- For all their questions about age and possible distractions in the aftermath of Hurricane Sandy, Carmelo Anthony and the New York Knicks could not have had a better season opener. Anthony scored 30 points and the Knicks led wire-to-wire in a 104-84 victory over the Miami Heat on Friday night. "It was kind of up and down," Anthony said of the team's mindset...
New York Knicks star Carmelo Anthony accidentally caused a fan to spill his beer while bumping into him after chasing a loose ball into the stands during Sunday's NBA game at MSG against the Philadelphia 76ers. It happened in the first quarter after Carmelo made a big block on Sixers guard Nick Young during a fast break and tried to chase down the loose ball. Melo made...
Carmelo Anthony heard the news about the New York City Marathon being canceled, then came out to warm up and saw plenty of empty seats at Madison Square Garden. At that moment, it would've been easy to agree with Dwyane Wade and others, that this wasn't the time to be playing games. By tip-off, Anthony and the Knicks knew otherwise. Fans had filled the place, when even...
PACING THE RIVALRY
ESPN NBA analyst and former Indiana Pacers guard Jalen Rose admitted in an interview with Grantland that following a game in Indiana during his playing days that he stole New York knicks center Patrick Ewing's television and VCR. Rose says the Pacers and Knicks had a heated rivalry and that he enjoyed getting under Ewing's skin. At the airport following a game between...
Carmelo Anthony scored 27 points, JR Smith had 20, and the New York Knicks rode another big 3-point shooting night to a 100-84 victory over the Philadelphia 76ers on Sunday in the opener of home-and-home series. Jason Kidd had 12 points and six assists, and Raymond Felton added 11 points for the Knicks (2-0), who followed their 19 3-pointers in a season-opening victory over Miami...
The New York Knicks hit 11-of-27 threes en route to a 100-84 win over the Philadelphia 76ers at the Garden earlier today. Carmelo Anthony made only one of those deadly threes, but scored 27 points and shot 56 percent from the field. The Sixers hung tough for the first 12 minutes of the game, but…
NEW YORK -- For all their questions about age and possible distractions in the aftermath of Hurricane Sandy, Carmelo Anthony and the New York Knicks could not have had a better season opener. Anthony scored 30 points and the Knicks led wire-to-wire in a 104-84 victory over the Miami Heat on Friday night. Steve Novak added 17 off the bench while Raymond Felton chipped in 14. Jason...
The New York Knicks (1-0) beat the Miami Heat (1-1) 104-84, last night at Madison Square Garden from New York, NY. Carmelo Anthony and rest of the Knicks team told the fans yesterday that hurricane Sandy was a horribe storm that ruined NYC and he also told the fans that we will pull through together as New Yorker's. Later on, the Knicks dominanted the game against the Heat...
NBA News

Delivered to your inbox

You'll also receive Yardbarker's daily Top 10, featuring the best sports stories from around the web. Customize your newsletter to get articles on your favorite sports and teams. And the best part? It's free!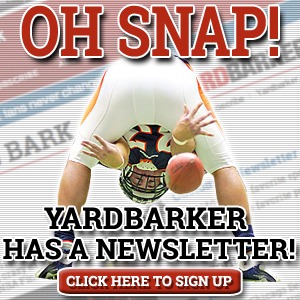 Latest Rumors
The Backyard

Today's Best Stuff

For Bloggers

Join the Yardbarker Network for more promotion, traffic, and money.

Company Info

Help

What is Yardbarker?

Yardbarker is the largest network of sports blogs and pro athlete blogs on the web. This site is the hub of the Yardbarker Network, where our editors and algorithms curate the best sports content from our network and beyond.