Found February 28, 2013 on Pass The Pill:
You've all probably seen Spike Lee's 1998 hit basketball flick, "He Got Game", starring the young, not-so-bald, Ray Allen. Ray portrays a high school senior who tops the country as the number one recruit, heading towards the collegiate level. Jesus Shuttlesworth is the smooth, yet conflicted young athlete, whose father (Denzel Washington) is currently serving prison time for the accidental death of Jesus' mother. Jesus battles a gold-digging girlfriend, shady recruiters, family members with dollar signs in their eyes, and an internal battle of doing what's right for himself and his younger sister. Enough of the refresher. It seems as though Ray Allen's cast of teammates have decided to call Ray by his characters name, rather than his government. Mario Chalmers said that he and other Heat players call Ray, "Jesus". "We do it sometimes during games when he catches a hot streak or he does something crazy," Chalmers said. "We're like, 'Jesus.' Sometimes he just looks over and smiles."  Ray Allen is the NBA's all-time leader in three-pointers made, so calling him "Jesus" when he hits a hot streak might come more often that you'd think. We've all watched Ray get int he zone and knock down some of the toughest shots the NBA has to offer. He (Jesus, or Ray) brings a definite skill-set that the Heat will utilize in the post-season, and is one of the reasons many analysts have Miami repeating as NBA champs in 2013. The post Miami Heat players refer to Ray Allen as "Jesus" appeared first on Pass The Pill.
Original Story:
http://sports-kings.com/passthepill/m...
THE BACKYARD
BEST OF MAXIM
RELATED ARTICLES
As succinctly pointed out by The Big Lead, this truly signifies the demise of SportsCenter. The fact that the geniuses behind the scenes of ESPN's SportsCenter felt compelled to explain exactly what the Harlem Shake craze is all about to the halfwits and mouth-breathers who still loyally tune in to the show illustrates perhaps better than anyone could possibly articulate just how...
Fashionably late to the Harlem Shake party, The Miami Heat just released  their rendition of the viral dance craze. There is a lot to love about this specific edition with LeBron rocking his "King" gear, DWade sporting the bear head (in a possible shout-out to Kanye/Chi-Town?), Bosh acting his regular fool self and Mario Chalmers in actual Mario get-up. Just when you thought...
MIAMI Its a winning streak that -- this week -- has been on life support.Entering a three-game homestand, the Miami Heat had won 10 in a row while outscoring foes by an average of 13.7 points. They had won road games over formidable foes Oklahoma City, Atlanta and Chicago by 10, 13 and 19 points.So entering this week, you could say the Heat were playing their best ball since the...
  While the sports world has been set abuzz by the Harlem Shake video that LeBron James and the Miami Heat recently released, apparently others are trying to compete. Courtesy of Sports Crackle Pop, we have video of TNT's Inside The NBA crew trying their hand at the popular dance. Watch as Shaq and Charles get down in a way only they can.
LeBron James continues to troll, troll, troll his boat prior to NBA games in the form of some nasty dunks. We wrote about LeBron trolling regarding the dunk contest last week, and he continued to do the same prior to the Heat's last game. Check out Bron's basic alley-oop to himself between his legs dunk. No big deal, wouldn't even register at the dunk contest. [NBA] Article...
Pregame warm-ups have been entertaining for Heat fans lately. Mainly because LeBron James decided that he would use warm-ups as his personal dunk contest. Of course, people complained that he should be doing these dunks in the real dunk contest because people always think it's about what they want. And in response to the complaints, LeBron has threatened to send his pregame dunk...
Dwyane Wade scored 22 points, LeBron James shook off his worst shooting night of the season to hit a key 3-pointer in the final half-minute, and the Miami Heat extended their winning streak to 13 games by beating the Memphis Grizzlies 98-91 on Friday night. James scored 18 points on a season-worst 4 for 14 shooting, plus added 10 assists and eight rebounds. Shane Battier scored...
Video: Put a fork in it, the Heat kill the shake.
Look I am not going to lie, I do not understand this fascination with the "Harlem Shake" dance craze. However, it seems to be taking the Internet by storm and everyone is getting in on the act including the Miami Heat. As in other "Harlem Shake" videos, Chris "Birdman" Andersen comes into the Heat locker room, flapping his arms like a bird when suddenly...
He didn't actually play "Jesus," his character was named Jesus, but I made him look like one anyway. Ray Allen is in his 19th and possibly last NBA season, while most of us will forever remember his illustrious career on the day he gives up his jersey, some of us will also remember what he did on the silver screen. Believe it or not, Ray once starred in a Spike Lee Joint...
Heat News

Delivered to your inbox

You'll also receive Yardbarker's daily Top 10, featuring the best sports stories from around the web. Customize your newsletter to get articles on your favorite sports and teams. And the best part? It's free!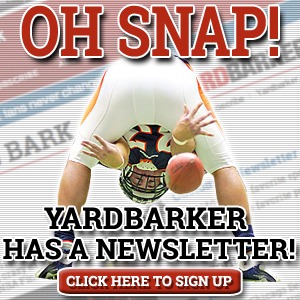 Latest Rumors
Best of Yardbarker

Today's Best Stuff

For Bloggers

Join the Yardbarker Network for more promotion, traffic, and money.

Company Info

Help

What is Yardbarker?

Yardbarker is the largest network of sports blogs and pro athlete blogs on the web. This site is the hub of the Yardbarker Network, where our editors and algorithms curate the best sports content from our network and beyond.