Found November 06, 2012 on With Leather:
I hope the fans chanted "NEEP! NEEP! NEEP!" as he descended.The Brooklyn Nets defeated the Toronto Raptors 107-100 on Saturday night to open the amazing new Barclays Center in style, after the original opener against the New York Knicks was scratched because of Hurricane Sandy. Unfortunately, the attention that should have been focused on Brook "Dwight Who?" Lopez, who led the healthier-than-last-year Nets with 27 points, was directed at the Nets' new mascot (above) as he made his debut after popping out of a trunk in the back of Maynard's shop.But there's apparently so much more to this new character, known now as the BrooklyKnight, which is so much fun to pronounce as Brookly Knight. The Nets have teamed up with Marvel to give the NBA its first official superhero, which means that the whole LeBron James comic book was indeed just a bad dream.BrooklyKnight made his debut in the Brooklyn Nets' first-ever regular season game in their new home, Barclays Center, against the Toronto Raptors. Before the start of the game, the BrooklyKnight boldly landed at center court to inspire his team and rally the crowd. To commemorate the first appearance of this historic new sports icon, Marvel Custom Solutions worked with the Nets to create BROKLYKNIGHT #1, an all-new 32-page comic book by Jason Aaron, writer of THOR: GOD OF THUNDER and WOLVERINE & THE X-MEN and illustrated by artist Mike Deodato of AMAZING SPIDER-MAN and NEW AVENGERS fame. All guests at the game received copies of the limited edition comic book."Brooklyn now has a new super hero to call its own," said Brett Yormark, CEO of the Brooklyn Nets and Barclays Center."BrooklyKnight is a superior combination of strength, power, and confidence — sounds just like Brooklyn to me." (Via Marvel)I'll give Marvel a lot of credit – they sure can write some awesome PR quotes, like this one:"Forged from the blood, sweat and tears of Brooklyn itself–always ready to defend his home and defeat any challenger–all hail the BrooklyKnight!" exclaimed Bill Rosemann, Editor, Marvel Custom Solutions. "When Nets fans meet their guardian, they will immediately know that the House of Ideas has once again unleashed a hero who will soon be known all over the world for his nobility, grit, and strength. Brooklyn, your champion is here!"But look how creepy this face is!While the fans who attended the Brooklyn opener received a limited edition copy, Marvel released some of the page images as well, so you can take a look at this crazy new hero, without actually reading anything that he ever says.The post Move Over NFL SuperPro, The BrooklyKnight Is Here To Creep Us Out appeared first on With Leather.
Original Story:
http://feedproxy.google.com/~r/uproxx...
THE BACKYARD
BEST OF MAXIM
RELATED ARTICLES
MIAMI -- LeBron James didn't think anybody would be talking about defense after the offensive show his Miami Heat put on Monday night. The Heat scored their most points since the fifth game of last season in a 124-99 rout of Phoenix at AmericanAirlines Arena. They had a team-record eight different players make a 3-pointer while shooting 57.1 percent from beyond the arc. But...
Even as a rising sophomore, Diamond Stone was one of the top posts at LeBron James Skills Academy. Here's a highlight reel of Stone at the event.
MIAMI (AP) -- Dwyane Wade scored 22 points on 10 for 14 shooting, LeBron James finished two assists shy of a triple-double and the Miami Heat improved to 4-0 at home for the first time in franchise history by beating the Brooklyn Nets 103-73 on Wednesday night. James had 20 points and 12 rebounds in only 30 minutes, and Rashard Lewis scored 13 points for the Heat (4-1). Miami -...
HOUSTON So there is this guy, James Harden, and he has a long beard and a well-constructed Mohawk, but he does not speak like a guy with a long beard and a Mohawk, which is to say he is not trying to play some kind of character. He doesn't speak much, really. Well, not much more than he has to, although now that he's the star of the Houston Rockets, he has to speak a lot...
MIAMI -- The Brooklyn Nets have the second-biggest payroll in the NBA, but the team that was on the money Wednesday night was the Miami Heat. Miami, playing its most complete game of the season, defeated the Nets, 103-73, to raise its record to 4-1. It's also the first time in franchise history that the Heat has started a season 4-0 at home. The Heat have now beaten the Nets...
LeBron James had 23 points and 11 rebounds, Dwyane Wade scored 22 points and the Miami Heat beat the Phoenix Suns 124-99 on Monday night. Chris Bosh finished with 18 points and Ray Allen had 15 for Miami (3-1), which is averaging 111.8 points to open the season. Allen became the 24th player in NBA history to eclipse the 23,000-point mark when he made a free throw with 1:01 left...
The Brooklyn Nets (1-1) will make a trip to Florida to face the Miami Heat (3-1) for an Eastern Conference showdown. However, it will be a tall task for the Nets to leave South Beach with a win as Miami is undefeated at home early in the season. Not to mention the Nets have lost six in a row in Miami. Miami is coming off a 124-99 win over Phoenix while Brooklyn is coming off...
By now, many sports fans have had the pleasure of reading all of the mock Facebook conversations starring NFL quarterbacks. You can find them all at Pro Football Mock. If you haven't seen them all yet, I highly recommend it. They're all absolutely hysterical. With this in mind, it's only fair that the NBA stars get a crack at it as well. So here at Pass the Pill, we took it...
MIAMI (AP) -- Offensive numbers to savor were everywhere for the Miami Heat on Monday night. They thanked an upgraded defensive effort for that. LeBron James had 23 points and 11 rebounds, Dwyane Wade scored 22 points and the Heat beat the Phoenix Suns 124-99 on Monday night. Chris Bosh finished with 18 points, Ray Allen had 15 and Mario Chalmers finished with his second 11-assist...
NBA News

Delivered to your inbox

You'll also receive Yardbarker's daily Top 10, featuring the best sports stories from around the web. Customize your newsletter to get articles on your favorite sports and teams. And the best part? It's free!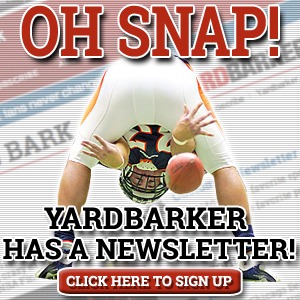 Latest Rumors
Best of Yardbarker

Today's Best Stuff

For Bloggers

Join the Yardbarker Network for more promotion, traffic, and money.

Company Info

Help

What is Yardbarker?

Yardbarker is the largest network of sports blogs and pro athlete blogs on the web. This site is the hub of the Yardbarker Network, where our editors and algorithms curate the best sports content from our network and beyond.