Found November 14, 2012 on NESN.com:
Via NESN: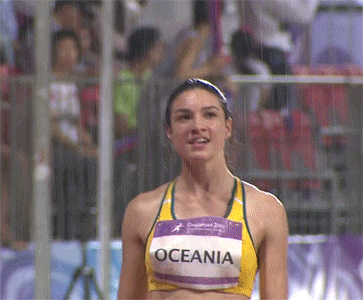 "What is a GIF?"
That's a question that many people might be asking themselves after the news on Monday that "GIF" was chosen as the Oxford American Dictionary's word of the year. After beating out the likes of "YOLO" and "superstorm," GIF will definitely be a word that enters the public conversation more and more in the near future. However, sports fans are already a bit familiar with the unique word, as GIFs are responsible for some of the most interesting sports content on websites today.
A GIF, short for "graphics interchange format," is a certain kind of file type with a unique ability to display animation. As such, the file has allowed sports fans to relive some of the more offbeat and irreverent actions from around the sports world.
From Michelle Jenneke's viral pre-race routine to a Kobe Bryant death stare to a mascot falling flat on its face, GIFs have helped capture some of the most hilarious moments in sports for us to enjoy over and over and over again.
Click here to see the most memorable sports GIFs!
Read More:
http://nesn.com/2012/11/best-sports-a...
THE BACKYARD
RELATED ARTICLES
  "Skid Row is literally a few blocks away [from the Staples Center], but it's not something that really registers, it's something that you kind of look over, because homelessness has been a part of our culture for so many years, it's just something that kind of fades in the background without you really driving [...]
Enjoy the following sentence, because this will probably be the only time you ever see it written: Kobe Bryant is no Raja Bell. Bryant may have five NBA championship rings and a trophy case full of various Most Valuable Player awards, but the 2012 edition of the future Hall of Fame shooting guard is well below Bell circa 2006 on the defensive end. In everything else, Bryant puts...
Mike D'Antoni is already making his mark on the Los Angeles Lakers, but it doesn't look like he'll be ready for his debut on the Staples Center sidelines for a few more days. As long as Kobe Bryant's there, the Lakers may not have too much trouble. Bryant has averaged 42.0 points in his last three home games against the Phoenix Suns, who have lost seven of eight...
 I have really been intrigued by the saga unfolding out in LA LA land. The Los Angeles Lakers publicly welcomed new head coach Mike D'Antoni to their bench on Friday. Though D'Antoni will never be held in the highest regard in my green goggles, I must say his usually very dry press conferences turned candid and amusing Friday. [...]
Christmas Day in the NBA has become a forum for players to reveal holiday-themed fashions. Each year, a new range limited-edition, seasonal sneaker colorways make their debut on the feet of players. Among the more memorable kicks in recent years were Kobe Bryant's lime green "Grinch" sneakers. This season will have players styled head-to-toe in holiday gear. To accompany the...
Magic Johnson seems to have made it his mission as of late to criticize Los Angeles Lakers executive vice president Jim Buss as much as possible. On Wednesday, Magic wrote on Twitter that he had been silent for a few days because he was mourning the Lakers' decision to hire Mike D'Antonio over Phil Jackson. If that seems a bit dramatic, that's because it is. Kobe Bryant does...
Is D'Antoni a better fit than uncle Phil Jackson?
Who knew D'Antoni was mildly funny?
More than anything else, the following play is a testament to Kobe Bryant's passing ability.  While his role in the play may appear to be elementary, I'd argue that a lob to Ron Artest is actually one of the most difficult passes in the game.  You've got to basically put the ball on the very edge of the cylinder in order for Ron to have a shot at it, so there's no room...
  With 19.9 seconds remaining and the San Antonio Spurs trailing the Los Angeles Lakers 82-81 in the fourth quarter on Tuesday, the Spurs didn't draw up a play for Tony Parker or Tim Duncan. On this night in Los Angeles, the Spurs drew up a play for Danny Green who was being defended by the Lakers' Kobe Bryant. With Bryant not playing Green closely, Green made him pay. ...
Lakers News

Delivered to your inbox

You'll also receive Yardbarker's daily Top 10, featuring the best sports stories from around the web. Customize your newsletter to get articles on your favorite sports and teams. And the best part? It's free!
RUMORS & GOSSIP
I said it last year at this time and I'll gladly say it again…those sounds you hear echoing through Chavez Ravine are the dulcet tones of one Vin Scully announcing he'll be returning next season for his 66th season in the Los Angeles Dodgers broadcast booth. The team made the announcement Tuesday night during their game against the Atlanta Braves and did it in three different...
Marshawn Lynch's training camp holdout has been widely publicized and is starting to become widely criticized, with some even questioning the Pro Bowl running back's worth to the Seahawks. ESPN writer Terry Blount is one of those debating whether or not Pete Carroll and John Schneider actually need Lynch for the 2014 season. Blount has poked Beast Mode, or shall we say Blount...
Cardinals CB Patrick Peterson announced via his Twitter account that he has signed a five-year extension worth $70 million that includes $48 million guaranteed. Happy to announce my 5 year extension with @AZCardinals! $70M and $48M Guaranteed!! #AZCardinals #P2Nation #YearOfTheCardinal — Patrick Peterson (@RealPeterson21) July 30, 2014 Rand Getlin of Yahoo Sports reported earlier...
BOSTON — Jon Lester has spent his entire nine-year career with the Red Sox. His next start could come in a different uniform. Lester, who was been the subject of trade rumors in recent days, has been scratched from his scheduled start Wednesday against the Toronto Blue Jays at Fenway Park, according to Red Sox manager John Farrell. Brandon Workman will be called up and pitch in...
LeBron James has long had a connection to the Ohio State football program. Now that the NBA's best player is back in his home state, playing for the Cleveland Cavaliers, that connection is magnified.  Urban Meyer often speaks highly of Ohio's favorite athlete. The Buckeye coach has already texted James, who has a sideline pass to each Ohio State game, telling the superstar to...
San Francisco Giants ace Matt Cain is making a trip that not many athletes want to make. According to Andrew Baggarly of CSN Bay Area, Cain will visit Dr. James Andrews, to have Andrews examine his ailing elbow. Cain has been on the DL  since July 21, with inflammation in his elbow. Giants source confirms […]
On Tuesday, it was announced former UFC middleweight king Anderson Silva (pictured) will return to action exactly 13 months and three days after shattering his left shin against champion Chris Weidman. Silva meets Nick Diaz, who is also ending his extended hiatus, at UFC 183. The January 31 show will take place at a yet-to-be announced venue in Las Vegas. The bout will take place...
If you don't believe that Oakland Raiders owner Mark Davis is intent on moving the team from Northern California, this latest report by San Antonio Express-News might just change your mind. According to the outlet, Davis and two of his top deputies have recently met with officials in San Antonio to discuss a potential relocation of the franchise.  On July 18, Davis met with...
They're not calling it a suspension, but ESPN has decided to keep Stephen A. Smith off its airwaves for a little while. The network, in a statement released to the press on Tuesday, announced "that Stephen A. Smith will not appear on First Take or ESPN Radio for the next week.  He will return to ESPN next Wednesday." ESPN did not say whether or not Smith would be paid during...
(Credit: csmonitor) Tim Tebow is one of the most celebrated quarterbacks in the history of college football, and he enjoyed a brief stint of success with the Denver Broncos in the NFL. However, he was cut from the New England Patriots before the start of the 2013 season, and has been out of the league ever since. Despite this, Tebow has kept training in hopes that a team will give...
Latest Rumors
The Backyard

Today's Best Stuff

For Bloggers

Join the Yardbarker Network for more promotion, traffic, and money.

Company Info

Help

What is Yardbarker?

Yardbarker is the largest network of sports blogs and pro athlete blogs on the web. This site is the hub of the Yardbarker Network, where our editors and algorithms curate the best sports content from our network and beyond.