Found May 15, 2013 on Beyond The Buzzer:
Joakim Noah guaranteed a win on the brink of elimination in the first round against the Brooklyn Nets and his team came through on his word.  Now, facing elimination on the road against the Miami Heat, it's Nate Robinson's turn as he anticipates a Bulls win to force a Game 6. According to Bulls.com: "Everybody is counting us out, including you all," said the 5-something Robinson, who finds adversaries whether they are there or not. "So for us it's going to be that much sweeter coming in getting a win tonight. Proving all you guys wrong."
Original Story:
http://feedproxy.google.com/~r/Beyond...
THE BACKYARD
BEST OF MAXIM
RELATED ARTICLES
At the possible expense of Nate Robinson on account of his height deficiency (that's a polite way to put it, right?), a recent electronic billboard popped up in the Chicago area that may or may not have been taking a jab at the Bulls' explosive 5′ 9″ point guard. Overlooking the William G. Eden's Expressway, this particular billboard features an array of Chicago Bulls players...
The Chicago Bulls struggled in general during Game 4's loss to the Miami Heat, but this was especially the case for guard Nate Robinson. The Heat zoned in on Robinson, but another reason for his ineffectiveness could be a left-shoulder injury that he sustained during the contest, according to Aggrey Sam of CSN Chicago.For his part, Robinson didn't want to discuss the injury...
Wouldn't it be cool if Derrick Rose seeing his team looking defeated and ready to surrender, took off his Brooks Brothers suit and went into battle with them? The Captain going down with the ship so to speak?  I doubt he could hurt his knee in one game right?  It would be symbolic that he is back and next season he will be a forced to be reckoned with. Yeah, that isn't happening...
I should never have to type "murdered 6 month baby". What type of society are we living in, where  it is a daily occurrence so many young people and in this case a baby gets murdered? It is just so much senseless violence in the world. Rose has offered to help the family out as they grieve their tragic loss. A 6-month-old girl died after being shot five times in Chicago on Monday...
A day after falling to the untouchable Miami Heat 94-91 in the Eastern Conference semifinal series, Chicago Bulls head coach Tom Thibodeau said superstar Derrick Rose will be ready to compete this autumn. Thanks to ballsy competitors like Carlos Boozer, Luol Deng, Kirk Hinrich and Joakim Noah, the fifth-seeded Bulls nearly forced the reigning champions to fly back to Chicago for...
For the last month or so the NBA has been held hostage by one question--will Derrick Rose return? After receiving clearance he never said never. Throughout the playoffs he hinted at the possibility of a return practically every game. Since a player of his caliber could change the landscape of the postseason the question had to be continually asked--is Derrick Rose going to play...
A video poem dedicated to the 2012-13 whereabouts of Bulls star, Derrick Rose:
The Chicago Bulls' season ended last night, losing in five games to the defending champion Miami Heat. It was a rough year for the Bulls, who had to wait patiently through Derrick Rose's recovery only to have him sit out the whole season. They limped through the playoffs, grinding out a gritty series win against the Brooklyn Nets only to come up short to the Heat. But after...
There was some question as to whether Dwyane Wade would suit up on Wednesday. With the Heat holding a controlling advantage over the Bulls in their best-of-seven series, the All-Star guard could have sat out Game 5 to rest his sore knee and fallout from his absence may have been negligible. Still, there was no way Wade could miss this one. He may have been hurting. It may be a little...
Have you ever seen a more annoying group of basketball players than in this Miami Heat/Chicago Bulls NBA Eastern Conference Semis playoff series? Rip Hamilton still wearing that dumb mask. Chris "Birdman" Anderson and his stupid tattoo neck brace.  You are sooooo different, bro. Ray Allen and that dumb sneer. If I didn't have a new TV, I would punch a whole right through it...
  During the Game 5 of the second-round playoff game between the Miami Heat and Chicago Bulls, the TNT cameras focused in on Will Smith and his son Jaden taking in the atmosphere, then out of nowhere reporter Craig Sager and his vibrant suit ducks in from the background for a very funny videobomb. Check the video out here:
NBA News

Delivered to your inbox

You'll also receive Yardbarker's daily Top 10, featuring the best sports stories from around the web. Customize your newsletter to get articles on your favorite sports and teams. And the best part? It's free!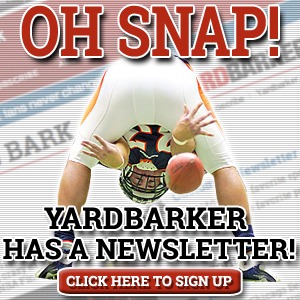 Latest Rumors
The Backyard

Today's Best Stuff

For Bloggers

Join the Yardbarker Network for more promotion, traffic, and money.

Company Info

Help

What is Yardbarker?

Yardbarker is the largest network of sports blogs and pro athlete blogs on the web. This site is the hub of the Yardbarker Network, where our editors and algorithms curate the best sports content from our network and beyond.