Found May 08, 2013 on isportsweb.com:
Game 2 preview: I will tell you how and why the Heat will win game 2 and send this series all knotted up heading into Chicago for game 3.   After a strong finish by the injury-depleted Chicago Bulls team that shocked the Miami Heat in game 1, Lebron James and company look to even the series up at one a piece tonight in the American Airlines Arena. Nate Robinson , the unsung hero of the 2013 playoffs, led the Bulls in game one with 27 points and 9 assists. Robinson also contributed to 25 of the last 35 points the Bulls scored in game one through assisting or scoring. There have been talks leading up to this game 2 that 6-foot-8, 250-pound, 4-time MVP Lebron James would be checking 5-9, 180-pound Nate Robinson.  According to an article on ESPNChicago.com, James had this to say about the challenge he seems to be facing in game 2 guarding a scorer like Robinson. "It wouldn't be a surprise if I matched up with him," James said Tuesday. "But I'll take the challenge on [defense]." Is this a must win for the Heat? Perhaps is may be, but this is not unfamiliar territory for Miami, as they have trailed in 4 of the past 5 playoff series they've been in, and have come back and won each of them. But going down 0-2 against a confident Bulls team is something this Miami team, who have won 41 of the past 43 games they played before losing to the Bulls in game one, would not want to deal with. But the Bulls team will again most likely be without all-star forward Luol Deng who has been out with a spinal injury, and their starting point guard Kirk Hinrich who has been out the past four games due to an injury to his calf , as they are both doubtful for game 2. But whenever there is a topic about the injuries to this Bulls team, theres no way you can't talk about the status of MVP guard Derrick Rose who has not yet been officially ruled out to play in game 2, or any game in this series for that matter. As of late there has been many speculations going around about D-Rose's injury that sidelined him for the remainder of the playoffs last year, and the whole regular season and playoffs this year. Fans in Chicago want their MVP playing since the doctors cleared him to go a couple months ago, but I agree with what Bulls' all-star forward Joakim Noah had to say to those fans, which is to "shut up." As a fan of the game I honestly don't understand how the Bulls faithful can be mad at a guy like D-Rose for considering to sit out this year when he literally put this Bulls organization back on the map. Even though he hasn't played a game this year, he's been this teams biggest fan as he has been on the sideline cheering his teammates on. And besides, this Bulls team is riding on confidence and chemistry, something you know would get disrupted if a player like Rose would return to the line up. Back to tonight's game though, I believe the Miami Heat will come out with a lot more intensity then they did in game 1 and take game 2 respectively with a score of 106 to 91. They have too much going on in south beach to be going down 0-2 heading into Chicago. And if I stand corrected Miami does have a man named Lebron James on the squad who happens to be the best basketball player on the planet, so I expect him to have one of those "Lebron James" nights where he finishes with over 30 points and close to a triple double. Look for this series to be all even up going into Friday night's game 3 showdown in Chicago.    
Original Story:
http://feedproxy.google.com/~r/isport...
THE BACKYARD
BEST OF MAXIM
RELATED ARTICLES
BULL GOES BIG TIME
One of the best feel-good stories of this years playoffs has been the outstanding the play of Chicago Bulls point guard Nate Robinson, a guy who makes up with heart what he lacks in height. Robinson is one of the most prolific scorers in this league when he gets hot, and can make shots from literally anywhere on the floor, and probably thinks he's better than he actually is. The...
LeBron James has improved his game so much that he really has no weakness. His defense is outstanding, his passing and rebounding is stellar like usual, he's improved his offensive efficiency, and he's even become a good outside shooter. But the one area James feels he needs to improve is free throw shooting. James is a career 74.7 percent free throw shooter. His highest percentage...
LeBron James wore specially-designed Nike shoes, dubbed the "Nike LeBron X MVP," for the Heat's Game 1 showdown against the Chicago Bulls.
LeBron James had the shoes, but he didn't have the jumper with this airball in Miami's Game 1 loss to the Chicago Bulls.
Things are starting to get a little chippy in the Miami Heat/Chicago Bulls 2nd round playoff series as both LeBron James and Joakim received technicals fouls for a collision in the final seconds of the first quarter. As LeBron was getting ready to drive, he was called for an offensive foul but still continued to dribble into the paint where he tied up by Bulls center Joakim Noah...
Today the NBA unveiled its newest "We Are All Watching" video, starring all five feet and nine inches of Chicago Bulls' point guard Nate Robinson.  It's a big ad for such a small guy.
LeBron James shot 40.6 percent on three point attempts this season, which was easily the best mark of his career. James figured improving from the outside "could make me even more dynamic where guys couldn't just lay off of me and dare me to shoot." James put himself through difficult workouts in Akron in which he would run wind sprints for missing three-pointers. "I stayed...
As the Miami Heat cruised to easy victory over the Chicago Bulls in game two of their Eastern Conference Semifinals series, LeBron James might have dropped one of the best assists of his career. Watch as LBJ finds Dwyane Wade on a beautiful backdoor pass which he lays up-and-in:
Nate Robinson scored 27 points, Jimmy Butler added 21 points and 14 rebounds while playing every second for the third straight game, and the Chicago Bulls stunned the Miami Heat 93-86 on Monday night to take Game 1 of their Eastern Conference semifinal series. Trailing 86-83 with 2 minutes left, the Bulls scored the final 10 points of the game to beat the Heat once again. Joakim...
What LeBron James has done is simply amazing, and he deserves comparisons to the greatest players ever. But what's wrong with this passage by Jason Reid of the Washington Post? "I would have him [James] right behind Jordan and Chamberlain," a smart Western Conference general manager told me Monday. "If you had a time machine, and were starting a franchise right now, I would...
The Chicago Bulls didn't need Derrick Rose, Loul Deng or Kirk Hinrich to beat the defending NBA champion Miami Heat on Monday night at AmericanAirlines Arena. The Bulls defeated the Heat 93-86 to go up 1-0 in their 
Nearly every NBA Playoffs brings an X factor. There is a moment, a play or a comment that holds the potential to either define or change the direction of circumstances. For some teams that factor can boost your chances or it can lead to your demise. For the Boston Celtics it was age. Their two best players are riding out their final seasons in the league and the Celtics will inevitably...
NBA News

Delivered to your inbox

You'll also receive Yardbarker's daily Top 10, featuring the best sports stories from around the web. Customize your newsletter to get articles on your favorite sports and teams. And the best part? It's free!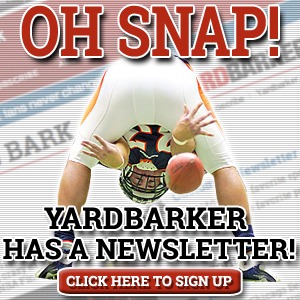 Latest Rumors
Best of Yardbarker

Today's Best Stuff

For Bloggers

Join the Yardbarker Network for more promotion, traffic, and money.

Company Info

Help

What is Yardbarker?

Yardbarker is the largest network of sports blogs and pro athlete blogs on the web. This site is the hub of the Yardbarker Network, where our editors and algorithms curate the best sports content from our network and beyond.