Found January 18, 2013 on Waiting For Next Year:
PLAYERS:
Anthony Davis
,
Steve Nash
,
Kyrie Irving
,
Andre Drummond
,
Bradley Beal
,
John Wall
,
Ray Allen
,
Dion Waiters
,
Byron Scott
,
Harrison Barnes
TEAMS:
New Orleans Pelicans
,
Los Angeles Lakers
,
Cleveland Cavaliers
,
Detroit Pistons
,
Miami Heat
,
Golden State Warriors
,
Weber State Wildcats
With the Cavaliers having two rookies playing prominent minutes, WFNY thought it would beneficial to see how the fresh meat around the league is faring in comparison with the Cavalier rookies. Each week, we'll have NBA rookie power rankings where we'll rack and stack the freshman class of the NBA. The rankings will be weighted with the most recent games carrying the most importance, but the whole body of work will be taken into account. Great beards and great celebrations may also play a large factor. 1. Damian Lillard (Last Week: 1) In my eyes the Rookie of the Year race is all but over. Unless Anthony Davis steals Damian Lillard's basketball abilities Monstars' style, the trophy will undoubtedly go to Lillard. Lillard scored a career high 37 points last weekend against the Warriors and in doing so made it very clear that if you go under a ball screen, he will launch and drain a 3. Few tools of a guard's game are more useful than the ability to shoot the 3 off of a high ball screen. It's the ability to penetrate, but also the ability to make you pay from behind the arc that makes the likes of Steve Nash, James Harden, and Steph Curry so dangerous in pick and roll situations. With the amount of 3′s Lillard is taking (and making) teams have no choice but to respect that part of his game. The Weber State product is shooting a respectable 36% from 3-point range and ranks 5th in the league in 3′s made. He has taken at least five 3-pointers in 33 of 39 games this year, which ranks him 4th in the league in 3′s attempted. In comparison, Kyrie Irving took about the half the 3′s per game during his rookie year. On Wednesday night, the two young point guards, Irving and Lillard, met on the court for the first time. Instead of getting the back and forth battle one had hoped to watch, the match up was strictly one sided in favor of Kyrie. Uncle Drew took Lillard and the Blazers to school to the tune of 31 points, while Lillard was non existent until the fourth quarter. Unfortunately this is the last match up of the year between the teams, which means we'll have to wait until next year to see these two go at it once again. 2. Anthony Davis (Last Week 2) Davis can only tread water so long, before someone jumps him in the rookie pecking order. Instead of battling it out at the top with Damian Lillard, Davis finds himself trying to hold off the likes of Andre Drummond and Bradley Beal. The Hornets have managed to string together 6 wins of their last 7, but with Davis playing only 22 minutes a night. Maybe it's just me, but I expect the number one overall pick to be on the floor for at least half of the game. In fact, I expect the number one overall pick to be one the league leaders in the minutes played, which is where Damian Lillard is 1 at just under 40 minutes a night. Anyone who thinks Davis is anywhere near Lillard in ROY talk needs to look no further than the fact that Lillard plays about twice the minutes Davis does. Davis has been productive in his reduced minutes, but his performances lack excitement. Unfortunately for Davis, the fact of the matter is that he can put up similar numbers to Andre Drummond and Drummond's performances will be looked at with encouragement while Davis' will be looked at with disappointment. However, Davis can do things like this. This is entertaining every time. 3. Bradley Beal (Last Week: 4) Bradley Beal can't miss. Seriously, the dude is shooting a ridiculous 72% on 3′s in his last four games. Since the beginning of 2013, Beal has averaged a full 5 points more a game than his season average of 13.7. It's starting to look like Beal can be a go to scorer for the Wizards to play alongside John Wall. Wall returned from injury to play his first minutes of the season last Saturday, which along with the rise of Beal gives Wizards' fans something to feel good about for the first time  since Jan Vesley made out with his girlfriend on draft night.  Beal and Wall really got it going in a loss to Sacramento on Wendesday. Despite the loss, Beal scored a career high 26 points and Wall racked up a double-double with 14 points and 10 assists. If Wall can stay healthy, Beal's stock should only continue to rise. When healthy John Wall is one of the hardest players in the league to stay in front of on defense, thus he draws extra defenders, allowing for Beal to get open looks. While the Ray Allen comparisons are still a bit much, Beal is starting to finally play like the sharp shooting scorer he was billed as coming out of Florida. 4. Andre Drummond (Last Week: 3) To understand why fans up in Detroit are so excited about their rookie center, look no further than Drummond's performance last week in a win over Milwaukee. Drummond grabbed 11 rebounds, blocked 4 shots, and contributed 8 points in only 17 minutes of the Pistons' blowout win over the Bucks. It's Drummond's efficiency that has stat nerds like myself salivating over the season the big fella is having. Andre is currently among the top 20 in the league with a Player Efficiency Rating of 21.6, tied with Kyrie Irving and one spot behind Blake Griffin. In fact, Drummond has been so efficient to start his career, it's unprecedented. No teenager in NBA history has had a such a high PER, and that includes LeBron and Kobe. While efficiency is something NBA stat geeks such as myself "ooh" and "aah" over as the best measure of player's performance, stats can only tell so much. Drummond has been uber efficient, but he is far from the potential building block that guys like Irving, Lillard, and Davis are. To be a true star in the NBA, you need to be able to create your own shot, Drummond's most glaring weakness. 5. Dion Waiters (Last Week: Not ranked) January has been Waiters' best month to date. It is also the first month in which Dion was not in Byron Scott's starting lineup, leaving him in his familiar 6th man role that he flourished in at Syracuse. I could care less if Waiters starts at shooting guard, center, or comes off the bench, so long that he's in the game at crunch time and plays well when he's on the court. Dion scored a career high 33 points off the bench against Sacramento, and did so on only 18 shots. Waiters got to line for 8 free throw attempts, shot 12 of 18 from the floor, contributed 5 assists, and only turned the ball over twice. Much of the luster from this stellar performance was lost after the game when Waiters' was quoted saying the team "did a pretty good job" defensively in a game where the Cavaliers gave up 124 points on 51% shooting. It may not have been the best thing Waiters could have said following the loss, but the real story of the night should have been Waiters' on court performance. Harden never scored 30 as a rookie, and Wade's rookie high was equal to the 33 Waiters scored against the Kings. While it's just one big game, it is enough to get excited about. While it may not last, 2 it gives fans hope. And as Andy Dufresne says, "Hope is a good thing. Maybe the best of things, and no good thing ever dies." Honorable Mention: Harrison Barnes Barnes also scored a career high last week, with 21 points against Denver. Barnes has been a key contributor to a revived Warriors team that is currently sitting 5th in the West. Barnes starts for Golden State, but is able to take a back seat to the team's stars (Curry and Lee) similar to the way Kawhi Leonard did with San Antonio last year. The more meaningful minutes Barnes can play, the more it should enhance his development. ___________________________________ Lillard ranks 3rd in minutes played behind Durant and Harden Waiters followed his perfomance against Sacramento with t 1-9 from the floor shooting night in a win over Portland
Original Story:
http://www.waitingfornextyear.com/201...
THE BACKYARD
BEST OF MAXIM
RELATED ARTICLES
When we were last in the film room, I preached about the Cavaliers' need to force turnovers, increase the pace, and run more as a recipe for success. Today, we're going to look at how the Cavaliers' rookie center Tyler Zeller has been faring in the absence of Anderson Varejao. It's no secret that Anderson Varejao was the team's most valuable rebounder and defender, but...
The Cavaliers have played more games on the road so far this season than any other NBA team. Their record in those road games heading into last night's game in Portland was 5-19. They had also lost the first three games of the current road trip, and had given up 237 points in those contests. In other words, things weren't looking very bright. The Cavaliers came out hot however...
He is young, fast, and can apparently keep spinning in the lane for a basket. Of course I am talking about Cavaliers' Kyrie Irving who showed last night versus the Blazers, he will twist and turn many times if he is determined to score a basket for his team. Check out Kyrie putting rookie phenom Damian Lillard in the spin-cycle during last night's game. [follow]
You don't defend, you don't win. That sums it up for the Cavaliers who once again allowed 50+% shooting as the Jazz were led by Randy Foye's 20 point effort as they distanced themselves from the Cavaliers in their second half in a 109-98 victory in EnergySolutions Arena. An under the weather Dion Waiters led the wine and gold with 23 points, including 10-of-12 from the free...
Wednesday night two of the NBA's best young talent at the point guard position faced off against each other as the Cleveland Cavaliers and Portland Trailblazers matched up in Portland. While CJ Watson guarded Lillard for most of the contest, Kyrie Irving dropped a sweet spin move on rookie-of-the-year candidate, Damien Lillard.   Kyrie ended the night with 31 points and 5 assists...
Jeff Goodman from CBSsports.com reported earlier this week that the Boston Celtics, San Anonio Spurs and Cleveland Cavaliers have expressed interest in free agent center Greg Oden. If I'm Chris Grant, I'm probably thinking the same thing those other GM's are.  Why not?  Oden hasn't played a game since December 5, 2009 because of his inability...
One of the NBA rookies that many people don't talk about is Cavaliers guard Dion Waiters but he has put together one solid rookie performance.During Saturday night's game against the Utah Jazz, Waiters found a seam to attack and went to the rack to throw down a nasty dunk:
BOSTON — On the surface, Anthony Davis seems to have a lot in common with a young Kevin Garnett. The lithe rookie for the New Orleans Hornets is just as freakishly athletic at 6-foot-10 as Garnett was as a 19-year-old for the Minnesota Timberwolves in 1995. Just like a young Garnett, Davis' potential is clear despite a mostly up-and-down rookie campaign. Playing against Davis...
From one athletic freak out of Chicago's South Side to another, Kevin Garnett had high praise for Anthony Davis. "That kid is long," the aging Celtics superstar said of the Hornets rookie. "He makes me look like a midget, man. I was nothing like him. He's a freak of nature. This kid's going to be really good. He's going to be really good." via Ben Rohrbach, WEEI.com
Looking for the block of Saturday night in the NBA? We here at That NBA Lottery Pick have tracked it down for you.Watch as New Orleans Hornets rookie Anthony Davis send a shot by Golden State's Richard Jefferson into the crowd with a volleyball swat: 
NBA News

Delivered to your inbox

You'll also receive Yardbarker's daily Top 10, featuring the best sports stories from around the web. Customize your newsletter to get articles on your favorite sports and teams. And the best part? It's free!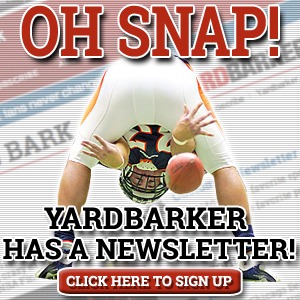 Latest Rumors
Best of Yardbarker

Today's Best Stuff

For Bloggers

Join the Yardbarker Network for more promotion, traffic, and money.

Company Info

Help

What is Yardbarker?

Yardbarker is the largest network of sports blogs and pro athlete blogs on the web. This site is the hub of the Yardbarker Network, where our editors and algorithms curate the best sports content from our network and beyond.