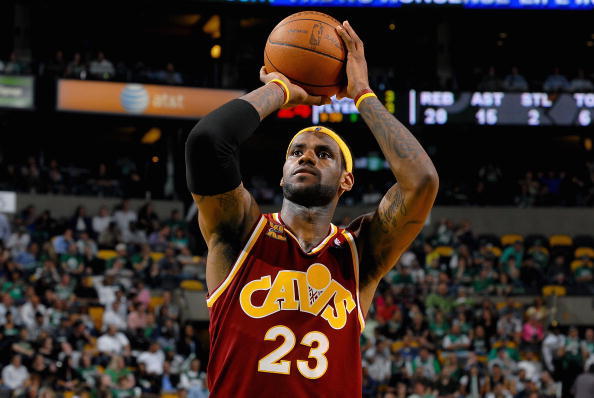 The whispers surrounding the worst kept secret amongst NBA circles are growing increasingly louder. While many fans wonder when the Cleveland Cavaliers will make a move to help win basketball games, it appears that the answer is the summer of 2014 when LeBron James can opt out of his contract with the Miami Heat. In his piece which was filed for the Sunday morning paper, Jason Lloyd of the Akron Beacon-Journal writes that it is almost consenus that Chris Grant and the Cavaliers are looking to bring James back to the Wine and Gold. "Executives and agents around the league are convinced the Cavaliers won't do anything to jeopardize their ability to sign a free agent to a max contract during the summer of 2014, when LeBron James can again become a free agent," writes Lloyd. "As fans in Northeast Ohio continue to howl and remain divided about the possibility of his return, more and more people around the league believe there is a strong possibility James will indeed return to Cleveland after next season." It was James who famously left Cleveland after a free agency circus that led to The Decision and the then two-time MVP "taking his talents" to Miami to play for the Heat. He would win a NBA Championship one season later. Alas, while the Cavaliers continue to have one of the most favorable cap situations in the league, they will not be taking on a bad contract — or one that carries beyond next season — for the sake of adding a four-to-five win player (a la Rudy Gay) this year. With Anderson Varejao injured, this all equates to a quiet trade deadline and a plan that could either blow up in their face similar to the New York Knicks, or allow them to strike gold — like the Heat — in pairing James with one of the best young talents in the game in Kyrie Irving. James recently switched his representation to Rich Paul, a native Clevelander (and friend) who also represents Cavaliers power forward Tristan Thompson. [Related: Cavaliers Film Room: The Recipe For Success]
MORE FROM YARDBARKER:
Kevin Durant has...RUSSELL MANIA!
MORE FROM YARDBARKER
NBA News

Delivered to your inbox

You'll also receive Yardbarker's daily Top 10, featuring the best sports stories from around the web. Customize your newsletter to get articles on your favorite sports and teams. And the best part? It's free!