Found March 26, 2013 on Celtics Town:
PLAYERS:
J.R. Smith
,
Tyson Chandler
,
Jeff Green
,
Brandon Bass
,
Jason Terry
,
Jordan Crawford
,
Avery Bradley
,
Chris Wilcox
,
Doc Rivers
,
Shavlik Randolph
,
D.J. White
,
Kenyon Martin
TEAMS:
Boston Celtics
,
New York Knicks
The Boston Celtics dropped their fifth straight game with a loss at home to the New York Knicks. J.R. Smith scored 32 and Carmelo added 29 as the Celtics got thrashed. The Knicks outscored the Celtics 30-20 in the second quarter and that was pretty much it. Another awful loss for the C's and this one game at home to a Knicks team without Tyson Chandler (or anything remotely resembling a front-court really). Let's get through the bullet points so I can rant a bit:Jeff Green was the Celtics best player tonight. After struggling early Green recovered in the second half, finishing with a team-high 19 points, 10 rebounds (also team-high), six assists (tied with Pierce and Crawford for the team-high), and only 2 turnovers. Credit to Jeff Green for showing up on a night when the Celtics were a mess overall.I also have nice things to say about Brandon Bass, who shouldered the majority of the front-court minutes (especially at center which was absurd) and finished with 11 points on an efficient 5-6 shooting, seven rebounds, and three blocks.Terrence "Point-God" Williams was another bright spot for me. He struggled a bit from the field (7 points on 7 shots), but found other ways to contribute, adding five rebounds and an assist with no turnovers. It wasn't the most impressive night, but Williams is probably the best ball-handler on the Celtics and he's a guard not named Jason Terry so I continue to think he should get more minutes. (Williams actually played one more minute than Terry tonight but that was because Terry didn't have to play in garbage time, because he's a veteran and stuff. Terry was a team-low -18 for those that care about that sort of thing).In his first start as a Celtic, Jordan Crawford started off 4-5 from the field (and he was actually carrying the Celtics early on) but cooled off, finishing 5-11 with 14 points, four rebounds, six assists, and six turnovers. Crawford showcased some excellent passing skills, but he and Pierce combined for 12 of the Celtics 19 turnovers which played a huge part in the loss. New York only turned the ball over eight times.Avery Bradley continued to struggle (3-11 from the field, no assists), but at least he only turned the ball over once.Chris Wilcox played nine minutes and contributed no points, no rebounds, a block, and a foul. Thats probably why he only played nine minutes (He also finished a team-high +1, so much for +/- as a stat). This also highlights a huge problem for the Celtics:Doc Rivers did not play Shavlik Randolph or D.J. White until garbage time which meant that Brandon Bass and Jeff Green shouldered the majority of minutes at center. That is ridiculous. New York grabbed 15 offensive rebounds and scored 29 second chance points and their only healthy big is Kenyon Martin, imagine the damage a team with a decent front-court could do. With KG sidelined for two weeks (maybe more) playing this small just isn't viable. In his five minutes of garbage time Randolph grabbed four rebounds. White doesn't crash the boards, but he has a better chance of altering a shot than 6'6″ Brandon Bass. I know Doc loves veterans (I mean seriously, Jason Terry is 5th on the Celtics in minutes per game despite the lackluster season he's been having) but if he's not willing to give White and Randolph some run it is going to be a long two weeks.The Celtics will face the Cavaliers in Cleveland tomorrow, where hopefully they'll expand their big-man rotation.Follow Jordan on Twitter: @HiggsOnHoops
Original Story:
http://www.celticstown.com/2013/03/26...
THE BACKYARD
BEST OF MAXIM
RELATED ARTICLES
HEART-TO-HEART
Jeff Green hit a buzzer beater in Cleveland on Wednesday night to lift the Celtics to a 93-92 win, and following the winner he hugged a man who saved his life a little over a year ago.  Dr. Lars Svensson was the recipient of a hug, and a well deserved one, as he performed open heart surgery on Jeff last year to mend an aortic aneurysm. Jeff Green spoke after the game to Boston.com...
GET YOURS
We all remember where we were that day in February, when it was reported that during a conversation in Philly with a female, J.R. Smith cut right to the chase and asked the young lady "if she was trying to get the pipe." Smith who has had some classic moments during his career, entered became a social media legend that night.  Knicks Wall is now honoring that night, by selling...
Remember when a Twitter direct message (DM) leaked with JR Smith asking a girl in Philly if she was "trying to get the pipe?" The genius people at "The Knicks Wall" thought that would be a great slogan for a t-shirt, along with a cartoon version of "Swish" Smith, tattoos included. The shirt is going for $28.99. I hope they plan on giving JR a piece of the cut. What a...
Celtics fans have been waiting on Jeff Green's breakout stretch, and we all thought it had started the night he tallied 43 points against the defending champs. Unfortunately, we were sorely mistaken as he followed up a career performance with a mediocre 13 point outing at New Orleans. After that match-up with the Hornets, Green eked out two 10 point nights in both Dallas and...
Next Impulse Sports: Jeff Green hit a buzzer beater in Cleveland on Wednesday night to lift the Celtics to a 93-92 win, and following the winner he hugged a man who saved his life a little over a year ago. Dr. Lars Svensson was the recipient of a hug, and a well deserved one, as he performed open heart surgery on Jeff last year to mend an aortic aneurysm. A.B. As Boston.com reported...
KG did not play, but his reaction to this performance would probably be something like thisJeff Green salvaged this game for the Celtics against an inferior opponent, as this game was tough to watch for long periods of time.  Boston was able to bounce back down the stretch, and while at times it lacked delicacy and finesse, Boston was able to squeeze out the win.  The Celtics started...
Call it heartbreaking, heartwarming or heart stopping but, any way you look at Jeff Green's last second buzzer-beater in Quicken Loans Arena, don't call it disheartening. Green's last second layup to give the Boston Celtics a 93-92 victory on the home floor of the Cleveland Cavaliers was all that more special to the Celtics player because the man responsible for Green...
In the history of men, we have you used some terrible pick-up lines to attempt to woo women and recently, New York Knicks guard J.R. Smith attempted to sex up a lady by using the pick-up line, "You Trying To Get The Pipe".Since that memorable line came out, someone decided to make a t-shirt about it and below is an image that might cause a gaffaw or two:(Courtesy of Complex)
About 14 months ago, Celtics forward Jeff Green wasn't sure he'd live, let alone play professional basketball again because of a rare heart condition. The Celtics played the Cavaliers in Cleveland last night, and for Green it was a semi-homecoming considering how much time he spent at the Cleveland Clinic. Last night Green hit a buzzer beating lay-up, to give the Celtics a 93...
CLEVELAND - The Boston Celtics came into this game riding a five game losing streak. They finally got it back on track with a close win against the Cleveland Cavaliers Wednesday night. We saw a different starting lineup for Boston in the win against Cleveland. Boston won 93-92, with Jeff Green hitting the game-winning-layup to put Boston up by one. Kevin Garnett was once again inactive...
Since our last installment of the Knicks bench report, the Knicks have continued their hot streak by winning four straight games, tying their high streak for the year at 6 in a row. The Knicks won back to back games against the Toronto Raptors, while also taking one in Boston and last night against a very solid Memphis Grizzlies team. The Knicks now have an overall record of 44-26...
NBA News

Delivered to your inbox

You'll also receive Yardbarker's daily Top 10, featuring the best sports stories from around the web. Customize your newsletter to get articles on your favorite sports and teams. And the best part? It's free!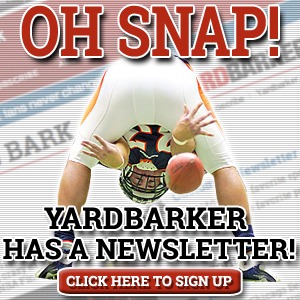 Latest Rumors
Best of Yardbarker

Today's Best Stuff

For Bloggers

Join the Yardbarker Network for more promotion, traffic, and money.

Company Info

Help

What is Yardbarker?

Yardbarker is the largest network of sports blogs and pro athlete blogs on the web. This site is the hub of the Yardbarker Network, where our editors and algorithms curate the best sports content from our network and beyond.