Found August 08, 2012 on NorthWest Sports Beat:
Batum did what!?
The Portland Trail Blazers created a culture of well-mannered community members following the Jail Blazers era in the early-2000s, and as a result, the team has lacked that certain edge that it takes to compete with the best of the best year in and year out.
Nicolas Batum has probably never been called edgy in his life, but the Olympics have seemingly brought out a different side of the 23-year-old competitor.
Nicolas Batum made an uncharacteristic move at the end of France's matchup against Spain in the men's quarterfinals, as he swung and connected on a low-blow to the groin of Juan Carlos Navarro.
Why did Batum do this, you ask?
"I wanted to give him a good reason to flop," said Batum according to Yahoo! Sports' Adrian Wojnarowski. After Wojnarowski mentioned that such actions might not be looked at as "Olympic Spirit," Batum responded with this:
Told Batum some won't think groin shot is in Olympic spirit. Batum: "Do you think if you lost a game on purpose, that's the Olympic spirit?"

— Adrian Wojnarowski (@WojYahooNBA) August 8, 2012
Batum apologized via Twitter for his actions, but the question becomes, is this something you like to see out of your Portland Trail Blazers?
We've now seen some true passion and emotion out of Batum
Naturally, seeing a player slug an opponent should put you a bit on edge; nobody should covet unnecessary violence that could get somebody hurt.
That being said, the Blazers have been knocked the past few seasons for sometimes being soft and allowing teams to push them around without any real objection.
If there's any positive to take from this, it just might be the fact that we've now seen some true passion and emotion out of Batum.
Batum has been extremely passive for a good part of his career in Portland, and now that he has big-time money sitting in his bank account, fans want to make sure he's going to put the effort forth to earn that contract starting next season.
He's shown that he can explode for great games in the past, and he's even shown that he can do it in dominant fashion; but the competitive edge hasn't always been there.
Do we want to see Batum throwing punches in a Trail Blazers uniform next season? Not a chance.
That being said, we want to see the same kind of passion and the same kind of emotion that led him to feel attacked.
Simply put, we want to know he cares.
If Batum can bottle those emotions and translate them into stellar play and fanatical leadership, he's on the right path to becoming a truly integral part of the Blazers core group moving forward.
CLICK HERE TO CHECK OUT THE TRAIL BLAZERS CLUBHOUSE TODAY AT NWSPORTSBEAT!
© Bryant Knox for North West Sports Beat, 2012. | Permalink | No comment |
Follow NWSB on Twitter or join US on Facebook for real-time updates OR... | Share This on Twitter | Share NWSportsBeat.com on Facebook
Post tags:
2012 Olympics
,
Adrian Wojnarowski
,
France
,
jail blazers
,
juan carlos navarro
,
Mens Basketball
,
Nicolas Batum
,
Olympics
,
portland
,
Portland Trail Blazers
,
Portland Trail Blazers Blog
,
Spain
Original Story:
http://www.nwsportsbeat.com/trailblaz...
THE BACKYARD
BEST OF MAXIM
RELATED ARTICLES
Nic Batum is a sore loser, but Juan Carlos Navarro is going to be sore after this one. In the closing seconds of Spain's 66-59 victory over France, the French Batum wound up and committed a very hard foul on Navarro. It's unclear whether Batum was aiming for a sensitive area or just got carried away committing a hard foul, but either way it's very painful to watch. Check...
Nicolas Batum swung at Navarro's groin area while trying to commit an intentional foul.
By all accounts, Nicolas Batum is a classy fella. Until this week, anyway. Chances are by now you've seen or at least heard about him taking a full on, close-fisted swing and connecting squarely with Juan Carlos Navarro's man region. The incident seemed very un-Nic… and that spells great news for the Portland Trail Blazers. To recap, the Blazers just ponied up some big bucks...
Meet Nicolas Batum a member of the French Basketball team and the NBA's Portland Trail Blazers.  He wasn't very nice earlier today when he punched Spain's Juan Carlos Navarro where the sun don't shine in the last minutes of their loss to the Spaniards 66-59.  Talk about not taking a loss very well huh?  This isn't the first time a player has been...
Olympic Video: Nicolas Batum Hits Juan Carlos Navarro In Nuts. This was from yesterday's France vs. Spain match up. I am going to file this under "You can not make this up. This was in no way an accident. Nicolas Batum takes a running go with one intent. That intent was simply to hit Juan [...]
The low blows all started when the Carmelo Anthony got hit there but that can't compare to what happened to Juan Carlos Navarro of Spain. With the game winding now France's Nicolas Batum decided to do a full out punch to Navarro's groin region. That's not cool. Here is what Batum told Adrian Wojnarowski of Yahoo Sports. "I wanted to give him a good reason...
The France-Spain quarterfinal game turned ugly for France on many levels. For one, France only scored 6 points in the 4th quarter and went on to lose 66-59 to Spain ending any medal hopes. And then France's Nicolas Batum lost his cool and punched Spain's Juan-Carlos Navarro right square in the nuts. Afterwards, Adrain Wojnarowski of Yahoo Sports asked Batum about the cheap...
The Spanish men's basketball team beat France earlier today, earning them a spot in the semifinals at the London Olympics. But the real news of the game had nothing to do with the final score. It was all about a cheap shot Nicolas Batum took at Juan Carlos Navarro in the closing seconds of the game. The French team was getting frustrated throughout the game, claiming that Spain...
While people want to turn video of Melissa Tancredi stepping on Carli Lloyd's head into the next Zapruder film, I think the majority of us can agree that Argentina's Facundo Campazzo blatantly hitting Carmelo Anthony in the nuts was one of the lowest points of Olympic competition. After all, there's an unwritten law and a code among men that you should never smack another bro...
Spain/France semifinal game. France's Nicolas Batum decided to punch Spains Juan Carlos Navarro in los testicles. Image via Better than Carmelo Anthony's nailing? Why not click the Google +1 &... Full story at Bob's Blitz ~ http://www.bobsblitz.com
Here is the GIF of the vicious groin shot by Nicolas Batum of France on Spain's Juan Carlos Navarro during an Olympics basketball game on Wednesday.Batum used a closed fist to smack Navarro hard in the groin area. Batum was clearly frustrated and decided to take his frustrations out on Navarro.Spain won 66-59.
Every Olympiad is known for some hallmark events. Beijing was known for Michael Phelps going 8-for-8 in gold medals; Atlanta saw the Magnificent Seven win it all with Kerri Strug hobbling on one leg; and Los Angeles was dominated by Carl Lewis' four golds in track and field. What will the London Games be remembered for? You could say Phelps, who won six medals in his final Olympics...
Trail Blazers News

Delivered to your inbox

You'll also receive Yardbarker's daily Top 10, featuring the best sports stories from around the web. Customize your newsletter to get articles on your favorite sports and teams. And the best part? It's free!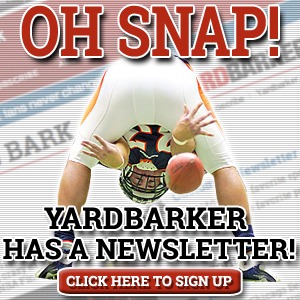 Latest Rumors
Best of Yardbarker

Today's Best Stuff

For Bloggers

Join the Yardbarker Network for more promotion, traffic, and money.

Company Info

Help

What is Yardbarker?

Yardbarker is the largest network of sports blogs and pro athlete blogs on the web. This site is the hub of the Yardbarker Network, where our editors and algorithms curate the best sports content from our network and beyond.