Found December 30, 2012 on NBA 24/7 365:
From his brute strength to his steady demeanor, there are countless reasons to like Nikola Pekovic, but I've always felt that one of the massive Montenegrin's most fascinating attributes is his efficiency.  Now, when I say "efficiency" I'm not referring to a shooting percentage, or a point per shot ratio, or any other statistic, basic or advanced.  In using the term "efficiency" to describe Nikola Pekovic, what I actually aim to depict is the ever-concise manner in which he goes about scoring the basketball. When it comes to Nikola Pekovic, there's simply no wasted motion.  He's become so proficient at rolling into the paint and establishing deep post position that he needs little time, space, or technique to make his final charge to the front of the iron, where he'll either finish, be fouled, or finish and be fouled.  Unlike many of today's scorers who prefer to isolate and create their own shots, Pekovic does the bulk of his work before he even catches the ball.  Playing under team-oriented coach Rick Adelman and alongside a band of intelligent, unselfish running mates, Pekovic's proficiency in moving without the ball has made him one of the league's most potent interior weapons. Yesterday, Pekovic scored the first of his 13 field goals on a baseline spin that led to a right-handed hook shot over Marcin Gortat.  As exemplary an exhibition of post play as it was, I was much more enamored with the simplistic nature of his 26 points that followed.  Remarkably, Pekovic managed to score all but 4 of his team-high 28 without making a single individual move, save for a pump fake here and there. Understand that following is one of the most unspectacular highlight reels you'll ever see.  Also understand that that's precisely what makes it so beautiful.  After all, the game of basketball is about putting the ball in the basket.  Hence the name, basketball.  The easier this task is accomplished, the better. As you can see, Nikola Pekovic is a basketball player.  While some might contend that these 28 points are rather unremarkable on the basis of the apparent leisure with which they were scored, I firmly believe that that's a load of horse manure.  Have you ever watched Roy Hibbert set a screen and roll to the basket?  If so, you know all too well that there's a lot more to it than meets the eye.  The same can be said for Pekovic's ability to establish deep post position.  It may look elementary, but few possess the capability and/or desire to repeatedly do so, thus making it a valuable talent. Indeed, Pekovic's hulking frame, determined mentality, and reliable motor have made him a master in the art of fundamental big-man tactics.  His epigrammatic method was on display all evening long as he destroyed Marcin Gortat on Saturday, mostly because Gortat and the Suns were unable to force him to waiver from it.  In a day and age where many will complain that style has overtaken substance, Nikola Pekovic has become a master of playing to his most basic strength, which just so happens to be, literally, his strength.  To reach that level, it's taken a certain degree of discipline… one that can be appreciated by anyone who's watched five minutes of Josh Smith or Antoine Walker. Rudimentary and repetitive, but ridiculously effective — that's Nikola Pekovic in a nutshell.  Like the wise man who said it before him, Pekovic understands, if it ain't broke, don't fix it.
Original Story:
http://nba247365.com/?p=9286
THE BACKYARD
BEST OF MAXIM
RELATED ARTICLES
MINNEAPOLIS Ricky Rubio did not practice Monday after missing Saturday's game against Phoenix with back spasms. The point guard began feeling back pain and stiffness on Friday at practice, and it got worse from there. He warmed up Saturday and hoped as late as an hour before the game that he'd be able to play, but he still felt too stiff, he said. Rubio said that he feels...
MINNEAPOLIS – Two-time All Star Kevin Love worked overtime the last three days in an effort to carry himself and his team successfully into 2013, and then teammate Nikola Pekovic took the Timberwolves there in Saturday's 111-107 victory over Phoenix at Target Center. Losers of big leads in consecutive games before Saturday, the Wolves watched a nine-point, third-quarter lead...
MINNEAPOLIS Happy New Year, and welcome to 2013 in the NBA, where Tuesday's games mean as much as Monday's, where win streaks remain and losing streaks linger and today looks about the same as yesterday. The New Year in basketball is little more than semantics, its only value being that the playoffs are one day closer, the season that much more advanced, identities that...
MINNEAPOLIS J.J. Barea raised his arms in incredulity, the most J.J. Barea of shrugs. It was directed mostly at the refs -- he ended up with a technical foul -- but at least partly at the shot he'd just accidentally assisted. It was the sloppiest kind of pretty. As the clock ticked down at the end of the third quarter, Barea had just heaved a shot while teetering beyond the...
MINNEAPOLIS In the NBA, the distinction between Dec. 31, 2012 and Jan. 1, 2013 is nil. The season continues, the games keep on coming and teams are largely the same as they were the night before. Regardless, though, there's some finality to the end of a calendar year, especially for a team like the Timberwolves that's so dramatically different today than it was at the end...
MINNEAPOLIS -- Two-time All Star Kevin Love put in three days worth of hard work in an attempt to carry himself and his team successfully into 2013, and then teammate Nikola Pekovic took the Timberwolves there in Saturday's 111-107 victory over Phoenix at Target Center. Sidetracked most of the season by injury, illness and some untimely comments made to Yahoo! Sports, Love stayed...
Oh what could have been...
Brandon Roy's new return date is uncertain.
Derrick Williams had a decent showing in Minnesota's 111-107 win over Phoenix Saturday, but he probably would have like to have this alley-oop attempt back. Williams got a long pass from Alexey Shved and tried dunking it home except the rim got in the way. The result was a pretty solid brick for the blooper reel. Video via @cjzero
We here at That NBA Lottery Pick are fans of missed slam dunks and there was an epic one over the weekend.In Saturday's Phoenix Suns/Minnesota Timberwolves affair, Timberwolves forward Alexey Shved tried to throw an alley-oop to Derrick Williams.Watch as Derrick completes the catch but gets denied by the rim:
NBA News

Delivered to your inbox

You'll also receive Yardbarker's daily Top 10, featuring the best sports stories from around the web. Customize your newsletter to get articles on your favorite sports and teams. And the best part? It's free!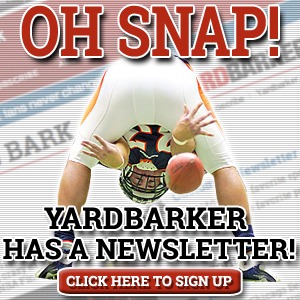 Latest Rumors
Best of Yardbarker

Today's Best Stuff

For Bloggers

Join the Yardbarker Network for more promotion, traffic, and money.

Company Info

Help

What is Yardbarker?

Yardbarker is the largest network of sports blogs and pro athlete blogs on the web. This site is the hub of the Yardbarker Network, where our editors and algorithms curate the best sports content from our network and beyond.