Found December 14, 2011 on Celtics Town:
PLAYERS:
Danny Ainge
,
Kwame Brown
,
David West
,
Chris Wilcox
,
Jeff Green
,
Brandon Bass
,
Von Wafer
,
Keyon Dooling
,
Antoine Walker
,
Chris Paul
,
Sasha Pavlovic
,
Marquis Daniels
,
JaJuan Johnson
,
Delonte West
,
Dwight Howard
,
Goran Dragic
,
Andrew Bynum
,
Paul Pierce
TEAMS:
Boston Celtics
,
Golden State Warriors
,
New Orleans Pelicans
,
Orlando Magic
,
Houston Rockets
,
Los Angeles Lakers
Beginning the free agency season, the Celtics' best-case scenario had the team filling its center need by using its mini mid-level exception to sign someone like Kwame Brown. That sounds like a joke, but it's not.Despite years of being a punch line and hands that couldn't hold on to a ball of masking tape, Brown serves a purpose as an above-average defender willing to play a subservient offensive role. Instead of adding Brown or someone similarly useful albeit lacking greatness, the market dictated that the Celtics do otherwise. Brown was somehow worth $7 million, a trade to acquire David West fell through and the Celtics snatched Chris Wilcox with their mid-level exception rather early in the signing period.The Brown contract should give you an idea of the odds Danny Ainge was working against. He needed to rebuild a bench from the ground up, he needed to do so with almost nothing to spend, he needed to do so while maintaining Boston's financial flexibility beyond this season, and he needed to do all that in a market that labeled Kwame Brown worthy of $7 million for one season and paid DeAndre Jordan — who has averaged more than 20 minutes per game just once and has never reached averages of eight points per game or eight rebounds per game — $43 million over four seasons. Ainge used every ounce of creativity he could muster to build a reasonable bench. The C's bench is now competitive, and Ainge preserved every penny of 2012 cap space Boston had.He overpaid Jeff Green for one season instead of committing long-term money; upgraded from Glen Davis to Brandon Bass while somehow helping Boston's salary (I envision Ainge taking Otis Smith to the bar, ordering round after round of shots, telling the bartender to fill his own shots with water, and finishing the night by carrying a violently drunk Smith to his front door and asking him, "so, um, Davis for Bass works as long as I sweeten the deal by adding Von Wafer?"); acquired a decent backup guard (Keyon Dooling) for some random overseas player the Celtics have held the rights to since — wait for it — the Antoine Walker trade in 2005; almost patched together separate trades that could have netted Boston either Chris Paul or David West; questionably re-signed Sasha Pavlovic; added a competent backup small forward who may or may not still be slowed by last season's spinal cord surgery (Marquis Daniels); and used the mid-level exception on Wilcox, a big with athleticism to burn. In less than a week, Ainge built a backup rotation of Dooling-Daniels-Green-Bass-Wilcox, with JaJuan Johnson, E'Twaun Moore and potentially a couple others battling for playing time. Solid. But there are questions about Boston's summer. Big ones.Specifically:1) Why didn't they re-sign Delonte West? By almost any measure, West is a better basketball player than Keyon Dooling. He signed a minimum deal in Dallas. He wanted to play in Boston. So what gives? Why were the Celtics content to get rid of West? Was he a bigger locker room disruption than we ever heard about last season? Were the Celtics worried by his injury history? I liked the Dooling acquisition. He's solid. You know what you're getting from him. But he's not nearly as talented as West. Failing to re-sign Delonte was weird. I'm convinced there's something we don't know.2) Um, Sasha Pavlovic? I realize that Pavlovic signed for the minimum and there weren't too many other options. But I would have been more excited if the Celtics re-signed this guy.3) Where's the center? There's a 100 percent chance Ainge is still working the phones trying to acquire a natural backup five. After all, the Scotch tape holding together Jermaine O'Neal's body isn't going to last forever. But there aren't many centers left on the market and the Celtics have nothing to spend. Don't be surprised if Boston enters the regular season using a host of power forwards at center. The possibility scares me.4) The Celtics kept their cap space, yes, but how are they going to use it? It's too early to speculate on anything for next season. But if Dwight Howard, Chris Paul and/or Deron Williams don't want to play in Boston (and all indications say they don't), the remainder of the 2012 free agency class lacks star power. I just looked at the list of unrestricted free agents in 2012 and legitimately found myself thinking, "Hmm, maybe the C's could pick up Goran Dragic." That should tell you a little about the class of '12. Andrew Bynum is the only second-tier free agent who could potentially become a franchise cornerstone, and the likelihood is just as high that his body falls apart and he's forced into premature retirement by age 30. Even with cap space remaining — and I loved that Ainge maintained all sorts of flexibility beyond this season, don't get me wrong — the Celtics aren't at all promised to reload after this year.If the Celtics are done making moves before the season comes, I liked Ainge's decisions. He gave Boston a fighter's chance to contend in the East, didn't commit to anybody long-term, built the bench with stable veterans (don't think that's important? Listen to Paul Pierce: "I thought a year ago we had a lot of immaturity with our bench roster, and they brought inconsistent play with them. These guys are a lot more experienced and bring a lot more professionalism on a day-to-day basis. I think they're going to be great.") and came *thisclose* to acquiring David West despite not having anything substantial to offer.But there are still questions, and nothing Ainge during this shortened free agency period is likely to change the fact that Boston's a fading contender that might already have thrown its final haymakers. That sucks. I hate writing it. But it's true.
Original Story:
http://www.celticstown.com/2011/12/14...
THE BACKYARD
BEST OF MAXIM
RELATED ARTICLES
Oscar Wilde once wrote that "ambition is the last refuge of failure."  The Warriors' abbreviated off-season kicked off with plenty of ambition, but there's no masking that its likely conclusion — the signing of Kwame Brown — is a failure.  Brown undoubtedly will help the team at the margin.  But in the big picture, he's [...]
Kwame Brown flew into the Bay Area late Tuesday after signing a one-year, $7 million contract with the Warriors. He met with the media Wednesday, saying "I don't get a lot of blocked shots, but every guy that I play against feels me every second of every game." Here's a look at the rest of an interview with the 6-foot-11, 270-pound banger: What attracted you...
Charlotte Bobcats player-personnel chief Rod Higgins said he's prepared to start the season with Boris Diaw and Gana Diop as the team's centers, after Kwame Brown agreed to a 1-year, $7 million deal with the Golden State Warriors. Brown started...
CHARLOTTE, N.C. (AP) -- Free agent center Kwame Brown has agreed to terms on a one-year, $7 million contract with the Golden State Warriors.
Free agent center Kwame Brown has agreed to terms on a one-year, $7 million contract with the Golden State Warriors.
Former Pistons center Kwame Brown has agreed to terms on a one-year contract with Golden State.
The Golden State Warriors agreed to terms with free agent center Kwame Brown on Wednesday.
Sure, they're costing $16 million combined this season. Yes, they each are beleaguered in their own right.
(source feed provided no summary content for this entry)
Having struck out on attempts to acquire free-agent centers Tyson Chandler and DeAndre Jordan and All-Star point guard Chris Paul, the Warriors on Tuesday signed 2001 No. 1 overall pick Kwame Brown to a one-year, $7 million contract. Brown is a 6-foot-11, 270-pound 29-year-old who joins Andris Biedrins as the only true centers on the Warriors' roster. Coach Mark Jackson said...
(source feed provided no summary content for this entry)
NBA News

Delivered to your inbox

You'll also receive Yardbarker's daily Top 10, featuring the best sports stories from around the web. Customize your newsletter to get articles on your favorite sports and teams. And the best part? It's free!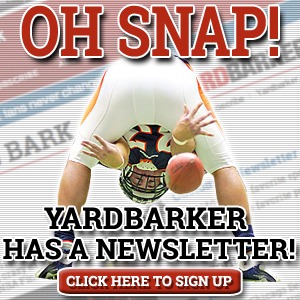 Latest Rumors
Best of Yardbarker

Today's Best Stuff

For Bloggers

Join the Yardbarker Network for more promotion, traffic, and money.

Company Info

Help

What is Yardbarker?

Yardbarker is the largest network of sports blogs and pro athlete blogs on the web. This site is the hub of the Yardbarker Network, where our editors and algorithms curate the best sports content from our network and beyond.