Found May 18, 2012 on TheProBasketballTalk:
This game was over before it began. Well not really, Miami led by 9 after the first but the Pacers never looked back as they cruised to a 94-75 to win game three and take the series lead, 2 games to 1. This story should be about how well the Pacers played, controlling the glass, being aggressive offensively and doing a great team effort defensively against the Miami Heat. However, nothing is ever about the Miami Heat's opponent, it will always be about them. Let's make it about them then. If they so dare. I want to start with the biggest culprit on the Heat, no not Lebron James and his amazing flopping and acting jobs, but Dwyane Wade. Wade had the nerve to complain about the Pacers game two celebration on the court (which lasted under 10 seconds) and then come to Indiana to put in 5 points. That is right, 5 points. "Superstars" are not suppose to only chip in five points, especially in the playoffs. Paul Pierce has never scored under 10 in a game in his career, let alone...
Original Story:
http://feedproxy.google.com/~r/Probas...
THE BACKYARD
BEST OF MAXIM
RELATED ARTICLES
IT WAS A GOOD RUN?
A Heat beat reporter speculated during a radio interview that if the team fails to win an NBA title this season there is a very real chance that the team will be broken up.
Dwyane Wade visited Tom Crean during Miami's off day on Friday.
Let's be clear:  There will be no saving LeBron James from a playoff collapse this time. There's no excuse to be made.  You could talk about Chris Bosh's injury being a factor, but that doesn't change the fact that LeBron played one of his worst games of the year against Indiana last night. 22 points, 22 shots, 7 rebounds and general disinterest.  None of that stat line...
    The Indiana Pacers defeated the Miami Heat 94-75 tonight to take a 2-1 series lead in their Eastern Conference semifinals matchup. Indiana's defense held Miami to 37% shooting, with Dwyane Wade among those not able to find his shot. He finished with 5 points, making just 2 of 13 shots from the floor, [...]
Dwyane Wade is probably lucky it wasn't Ozzie Guillen's face he was getting into during Game 3 on Thursday. Wade drew some backlash after he was seen fiercely confronting Heat coach Erik Spoelstra on the sideline during Miami's nightmarish loss to the Pacers. Wade was ultimately separated by teammates, but Guillen says that wouldn't have been necessary if he were in Spoelstra's...
INDIANAPOLIS –The Miami Heat can officially press the panic button. In doing so, it would be the best thing for them as the Heat and Coach Erik Spoelstra need to come to a firm understanding of what is about to happen. They are no longer in the zone where they can just cruise over teams with a mere flick of their wrist.
Dwyane Wade yelled at Erik Spoelstra during a third-quarter timeout of Miami's 94-75 loss to the Pacers.
For a team trailing 2-1 in a playoff series, Game 4 is always a must-win scenario. Today's Game 4 against Indiana is still a must-win for the Heat, but for far more than the simple reason of having a shot to win the series. Dwyane Wade walks off the court as the Pacers celebrate their 78-75 Game 2 victory. (Andrew Innerarity / Reuters) The most basic reason the Heat need a victory...
If one thing has become clear, it is that this is not the same Miami Heat team that has dominated the Indiana Pacers the past two seasons. By all means, holding a talented and deep team like the Indiana Pacers to under 45% shooting should mean certain victory. However, the beauty (or the bane) of the NBA fan is that nothing is certain in the playoffs. The Miami Heat...
Miami, FL -  This game was brutal to watch.  The Pacers blew an 11 point lead only to trail late in the fourth quarter.   Indiana missed 24 out of their 29 shots in the quarter, were outscored by Lebron James and Dwyane Wade in the fourth, yet somehow won this game. Both teams had chances to take the lead with free throws.  Both teams combined for 2-8 in the final minute...
The Indiana Pacers won game two of their series with the Miami Heat 78 to 75 Tuesday night. The series is now tied at one and heads to Indiana for game three on Thursday night.  The Pacers leading scores were David West with 16 and George Hill with 15 while Dwyane Wade had 24 and Lebron James had a game high 28 for the Miami Heat. Many people thought that Miami would easily win...
We start with this one here.  This has been the common opinion about Lebron James these days (well years).  Although not much statistical evidence backs this up, a lot of moments like this help the anti-Lebron team's case. Anyways, you never want a rookie showing you up on national tv.  Think Lebron will see this video soon? Ah, Dwyane Wade...
NBA News

Delivered to your inbox

You'll also receive Yardbarker's daily Top 10, featuring the best sports stories from around the web. Customize your newsletter to get articles on your favorite sports and teams. And the best part? It's free!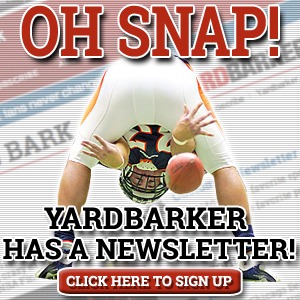 Latest Rumors
Best of Yardbarker

Today's Best Stuff

For Bloggers

Join the Yardbarker Network for more promotion, traffic, and money.

Company Info

Help

What is Yardbarker?

Yardbarker is the largest network of sports blogs and pro athlete blogs on the web. This site is the hub of the Yardbarker Network, where our editors and algorithms curate the best sports content from our network and beyond.