Found April 11, 2012 on NBA 24/7 365:
I'm just going to be honest here: Vince Carter beat Johan Petro because he's Vince Carter.  When the dunks in question are of a similar caliber I normally go with the one that was more of a facial, which, in this case, would be Petro's… but I'm rolling with VC's fly-by on Whiteside because, well, would you ever read this blog again if I took Johan Petro over Vince Carter in any sort of tossup that involved slam dunking?  I didn't think so. I airmailed a finger roll like that on my Nerf hoop one time.  I've done it many times, actually.  Like Carter, I always respond by dunking the ball ferociously.  Me and Half Man, we're basically the same… assuming I'm playing on a pint-sized goal. Dunk rating on the Starbury Nastiness Scale: 7/10 Starbury Nasty Faces 2011/12 Daily Poster Stats Throwback Poster of the Day: Andrew Bynum on Emeka Okafor…
Original Story:
http://nba247365.com/?p=5913
THE BACKYARD
BEST OF MAXIM
RELATED ARTICLES
Vince Carter is one of the best dunkers in the history of the NBA, but for whatever reason in a game last night he attempted a finger roll that did not go so well. This happened in a game last night when the Sacramento Kings visited the Dallas Mavericks. In the 3rd quarter of that game Carter took a pass from Jason Kidd at the top of the three point line. Carter then...
Now that Lamar Odom has finally cut ties with the Mavericks but will still be paid for the remainder of the season, he's pretty much free to do whatever he wants. What would you do for the next few months if your boss paid you to stay away? Would you go on a long vacation? Sit around and do nothing? Get another job and double up on the money? Metta World Peace has an idea for Odom...
Lamar Odom's time in Dallas appears to be over. If the Mavericks decide to waive the NBA's reigning Sixth Man of the Year, a former Lakers teammate is open to his return. As a ball boy. Metta World Peace -- the artist formerly known as Ron Artest -- joked about Odom's deactivation in Dallas following the Lakers' 93-91 win over the Hornets on Monday. "Maybe he...
Dirk Nowitzki and Rodrigue Beaubouis each had 15 points to lead six Dallas players in double figures, and the Mavericks beat the struggling Golden State Warriors 110-100 on Tuesday night before hitting the road. After a 12-3 run early in the second quarter that Beaubouis started with a three-point play, the Mavericks never trailed again. Sacramento tied the game a few minutes after...
The player formerly known as Ron Artest never disappoints when a camera or tape recorder is near. Metta World Peace's former Lakers teammate Lamar Odom was deactivated by the Mavericks Monday. When asked about the situation by Dave McMenamin of ESPN LA, MWP offered this activity as an option for Lamar to return to LA: "Maybe he [...]
Lamar Odom was spotted arriving at LAX on Wednesday just a few days after he and the Dallas Mavericks agree to part ways for the remainder of the season. LO was rocking a shirt from his clothing line, Rich Soil that just happened to be in the Lakers color way of purple and gold and [...]
When you're a 35-year-old player who has been in the league for 13 years, sometimes you have to find creative ways to keep up. Vince Carter was either attempting to do that during the Mavericks game against the Grizzlies last Saturday, or he's just a disgusting human being. As you can see from the animation that @cjzero shared on Twitter, Carter blew his bad breath into Rudy...
Dallas Mavericks owner Mark Cuban isn't scared off by New Jersey Nets head man Mikhail Prokhorov. After the 6-foot-9 Russian billionaire jokingly threatened to inflict pain on Cuban if the Mavericks make a play for soon-to-be free agent guard Deron Williams, Cuban fired back - well, sort of. "He obviously didn't see me be the first in WWE history to put Sheamus on...
Momma taught us to share and I think the Dallas Mavericks listened, because they shared a part of the overall glory of a win tonight over the Sacramento Kings. Now a lot of people might think that since the Kings are not in the upper part of the Conference that you can just beat them with ease, that is not the case at all. The Kings have some talented players and they showed some...
– Stock website The Motley Fool has an article on the current state of WWE's stock. As previously reported, the stock has been dropping and is in the $8 range, having closed today at $8.24. – Dallas Mavericks owner Mark Cuban recently spoke with ESPN.com about his appearances on RAW. – Here is a video of Davey Richards offering Adam Cole an ROH title match: – Here is a...
NBA News

Delivered to your inbox

You'll also receive Yardbarker's daily Top 10, featuring the best sports stories from around the web. Customize your newsletter to get articles on your favorite sports and teams. And the best part? It's free!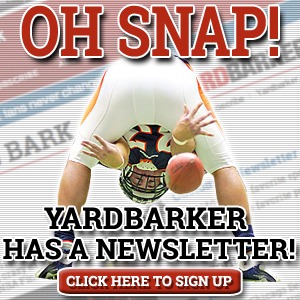 Latest Rumors
Best of Yardbarker

Today's Best Stuff

For Bloggers

Join the Yardbarker Network for more promotion, traffic, and money.

Company Info

Help

What is Yardbarker?

Yardbarker is the largest network of sports blogs and pro athlete blogs on the web. This site is the hub of the Yardbarker Network, where our editors and algorithms curate the best sports content from our network and beyond.