Found January 29, 2013 on A Glam Slam:
The Miami Heat and Oklahoma City Thunder matchup made for a fashion-forward NBA Finals. Players from both sides flaunted their unique sense of style throughout the series. Post-game sartorial winners and losers received almost as much attention as the action on the hardwood. In the end, the Heat were crowned NBA champs, landing them a trip to the White House to meet with President Obama. For the team, this was another opportunity to suit up in their designer threads. Prior to the team's visit, Dwyane Wade took to twitter to showcase his "White House look." The ensemble included a gray suit from Ferragamo and a shirt, patterned tie, and black and white pocket square from Tom Ford. He topped off the look with a pair of $675 Christian Louboutin "Golfito" shoes. In an effort to stand out, Wade often takes fashion risks, be it a bright pop of color or a novel accessory. This time around, the multicolored wing tip sneakers fit the bill. In addition to highlighting the team's accomplishments throughout the 2012 season, the President was quick to compliment Wade's fashion game and even asked him to show off those designer kicks. Here's what he had to say: "We saw Dwyane Wade, the heart and soul of this team, continue to do whatever it takes to win, including leading the team in blocks. And at the post-game press conferences, he dressed well enough to land himself in GQ magazine."  "Show them your kicks here, Dwyane. If any of you can pull this off, other than Dwyane Wade, let me know."  Check out the 2:21 minute mark to catch the President's comments:
Original Story:
http://blog.aglamslam.com/2013/01/29/...
THE BACKYARD
BEST OF MAXIM
RELATED ARTICLES
This might be the age of instant information, but Tom Crean found a way to turn back the clock.On May 17, 2012, Dwyane Wade had one of the worst nights of his NBA career. The Miami guard shot just 2 of 13 for five points in a playoff loss at Indiana. He got into a heated argument on the bench with Heat coach Erik Spoelstra. And, most damaging, Miami was walloped 94-75 to fall behind...
Are you such a huge fan of Dwyane Wade that you are willing to drop $25,000 on his autographed 2005 Range Rover? Yes? That must be a miserable life. However, it's your lucky day. Some guy is selling Wade's old ride, but it comes with a very cool piece of memorabilia. Wade autographed the driver's side visor. Are you a little fat and have been striking out with the ladies...
When the President of the United States makes it a point to address your haberdashery, there can be no question of your fashion icon status. Dwyane Wade and the Miami Heat visited the White House on Monday and during President Obama's remarks about the team's run to the 2012 NBA Championship, he took a moment to point out how DWade is in a lane all his own as far as fashion....
NEW YORK -- The warm January weather hit Brooklyn earlier in the day, followed by a Heat wave that LeBron James and his Miami teammates provided before a sellout crowd of 17,732 on Wednesday night at the Barclays Center. James collected 24 points, nine rebounds and seven assists and Dwyane Wade hit for 21 points as Miami knocked off the Nets for the third time this season, 105...
As previously noted on Outside the Boxscore, when the Miami Heat play a professional basketball game...there will be at least one quality slam dunk highlight. In the third quarter of play, check out LeBron James throwing a half-court alley-oop with ease to Dwyane Wade for a two-handed dunk:
IS NO PLACE SACRED?
Despite being an unofficial member of the "Big Three", Miami Heat forward Chris Bosh often finds himself being overshadowed by LeBron James and Dwyane Wade. After all, both James and Wade are virtual locks for the Hall of Fame one day, and so is Bosh, if you ask him.In celebration of their NBA title last year, members of the Heat were invited to the White House for a tour...
It sure was nice to do comments for a win finally.   Heat fans spend more time trashing their own team than they do cheering for them. I guess that's the nature of bandwagon fans. I love how they say KG is finished and then say they wish Bosh played more like KG.   It was nice to see the Heat fans not gloating over Rondo's injury and wishing him a quick recovery.  ...
The Miami Heat were in the nations capital Monday to celebrate their 2012 NBA Championship. LeBron James, Dwyane Wade, Eric Spoelstra each got a shot at the mic after Obama spoke.Let's hope they challenge Obama and his staff to game of 5-on-5 afterwords.
Back on Monday, the Miami Heat traveled to Washington D.C. to visit the White House and celebrate their 2012 NBA Championship.Heat stars LeBron James and Dwyane Wade decided to roam the halls and took some time to take a photo with a portrait of 42nd USA president Bill Clinton:(Courtesy of TMZ/Image courtesy of LeBron James Instagram Account)
One of the perks of winning an NBA Championship is the opportunity to visit the White House and meet with the the President. Today was that day for the Miami Heat. The entire Heat team, staff and owner Micky Arison were on hand as President Obama took the time to honor the Heat, crack a few jokes at their expense and celebrate their 2012 NBA title. A few of the highlights: The...
NEW YORK -- LeBron James collected 24 points, nine rebounds and seven assists and Dwyane Wade hit for 21 points as Miami knocked off the Nets for the third time this season, 105-85, on Wednesday night at the Barclays Center. The loss snapped an eight-game home winning streak for the Brooklyn and extended the Heat's streak of victories over the Nets to 13 in a row. It also marked...
NBA News

Delivered to your inbox

You'll also receive Yardbarker's daily Top 10, featuring the best sports stories from around the web. Customize your newsletter to get articles on your favorite sports and teams. And the best part? It's free!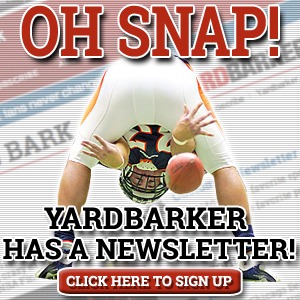 Latest Rumors
Best of Yardbarker

Today's Best Stuff

For Bloggers

Join the Yardbarker Network for more promotion, traffic, and money.

Company Info

Help

What is Yardbarker?

Yardbarker is the largest network of sports blogs and pro athlete blogs on the web. This site is the hub of the Yardbarker Network, where our editors and algorithms curate the best sports content from our network and beyond.