Found June 28, 2012 on Holdout Sports:
President Barack Obama was at a fundraising event in Miami on Wednesday and congratulated the 'Miami Heats' for winning the NBA championship.
President Obama gave a special shout out to former Miami Heat star Alonzo Mourning, who was in attendance with his wife.
We're sure he had nice things to say about LeGron James and Dwyane Wades.
Video via Yahoo! Sports. H/T
Sports Grid
.
Visit us at
http://holdoutsports.com
, and now you can follow us on Twitter at
@HoldoutSports
.
Original Story:
http://feedproxy.google.com/~r/Holdou...
THE BACKYARD
BEST OF MAXIM
RELATED ARTICLES
Last week, we brought you the heartwarming Disney story of Sara Jay and Angelina Castro, the two adult film starlets who promised to suck off all of their Twitter followers if the Miami Heat won the NBA Finals. Well, the Heat won, so it's time to start those Hoovers up, ladies. But if you had Sara and Angelina pegged as liars, guess what? You're hella wrong, son. On August 2...
LeBron James couldn't have asked for a better scenario to win his first NBA title. Not only was he finally able to silence the critics who said he is incapable of winning big games, but he also put the Heat on his back and carried them most of the way. LeBron capped off an MVP regular season with an incredible postseason where he averaged more than 30 points and nearly 10 rebounds...
Well, as we all know, Lebron James and the Miami Heat finally won the NBA title. This was supposed to be their 2nd in what was supposed to "7″ titles. However, it was their first. What changes with this championship other than me no longer being able to wear my "RINGLESS" shirt to mock Lebron? Well, for starters, my view on Lebron is changing. For the past 2 years, I have...
The Miami Heat just completed its victory parade on Monday as the 2011-12 NBA champions, with the proverbial championship monkey finally off LeBron James' back. So while there were a few days of celebrations in South Beach, Heat officials no doubt already are preparing for next season, starting with this Thursday's NBA draft. The Heat were the preseason NBA title favorites in...
After the Miami Heat won their NBA championship last week, it wouldn't take a genius to realize that they were going to be a much more desirable commodity in the Miami market. But I'm not sure if anyone could have imagined that they would be THIS much more of a commodity. Forbes is reporting that the Heat are in talks to extend their TV deal with Fox, and the expected price...
On this edition of The UC Show, Justin Tinsley's long-awaited celebration came to life for LeBron James and the Miami Heat. The man was as joyous as anyone associated with the show could be, and that was due to the Heat winning the NBA Championship one week ago. We had Cuffs the Legend join us, [...]
The general consensus around the NBA is that Ray Allen will sign with Miami. "Barring a change, he'll join the Heat," said a league source.about 9 hours ago via webReplyRetweetFavorite@AlexKennedyNBAAlex KennedyGood thing teams aren't officially allowed to speak to free agents until July 1, huh?
It's been over a week since the Miami Heat won the NBA title, yet it's hard to be sure if the vitriol towards the franchise or LeBron James has abated or not. If you caught the post-championship appearance on "Late Night" where the three-time MVP was given a standing ovation from the crowd, you'd probably [...]
Dwyane Wade will have surgery knee surgery according to Chris Tomasson on July 9th. He is likely to miss at least a big chunk of the Olympics as a result, if not the entire 2012 games. According to Tommasson, Jerry Colangelo was told by Wade that he is looking at a 4-6 week recovery time after the surgery. Below is the report from Tommasson via Twitter: Wade didn't look healthy...
While LeBron James and Chris Bosh take on the rest of the world in London as part of Team USA, Dwyane Wade will be recovering from left knee surgery. Wade's chronic left knee issues will require a procedure in the coming weeks that eliminated the Heat star from Olympic participation. The U.S. roster won't have Bulls' point guard Derrick Rose or Orlando Magic center...
Dwyane Wade's tenure as an Olympian has ended. The newly crowned NBA champ will not be with USA basketball this summer in London. Wade was battling a knee injury for the bulk of the playoffs and has informed USA Basketball Chairman Jerry Colangelo and coach Mike Krzyzewski that he'll be having knee surgery in early July. [...]
LeBron James appeared on the David Letterman show last night, and right out of the gate Letterman jumped into the topic of leaving Cleveland- "Now that you've gotten this out of your system, you ready to go back to Cleveland and play some ball?" Letterman asked more questions about leaving Cleveland than ESPN did on the night of 'The Decision'. James of course side-stepped...
Heat News

Delivered to your inbox

You'll also receive Yardbarker's daily Top 10, featuring the best sports stories from around the web. Customize your newsletter to get articles on your favorite sports and teams. And the best part? It's free!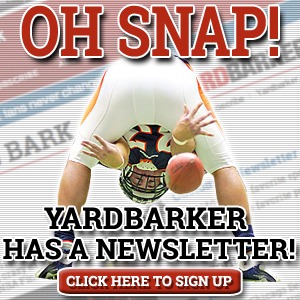 Latest Rumors
The Backyard

Today's Best Stuff

For Bloggers

Join the Yardbarker Network for more promotion, traffic, and money.

Company Info

Help

What is Yardbarker?

Yardbarker is the largest network of sports blogs and pro athlete blogs on the web. This site is the hub of the Yardbarker Network, where our editors and algorithms curate the best sports content from our network and beyond.