Found March 08, 2013 on Purple and Gold Blog:
PLAYERS:
Kobe Bryant
,
Dwight Howard
,
Robin Lopez
,
Rudy Gay
,
Jose Calderon
,
Landry Fields
,
Pau Gasol
,
Jordan Hill
TEAMS:
Los Angeles Lakers
,
Toronto Raptors
,
New Orleans Pelicans
,
Detroit Pistons
Led by Kobe Bryant on offense and Dwight Howard on defense, the Lakers (31-31) stormed back from a 25-point deficit to defeat the stunned Hornets, 108-102. A loss would have been devastating to their goal of reaching the playoffs, but the purple and gold dugged deep and got themselves within a game and a half of the spiraling Jazz for the 8th spot in the west. Tonight, they'll have an opportunity to go above the .500 mark against a team that hasn't beaten them at Staples Center since 2001. Coming into the game, the Toronto Raptors (24-38) have lost 3 of their last 5 road games and 9 of their last 31 outings away from Air Canada Centre. But their inability to win against the Lakers in Los Angeles eclipses whatever record they may have on the road. That is if the Lakers themselves don't let their success against this team dictate how they play tonight. The Lakers may have displayed an unbelievable come-from-behind win against New Orleans, but they shouldn't have been in that position to begin with. That game pretty much told the story of the Lakers this season — good in one moment, terrible in another. Kobe talked about the team passing the test of gut check after that game, but that wasn't the only time this year they've done that. With only 20 games left, including tonight, Laker fans better hope the Lakers will not be tested again to see how badly they want to be in the playoffs. At this point, that should no longer be in question. If not, it's fortunate for the team they have Kobe as their leader. Since the All-Star break, Bryant has been a dominant force for the Lakers averaging 32.8 points, 6.3 assists, 6.3 rebounds, 54% from the field and 42.5% from distance. Better yet, he's found a way to balance his scoring and his assists while dunking over defenders on a bad elbow. His remarkable perseverance has been well-documented throughout his 17-year career. But this season, he seems to have been spitting more venom than usual in order to show his teammates what it takes to win against all odds. Out of all his teammates, Howard is the guy who needed to get the message. For one night at least, he got it. Versus the Hornets, Howard took command of the defense by challenging nearly every shot taken in the paint, but his rejection on a 2-handed dunk attempt by Robin Lopez with only 28 seconds left in the game is the kind of plays the Lakers have envisioned out of him when they traded for him. Will the Lakers continue to see that effort tonight and beyond? This is the final game of the season against the Raptors. The Lakers lost the previous game 108-103 in Toronto, so they're looking for some payback tonight. The purple and gold have won 4 of the last 5 against this team. Matchup of the Game Rudy Gay vs. Metta World Peace: The Raptors have traded away their Laker-killer in Jose Calderon for a much-needed scoring wingman that can defend as well. Gay leads the team in scoring and in steals averaging 19.8 points and 2.3 steals. His length and athleticism over MWP could mean the difference for the Raptors if Metta allows it. Keys to the Game > Dominate: The only way to show that they learned anything against the Hornets is to dominate this game on both ends of the floor from tip-off. The Raptors have a few young, quick, athletic guys who can get it done on offense and defense, so this team shouldn't be taken as a joke despite their recent slump. > Turnovers: Toronto rarely turns the ball over averaging a league 3rd-best 13.3 turnovers per game while forcing their opponents to 14.9 a game. That means that the Lakers better take care of the ball and prevent a lot of easy transition points. > Bench: The 2nd unit for the Raptors is ranked 10th in scoring at 36.6 points per game. But that won't mean anything if the Lakers bench continue to play well and provide support. Watch Out For RAPTORS: Landry Fields: He was the guy for the Raptors last time with his 18 points and 10 rebounds. The Lakers just couldn't seem to stop him at all. Fields is coming off the bench now since they traded for Gay. That might render him less effective tonight, but we'll see. LAKERS: Dwight Howard: Howard was ejected in the 2nd quarter after receiving his 2nd technical foul in Toronto. He'll probably remember that and come out with aggression from the get-go tonight. Game Info Tonight vs. Toronto Raptors Tip-off: 7:30 p.m. (PST) Staples Center TV: TWC SportsNet (Southern California) Radio: 710 AM ESPN/1330 KWKW Injury Notes TORONTO: None. LAKERS: Pau Gasol (foot) and Jordan Hill (hip) are out.
Original Story:
http://www.purpleandgoldblog.com/2013...
THE BACKYARD
BEST OF MAXIM
RELATED ARTICLES
Not sure what made the Hornets forget to guard Kobe Bryant, but with less than 30 seconds left in a two point ball game, Kobe squeezes through the New Orleans Hornet defenders for an easy dunk. Bryant scored 42-points in the L.A. Lakers 108-102 victory.  
The Los Angeles Lakers are a flawed team. They must be to have the roster that they do and not be on top of the league rather than fighting for a playoff spot. However, if there is one thing that can be said about this flawed team it is this--you can never count these guys out. Wednesday night the fans in New Orleans were happy thinking that there franchise was going to topple...
Kobe Bryant rises for a dunk to seal the Lakers' victory over the Toronto Raptors Friday. (Via) If you couldn't tell, Kobe Bryant's amazing offense is an ongoing trend in Laker games. Friday's 118-116 overtime victory over the Toronto Raptors on the Lakers' home court in Staples Center was certainly no exception. Despite the Raptor's poor record and the fact that they...
Since the All-Star break, the Lakers are 7-2. A resurgent Dwight Howard has been a major part of the Lakers' run. Something clicked for Howard in Houston during All-Star weekend. "I stayed in the hotel and just thought about the first half of the season and what I could do better. How I could be better for our team." said the Lakers center. "I just told myself...
I felt the need to chronicle all these crazy things Dwight Howard has said recently.  He should quit basketball and become a politician with his consistent flip flopping. It took his sane teammates, who have things in the right perspective to come out and embarrass him in front of his peoples, if he has any left. Dwight started this off with comments that were down right wrong...
The New Orleans Hornets blew a 25-point lead and lost to the Los Angeles Lakers 108-102 Wednesday. After committing supremely idiotic plays like this one, you can't help but say they deserved to lose. The Lakers faked out the Hornets on an inbounds play with 25.5 seconds left in the game by lining up on the side of the court they were defending, not the one they were attacking...
With Kobe Bryant playing at a historic level, the Los Angeles Lakers are closing in on a playoff spot. The Lakers will try to continue their recent surge on Sunday when they host the Chicago Bulls, who are still waiting on Derrick Rose to make his season debut. After losing 10 of 12 in January, Los Angeles was a season-worst eight games below .500 and its playoff chances seemed...
In case you haven't heard by now, the Los Angeles Lakers staged an incredible, emotional comeback against the New Orleans Hornets on Wednesday night. The Lakers trailed by as much as 25 points in the game, and finished the contest on a 20-0 run to pull of an improbable 108-102 road win. There were a ton of huge plays for the team on the night, but was bigger than Dwight Howard's...
While Dwight Howard does his best to clean up what he says were "twisted" words, J.J. Redick and Rashard Lewis are the latest ex-teammate to express their displeasure with the Lakers' center "disrespectful" but unsurprising comments about his former teammates being players "nobody wanted." According to ESPN Los Angeles: "I'm not surprised by it," Redick told ESPNLosAngeles...
A remarkable comeback in their latest contest showed how serious the Los Angeles Lakers appear to be about making a push for the playoffs. Trying again to move above .500 for the first time since November, the Lakers hope to continue their home success over the Toronto Raptors on Friday night while trying for a season-high fifth straight victory at Staples Center. Trailing by as...
Two crazy plays involving L.A. teams in the Association tonight. First possibly the best alley-lop in NBA history by Jamal Crawford and Blake Griffin. And here's the Hornets forgetting what hoop they were shooting at after over 23 minutes of the 2nd half. Can the Hornets help out the Lakers any more? First they trade them Kobe Bryant and now they both a huge lead in such embarassing...
Next to dunks the most dominant show of force is often the block. Now I know that every blockis not rejected into the seats, but tthey are still among some of the best momentum turning or building plays in the game. Plus they just look cool. So in the near future I think I might start making this a regular feature here at FatManWriting much like the Day in Dunking--the &quot...
NBA News

Delivered to your inbox

You'll also receive Yardbarker's daily Top 10, featuring the best sports stories from around the web. Customize your newsletter to get articles on your favorite sports and teams. And the best part? It's free!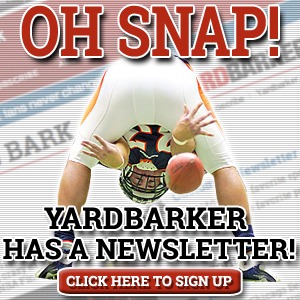 Latest Rumors
Best of Yardbarker

Today's Best Stuff

For Bloggers

Join the Yardbarker Network for more promotion, traffic, and money.

Company Info

Help

What is Yardbarker?

Yardbarker is the largest network of sports blogs and pro athlete blogs on the web. This site is the hub of the Yardbarker Network, where our editors and algorithms curate the best sports content from our network and beyond.