Found November 29, 2011 on Boston's Bettah:
PLAYERS:
Rajon Rondo
,
John Hollinger
,
Chris Paul
,
Glen Davis
,
Jeff Green
,
Danny Ainge
,
Paul Pierce
,
Dwight Howard
,
Jason Kidd
,
Magic Johnson
,
Deron Williams
TEAMS:
Boston Celtics
,
New Orleans Pelicans
,
Orlando Magic
,
Dallas Mavericks
,
Brooklyn Nets
The Boston Celtics are open to trading Rajon Rondo
Back before the NBA Lockout began and turned off almost every non-diehard NBA fan in the World, the Boston Celtics were involved in rumors that could have sent All-Star point guard Rajon Rondo to many different places around the NBA. These seem to come up every NBA off-season because Rajon Rondo is the Boston Celtics only real trade-able asset. Since his contract is so low (about $11 million a year) and he is such a talented player, there are many teams, especially the penny pinchers who feel they can contend, who would love to have Rajon Rondo on the roster. When the lockout started, the rumors went away.
Now that the lockout is over (ending), guess what that means? New Rajon Rondo trade rumors!
Coming on the heels of yesterdays news that the Boston Celtics are pursuing free-agent center Tyson Chandler , ESPN Insider John Hollinger tweeted that a potential target for New Orleans Hornets point-guard Chris Paul could be the Boston Celtics. In order to acquire Chris Paul, the Celtics would need to make a trade and I'm guessing the Hornets wouldn't be willing to accept the pu-pu platter of a Glen Davis sign and trade and Jeff Green. Besides, the Boston Celtics already have a point-guard. What reason would they have to pursue Chris Paul? It's not like Danny Ainge is willing to trade fan favorites for other players (oh wait he totally is).
Well, enter Rajon Rondo trade rumors, courtesy of ESPN's basketball reporter extraordinaire Chris Broussard.
While Boston is not shopping Rajon Rondo, it would be open to trading him in the right deal, sources say. The Celtics feel they need more scoring to take the load off Paul Pierce.
You know what a right offer would be? Well actually their would be two right offers. One would be Orlando Magic center Dwight Howard and the other would be the aforementioned Chris Paul?
I love Rajon Rondo to death. I love watching the way he plays the game with reckless abandon. How he sees angles that nobody else can, how he stuffs the stat-sheet with points, rebounds and assists and how he is one of the (if not best) on ball defenders at the point-guard position.
But Rajon Rondo is the evolutionary Jason Kidd. He has the ability to eventually develop a jump-shot, but there is no guarantee. Chris Paul, on the other hand, is the evolutionary Isiah Thomas who is quite possibly the second best point guard of all time behind Magic Johnson.
I know Celtics fans (and Boston fans in general) love their own, but if the Hornets called the Celtics tomorrow and said "Paul for Rondo", do the Celtics say no? Even better question, if the Celtics called the Hornets and made the same offer, what would be the Hornets response? I'll guess that the Celtics would think about it for a second before saying yes and the Hornets would laugh and hang up the phone. Facts are facts. Chris Paul is the best point guard in the game because he is a more efficient scorer than Rondo and Rondo is the third or fourth best depending on where you rank Deron Williams. Facts are facts.
I guess a trade would be the call that the Celtics are "giving up" on Rajon Rondo and that they aren't going to wait and see how he developed by himself during the off-season. For me, if a trade like this happened, I would be sad that it happened but ultimately would be okay with it.
That's how you know the trade is a success.
~Benti
Original Story:
http://www.bostonsbettah.com/?p=3584
THE BACKYARD
BEST OF MAXIM
RELATED ARTICLES
Every morning, we compile the links of the day and dump them here... highlighting the big storyline. Because there's nothing quite as satisfying as a good morning dump. While Boston is not shopping Rajon Rondo, it would be open to trading him in the right deal, sources say. The Celtics feel they need more scoring to take the load off Paul Pierce. ESPN:  Chris Paul...
Shaquille O'Neal - the man with an opinion on everything - offered his two cents on the Chris Paul-for-Rajon Rondo trade rumors during a morning appearance on 98.5: "Everyone is tradeable, you could probably get a lot for Rajon Rondo but he is the heart and soul of the team," retired star Shaquille O'Neal told 98.5 The Sports Hub's Toucher and Rich. "I don't think...
Rajon Rondo is a passing savant. The man finds such impossible passing angles that you wonder if he's living in a Matrix-type world. Defensively, can drive you more insane than an attacking swarm of bees. Yet for all his strengths, there are also glaring weaknesses. His jumpshot is... actually, I'll leave it at that. We all know that by now. Beyond a less-than-consistent...
(source feed provided no summary content for this entry)
Sports Illustrated's Sam Amick has taken the Rajon Rondo trade rumors to the next level: Ainge, the sources say, has recently discussed trading Rondo in a deal that nets Paul, but the Hornets don't appear interested in a two-team deal in which Rondo -- who has four years worth approximately $46 million left on his contract -- and Paul would switch places. So Ainge has been...
Officials from the Pacers have been making calls to gather insight into Rajon Rondo's reputation over the past few days.
I interrupt your regularly scheduled (and wildly entertaining) trade rumors to bring you a Boston Celtics training camp 2011 update. (Boston Globe)With training camp just 10 days away for all NBA teams, the Celtics have apparently made a decision on where they will workout in preparation for the 2011-12 season. According to a source, the Celtics will stay home and train at their...
With the NBA back in business, trade rumors are flowing. One of the most interesting trade rumors is between the Boston Celtics and the New Orleans Hornets. The trade rumor has Rajon Rondo being traded in a package for Chris Paul. Chris Paul is obviously a much better player than Rajon Rondo, so why is this trade even a possibility? It's simple: Chris Paul is a free agent this...
The Boston Celtics are trying (rather aggressively, if you believe the rumors) to acquire Chris Paul. But I believe there must be something bigger at play, something bigger even than Chris Paul, even if that "something bigger" seems far-fetched and improbable and very much Dwight Howard.On the surface, trading Rajon Rondo for Chris Paul does not make sense. I certainly believe...
NBA News

Delivered to your inbox

You'll also receive Yardbarker's daily Top 10, featuring the best sports stories from around the web. Customize your newsletter to get articles on your favorite sports and teams. And the best part? It's free!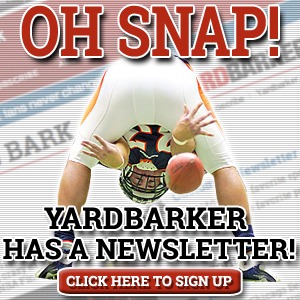 Latest Rumors
The Backyard

Today's Best Stuff

For Bloggers

Join the Yardbarker Network for more promotion, traffic, and money.

Company Info

Help

What is Yardbarker?

Yardbarker is the largest network of sports blogs and pro athlete blogs on the web. This site is the hub of the Yardbarker Network, where our editors and algorithms curate the best sports content from our network and beyond.