Found October 03, 2012 on Pass The Pill:
Rajon Rondo Vs CP3….Who Is Better? There are a lot of great point guards in the NBA these days. However, Rajon Rondo and Chris Paul are among the top five at the position. Some may argue that both could be MVP candidates during a given season. If you had to choose one of these players, which one would you want on your team? Rondo Is A Playmaker There is no denying that Chris Paul has the ability to create plays. When you are playing with Blake Griffin, there is no shortage of opportunities to make a top play. However, Rondo has a unique gift to improvise unlike any point guard in the league. He is the guy that you would want on your team if you were playing at the playground or during a pickup game at the community center. His ability to make things happen on the fly makes others around him much better. How Does That Translate To An NBA Court Saying that Rondo is the better playmaker is merely a subjective argument. Let's take a look at the statistics to see who contributes more to their team during the season. Chris Paul In 60 games, Paul averaged 19.8 points and 9.1 assists per game. This means he was able to feed the players around him while also being able to score on his own. Paul was on the court for over 36 minutes a game last season. That means he was on the court helping his team for the majority of every game. You cannot help your teammates if you are sitting on the bench in foul trouble. Rajon Rondo In 53 games, Rondo averaged 11.9 points while also averaging 11.7 assists. You could look at his lower point total and assume that he wasn't pulling his weight. However, you have to remember that Kevin Garnett, Ray Allen and Paul Pierce were the scorers on that team. As long as he is feeding them the ball, he is doing his job. Rondo Gets A Slight Edge Due To Playoff Success Choosing between Rondo and CP3 is still a toss up. To break the tie, we will look at who has had more success in the playoffs. In this category, there is no doubt that Rondo wins hands-down. He has led the Celtics to multiple NBA Finals appearances and has even won a championship. On the other hand, Rondo has had the luxury of playing in the east while Paul plays in the west. While Rondo was beating up on teams such as Philadelphia, Atlanta and Milwaukee, Paul has had to play the Spurs, Lakers and Mavericks. Considering that those three teams have represented the west in 10 of the last 11 NBA Finals, Paul has had an uphill battle. This is why Rondo only gets a slight edge despite his superior record of playoff success. Choosing between Rondo and Paul is really a matter of personal preference. When given a talented supporting cast, both can lead their teams to the playoffs. If you want someone who will score more points, you go with Paul. If you want someone to make crazy plays, you want to go with Rondo. Personally, I would take CP3 because he has a little more natural talent. Author Bio: Don Phan is a full-time marketing analyst at Fanatics Inc and a part-time sports blogger. His company sells licensed sports merchandise and runs several brands including Pro Sports Memorabilia. You can find authentic basketball memorabilia of current and former NBA greats at their online store. The post Rajon Rondo vs. Chris Paul appeared first on Pass The Pill.
Original Story:
http://sports-kings.com/passthepill/r...
THE BACKYARD
BEST OF MAXIM
RELATED ARTICLES
During an interview with CSNNE, Rajon Rondo said that he was getting a haircut in his basement when he saw a poster on the wall of the Celtics' 2008 NBA Championship team. At about 2 minutes into the video above, Rondo says "I believe this team is more talented than that team. But the key to the success in 2008 is that everyone bought into the system. So if we can believe...
Rajon Rondo likes this year's Celtics. A lot. Rondo, who won an NBA title with Boston in 2008, thinks that this year's squad is the best that Danny Ainge has assembled since the point guard was drafted in 2006. "This is the best team we've had since I've been here, I think, as far as on paper, as far as the depth of talent," Rondo said, according to WEEI...
"I believe this team is more talented than that team…but the key to the 2008 team is that everyone bought into the system….guys probably won't play their normal amount of minutes that they have in the past because we're such a talented team." - Rajon Rondo Bold. Bold statement. That 2008 team was near flawless. And since then, teams like the Knicks, Heat and Lakers have...
Kevin Garnett sat down with CSNNE to discuss his close relationship with Rajon Rondo. KG says he's there for Rondo at any hour of the night to give him advice and that they are both stubborn guys (shocker). It's always a good thing when a team's two best players have a tight relationship.
 We read previously that Rajon Rondo organized practices for the Celtics in LA and the guys played some football. Looks like some of that is carrying over to Turkey now. Check out the video above of Rondo throwing a touchdown pass to Jeff Green. Hopefully we will see some crazy court-long alley oops from Rondo to Green this season. Thanks to ThunWest from the shoutbox for sharing the video
Your votes have been tallied, and in an extremely close poll, Rajon Rondo's Nike Foamposite "Galaxy" is the winner! Rajon's Nike Huarache 2K4 Celtics p.e. lost by only 3 votes! The Galaxy Foams were arguably the hottest and craziest release of the last year. To this day, they are still going for upwards of $1,000 on Ebay. I know that many of you have commented here, and...
We're down to the final four top plays of 2012.  Today's matchup features two plays from the C's starting back court (well, once everyone has returned from injury).  Is this when Rondo gets unseated? #1 Seed: Rondo's Sick Spinning Pass vs Warriors: In the midst of a season-long west coast road trip, Rajon Rondo executed perhaps one of the most amazing plays of the entire...
The Boston Celtics are much like the original Mars Rover. Experimental in nature, the Spirit was only supposed to last a short time. Instead, it long outlasted its expected shelf life, and it spawned a new generation of rovers that ushered in a new era of space exploration. The new Big-3 era was really only supposed to last three years. The Celtics were supposed to have a...
The "Big Three" is no more. A new era of Celtics basketball is about to begin, and it will likely begin and end with Rajon Rondo leading the way. Yes, Kevin Garnett and Paul Pierce are still here while Ray Allen joins the Miami Heat, but don't be fooled. Judging by the chatter emerging from Celtics training camp, it is becoming increasingly clear that this is Rondo...
Listen to internet radio with CLNSRadio on Blog Talk RadioDefinitely the best show yet. Subscribe on iTunes or listen above.ESPN Boston's Greg Payne and CSNNE's Jessica Camerato joined me and co-host Ty Ray last night to talk about training camp and Camerato's recent phenomenal piece on Keyon Dooling.Topics discussed included, but were not limited to:Darko Milicic = badass...
Contributed by guest blogger Frank PalmasaniThere is a new sheriff in Los Angeles… Right?Maybe, but not likely.Yes, they have Chris Paul running the court in the Staples Center painted red, white and blue. And yes, they have the always entertaining and high-flying Blake Griffin. But are those two players along with a talented to decent entourage of role players and back-ups enough...
Photo by Jonathan Bachman/AP 2011-2012 season: Hornets lose a top 10 player and leader of the team, in Chris Paul. They struggle to find a owner for the franchise. They place 15th in the Western Conference. No idea what direction they are headed as they had no owner to make decisions. Only won 21 games and according to the percentages that still wouldnt be enough to land the...
NBA News

Delivered to your inbox

You'll also receive Yardbarker's daily Top 10, featuring the best sports stories from around the web. Customize your newsletter to get articles on your favorite sports and teams. And the best part? It's free!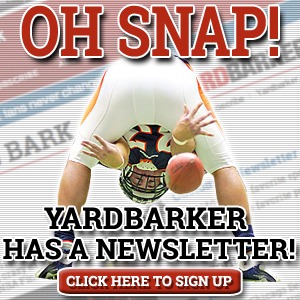 Latest Rumors
Best of Yardbarker

Today's Best Stuff

For Bloggers

Join the Yardbarker Network for more promotion, traffic, and money.

Company Info

Help

What is Yardbarker?

Yardbarker is the largest network of sports blogs and pro athlete blogs on the web. This site is the hub of the Yardbarker Network, where our editors and algorithms curate the best sports content from our network and beyond.