Found August 08, 2012 on Taking Bad Schotz:
PLAYERS:
Samaki Walker
,
Allen Iverson
,
Marcus Camby
,
Shareef Abdur-Rahim
,
Stephon Marbury
,
Ray Allen
,
Antoine Walker
,
Kobe Bryant
,
Peja Stojakovic
,
Steve Nash
,
Zydrunas Ilgauskas
,
Robert Horry
TEAMS:
New York Knicks
,
Miami Heat
,
Los Angeles Lakers
,
Dallas Mavericks
The 1996 NBA Draft is known as the best of all-time. The top 20 includes Allen Iverson, Marcus Camby, Shareef Abdur-Rahim, Stephon Marbury, Ray Allen, Antoine Walker, Kobe Bryant, Peja Stojakovic, Steve Nash, Jermaine O'neal, Zydrunas Ilgauskas, and of course Samaki Walker. Samaki (and his suit) was the 9th pick of the draft, projected to be better than Kobe Bryant and more. The Dallas Mavericks drafted the potential stud out of Louisville after swapping picks with the Celtics, who drafted the better Walker. Samaki went on to be the franchise's youngest player to ever appear in a game, and managed to have a decent rookie year, averaging 5 ppg and 3.4 rpg starting in 12 games. The next season he started in 7 more games, and averaged career highs with nearly 9 ppg and 7.4 rpg, Samaki actually looked like a promising power forward. Unfortunately the next season Walker was limited, but he still put up 6 ppg. The next season the championship Spurs signed Samaki to contribute off the bench. In his two seasons with the Spurs he averaged 5.2 ppg. Walker was released in summer 2001, and claimed by the Los Angeles Lakers to be their starting PF. Walker was a solid role player averaging 6.7 ppg and 7 rpg, shooting over 50% for the only time in his career. Samaki is most known for his 3-point halftime buzzer beater in Game 4 of the Western Conference Finals against the Kings that shouldn't have counted. As the story goes, the Lakers make an epic comeback and Robert Horry hits a game-winning 3-pointer. Kings fans blame Samaki Walker, the refs, and Vlade Divac's tip for the loss.  However, Kings fans should blame me for their loss… I just so happened to be at the tunnel of that game when Robert Horry was walking to the court from halftime. I didn't know exactly what to say, but when he passed me I immediately screamed and demanded, "Hit a 3 for me Robert!" (We were on a first name basis). Horry didn't respond, or turn back and give me a wink like I hoped, but I know he heard me. That 2nd half he hit a few three's, but I know that last one was for me. So, am I as responsible as Samaki Walker for that comeback win? Yes. Clearly I motivated Robert Horry, and if it weren't for my command he wouldn't have made that shot. That 3 was for me. (I'll admit I have nothing to do with the implementation of the instant replay, that's all Samaki). Samaki would go on to win a ring for the Lakers in the prime of his career. He continued to play for the Heat, Wizards, and Pacers before going overseas for more playing time. In 2010 Walker averaged 14.1 ppg and 8.9 rpg in China, he still got it…but then he lost it last year when he tried to eat eight grams of marijuana. -Schotz
Original Story:
http://www.takingbadschotz.com/?p=8224
THE BACKYARD
BEST OF MAXIM
RELATED ARTICLES
LONDON (AP) -- Miami Heat guard Dwyane Wade says his recovery from offseason knee surgery is going as planned, and he's expecting to resume on-court workouts in September. Wade told The Associated Press on Wednesday that "rehab is going very well." He had surgery on his left knee on July 9, after helping the Heat win the NBA championship despite being bothered by...
This summer is shaping up to be LeBron James' defining moment. Two years after his infamous decision to broadcast that he was leaving Cleveland threatened to sidetrack his career, James is back on the Olympic stage. He is two wins from adding to his collection of awards. If the Americans, who play Argentina in the semifinals on Friday, win their second straight Olympic gold...
Dwyane Wade says he looked at what LeBron James did for USA Basketball this summer and marveled. Wade was a spectator instead of a teammate when the U.S. won its second straight Olympic gold medal. Wade could not play while recovering from knee surgery but was in London for part of the Olympic tournament, and he says James made playing at a high level seem ''effortless....
There's nothing like getting your hands on your favorite NBA player's autograph. We've all been there. Waiting on the stands, yelling his name out, pen in hand, just hoping he will stop by sign whatever you got and your day is made. But going that route at least allows you to feel secure you have that player's autograph and don't have to worry if you are being...
As we head into the challenge round of our All Time NBA Mock Draft we have learned a couple of things about people's views on the history of the NBA. A great big man will always influence the game more than a great guard, defense may win championships, but some offensive forces just can't be stopped, and most of all never count out what type of scheme someone is playing in, because...
Dwyane Wade expects to be fully healthy before the start of the regular season, if not the beginning of training camp.
Ugh.From the good people at WEEI, we now have this quote from Dwyane Wade:"When you get a chance to add one of the best shooters in history, the best 3-point shooter in history, and you're adding him and making your team better while at the same time hurting one of your biggest rivals, you're pretty happy when it works out."A few comments. First, congratulations to the...
After winning an NBA championship, a European vacation is the perfect way to unwind. Chris Bosh and his wife Adrienne started off in the Caribbean and then made there way over to Europe hitting up Paris, Greece and Portofino, Italy just to name a few of their destinations. His "Big 3″ teammate, Dwyane Wade and [...]
Call the Bron and Bam show. The reigning NBA Most Valuable Player and the sitting president of the United States met up in London, where the Olympics are in full swing. Barack Obama, along with his wife, Michelle Obama, greeted LeBron James, Deron Williams, James Harden and the rest of Team USA in the locker room. Check out the encounter in the photo below. Photo via Twitter/@BuzzFeedAndrew...
Kevin Garnett could live seven lifetimes doing his best Antoine Walker impression and not spend all the money he's made in his NBA career. As opposed to Walker, he tried to take a chunk of that change he's earned and invest it into a soccer club recently. He attempted to purchase a share of AS Roma to be specific, and let that money make more money for him tucked away somewhere...
NBA News

Delivered to your inbox

You'll also receive Yardbarker's daily Top 10, featuring the best sports stories from around the web. Customize your newsletter to get articles on your favorite sports and teams. And the best part? It's free!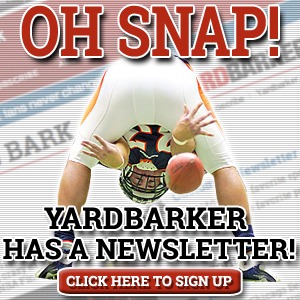 Latest Rumors
Best of Yardbarker

Today's Best Stuff

For Bloggers

Join the Yardbarker Network for more promotion, traffic, and money.

Company Info

Help

What is Yardbarker?

Yardbarker is the largest network of sports blogs and pro athlete blogs on the web. This site is the hub of the Yardbarker Network, where our editors and algorithms curate the best sports content from our network and beyond.