Found August 02, 2012 on Celtics Green ...a boston celtics blog.:
PLAYERS:
Greg Stiemsma
,
Darko Milicic
,
Joel Przybilla
,
Pat Riley
,
Chris Bosh
,
LeBron James
,
Doc Rivers
,
Carmelo Anthony
,
Paul Pierce
,
Jeff Green
TEAMS:
Minnesota Timberwolves
,
Portland Trail Blazers
,
Miami Heat
,
New York Knicks
,
Boston Celtics
Today marked the end of the Greg Stiemsma era in Boston. He was introduced by the Timberwolves at a press conference today. Stiemsma said that he had hoped to return to Boston but they didn't have to twist his arm very hard to get him to return to that part of the country, which is just half a day's drive from his hometown in Wisconsin. He gave props to KG saying this about the Celtics' big man, "He was always willing to teach. He's got such a high knowledge of the game." Stiemsma also said that his feet are feeling great and he doesn't feel limited. He will wear #34 for the Wolves. That seems to be a popular number for former Celtics this off season.
Speaking of centers,  in spite of the fact that the Heat have been linked to just about every available center out there including Darko Milicic, Jermaine O'Neal, Ben Wallace, Joel Przybilla, and others, Pat Riley is quoted
in the Sun Sentinel
saying that the Heat don't need a center.   He uses Tim Duncan as an example of the way they use Chris Bosh at center.  And looking back, the centers on their team have all been benched in the Finals in favor of a small lineup with Bosh at center and LeBron James at power forward.   I'd say that the Celtics are in good shape as far as matching up with them from this standpoint.   Both teams have converted their power forwards to serve as centers.  I'd take KG over Bosh any day,
Doc is doing some good work at the Olympics.  It cracked me up last night when they interviewed the girl who won the gold medal in judo.  She said she was heading to the studio for the interview and there was Doc Rivers and she said" OMG that's Doc Rivers," and he looked at her and said, "OMG a gold medal!"  He said he'd never touched a gold medal before and was able to hold her medal and she was very excited to have met Doc.    On coaching the 2016 Olympics, Doc said if they asked he'd have to say yes, but put in an endorsement for Greg Popovich as his choice for the job.
And, speaking of the Team USA, what a game today!!  The USA basketball team beat Nigeria 156-73.  They broke all kinds of records with their 83 point win.  They had 78 points at halftime and if they had not scored a single point in the second half, they would still have won by 5.  That's pretty scary.  Carmelo Anthony set a record scoring 37 points in just 14 minutes of play.  It was amazing to watch.
Speaking of #34, we know somewhat how Paul Pierce has been spending his time this summer.  I posted
this article
in mid July with a photo from his Facebook page showing him working out in the gym and looking pretty good.  Since then, he has tweeted about eating at Red Lobster and craving their biscuits and more recently, the above photo has circulated around the blogs,  showing the Captain with his wife and two daughters on a lunch outing in Calabasas, California.   At least we know he's been eating well. Hopefully there's as much working as there is eating. 
Celtics fans are getting a bit antsy waiting on Jeff Green's contract to be officially signed.  Lex is bringing up some
conspiracy theories over on Lex Nihil Novi.
   He's got a point.  We have very often had something strange happen.  A player has a strange injury.  Danny doth protest too much about it.  You know the drill.  It's nothing serious.  Just a slight setback.  Nothing to worry about.  Then either Danny drops a bomb about a serious injury (ie: heart surgery)  or we find out it's a lot more serious than they let on because the player never returns (ie: Shaq's injury or KG's knees).  We've all seen it before and we're all wondering what Danny is hiding and we will all keep wondering until Danny either comes clean or Jeff is signed, sealed and delivered.
And finally, speaking of Lex,  if you want some great reading in this slow part of the off season, hop on over to
Lex Nihil Novi
and you'll find some of the most original content of any Celtics blog.   And while I'm at it,  another blog to check out is
Celtic Nation
. This is a great blog with original content that will help you pass the dog days of summer.  Lee Lauderdale is reprising his Summer Quandries series there and it's well worth reading.  You'll find #1
here
and #2
here
.   Both blogs are very entertaining and a change from the usual recycled news articles that most of the blogs are forced to post this time of the season.   Oh yeah,
Celtics Green
isn't all that bad either.  :)  I hope you'll stick with us this off season as well. 
[
Discuss on CG Forums!
]
Original Story:
http://celticsgreen.blogspot.com/2012...
THE BACKYARD
BEST OF MAXIM
RELATED ARTICLES
The Daily Times reports that Celtics new signee, Dionte Christmas, led a trio of former Temple players on a team called "Take Your Game To Another Level" to win the Delco Pro-Am title with a 67-62 victory. The tournament took place at Haverford College just outside of Philadelphia, Pennsylvania. One of Christmas' teammates was former Knick, Mardy Collins, who played...
celtics.com: "Ray made the best decision for him," Pierce told the team's official website Thursday in his first public offseason comments. "That's what it's all about: You get in these situations, you become a free agent, and you make a decision based on what's best for you and your family. Ray will always be a brother for me. If it wasn't for...
CSNNE's Jessica Camerato's new "Beyond The Arc" features an interview with Celtics 1st round draft pick Fab Melo. Melo discusses playing soccer, food, meeting KG, learning the Celtics defense and more. Video can be viewed below or on CSNNE.
Herald   New Magic coach Jacque Vaughn shows charisma on first day Celtics sign Jason Collins, re-sign Keyon Dooling Globe   Dooling re-signs with Celtics Celtics Green  Celtics Officially Sign Four Players Five Years Ago Today, Everything Changed The Importance of Chemistry Doc Blames Himself for Ray's Departure Celtics Life  Olympics/Champions Day 4 Wojnarowski...
Paul Pierce gave his first interview of the offseason to Molly McGrath over at Celtics.com where he offered his thoughts on a multitude of topics, including the departure of former Celtic Ray Allen:"It's going to be a little weird. Ray made the best decision for him. That's what it is all about. When you are a free agent you make the best decision for you. He'll always...
Another must read Doc Rivers article from Adrian Wojnarowski, this one is full of a very candid Doc talking about the reason Ray left, a lot of them are the rumors that were reported recently. Doc also says he takes full blame for Ray Allen's decision to leave. Essentially what Doc says is Ray left for a few reasons. 1. He was upset that Rondo had the ball so much and his role...
It's not too often that a player leaves a team via free agency and that player's former coach shoulders the blame for said player leaving. Apparently in the case of Ray Allen leaving the Boston Celtics for seemingly greener pastures (pardon the pun), Doc Rivers is feeling a bit guilty about some of the decisions [...]
Over the last couple of weeks, reports have surfaced in the media stating that the reason Boston Celtics veteran shooting guard Ray Allen, decided to take his talents to South Beach, was due to a deteriorating relationship with Boston's starting point guard Rajon Rondo. Celtics bench boss Doc Rivers, felt he had to clarify the situation and in an interview that was published Wednesday...
When Ray Allen left the Boston Celtics to join the Miami Heat in free agency many wonder why? Well it appears Allen did not get along on the best of terms with Celtics point guard Rajon Rondo and management. As you see below Doc Rivers says blame him for Rondo leaving. There is no question when he is on his game Rondo is one of the best point guards in the NBA. He is...
The Bucks are interested in signing Mickael Pietrus or C.J. Miles to add depth to their small forward position.
I've written a couple articles lately about how Red put character first in choosing his players and how important signing players with good character is to developing chemistry on a team. I said in one article that I thought Danny did a good job in bringing in that type of player for this year's Celtics. Today, in the Sun News, there is evidence of this very thing. We...
  Every morning, we compile the links of the day and dump them here… highlighting the big storyline. Because there's nothing quite as satisfying as a good morning dump. In the 2012-13 NBA season alone, Garnett should surpass 6,000 points, leaving Ray Allen (5,987), Bailey Howell(5,812), Don Chaney (5,689), Dee Brown (5,512) and Larry Siegfried (5,420) in his wake....
NBA News

Delivered to your inbox

You'll also receive Yardbarker's daily Top 10, featuring the best sports stories from around the web. Customize your newsletter to get articles on your favorite sports and teams. And the best part? It's free!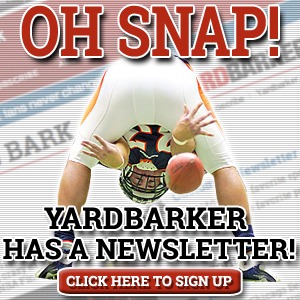 Latest Rumors
Best of Yardbarker

Today's Best Stuff

For Bloggers

Join the Yardbarker Network for more promotion, traffic, and money.

Company Info

Help

What is Yardbarker?

Yardbarker is the largest network of sports blogs and pro athlete blogs on the web. This site is the hub of the Yardbarker Network, where our editors and algorithms curate the best sports content from our network and beyond.