Found January 31, 2013 on BlackSportsOnline:
Brooklyn Nets forward Reggie Evans wanted LeBron James and the Heats attention last night and he got it.  Evans who was asked before the game against the Heat about LeBron, went on to say that the championship the Heat won meant nothing, because it came during a lockout.   Evans and the Nets then went on to get blown out by the Heat and James let it be known saying the Heat "did our number on him." Evans is now backtracking on his statements, and according to ESPN New York, says his comments "were misinterpreted." "Well, I didn't say it didn't prove anything. Those were not my exact words," Evans said during an interview on SiriusXM radio's "Off the Dribble" show. "I just said they won a championship in a lockout season. That's what I said. So I never downplayed it or nothing, I just said they won a championship. That was really about it. I guess people  just took it out of proportion." Evans then went on to say if he had something to say about Bron, he'd say it to his face.  "One thing about me is like when I'm gonna talk about you, I'm pretty much gonna say it in your face. I'm not gonna go in the media and say it to the media. It was kind of hilarious to me because I think it was blown out of proportion because that's not my DNA. I don't throw jabs through Twitter or social media. I don't do that type of work. It's cool. I'm not dwelling over it. I just think it was taken way out of proportion and stuff like that." Evan got LeBron's attention and then reacted moistly to it, by not sticking around for questions after the blowout.  Say it with your chest Reggie.
Original Story:
http://feedproxy.google.com/~r/blacks...
THE BACKYARD
BEST OF MAXIM
RELATED ARTICLES
LeBron James was finally able to get the monkey off his back last year by winning an NBA championship with the Miami Heat. He will never silence all of his critics, but there is much less to rag on LeBron for now than there was seven months ago. However, Brooklyn Nets forward Reggie Evans still feels that LeBron has yet to accomplish much. Why? Because of the lockout. "It doesn't...
LeBron James may be arguably the best player in the NBA today, but he is not the highest paid. In fact, he's not even in the top 10 this season. LeBron will make $17.5 million this season, which is tied for 13th in the league and more than $10 million less than the $27.8 million Kobe Bryant will make. LeBron took less money to go to the Miami Heat for a chance to play with Dwyane...
If there's a case to be made that there's a contender for the Eastern Conference crown other than the Miami Heat, no one has stepped up and made it just yet. But after another Heat demolition of the Nets, this time a 105-85 pounding Wednesday night, it's obvious that Brooklyn no longer has any business engaging in that debate. In their first and only visit to Barclays...
James' agent and childhood friend, Rich Paul, born and raised and still living in Cleveland, has been privately telling people for two years of his intrigue with bringing the prodigal son back as the conquering hero in Cleveland. James will ultimately make the call to return – just like he made it to leave – rest assured that the most important voices in his ear will be partial...
It's always a bummer when a sports fan has to miss a great game to go to work instead. But be consoled, everyday folks, that the scheduling conflicts sometimes happen to people with much higher-paying jobs, too. LeBron James, of all people, is going to miss the Super Bowl this Sunday, and he's not happy. "How disgusting is that?" he said Wednesday, according to the Florida...
There are lot of things to be mad at in the world. Not being able to watch the Super Bowl because you have to work and make hundreds of thousands of dollars while doing it isn't one of those things to complain about. Apparently LeBron James didn't get that memo, [...]
LeBron James is more worried about winning than being the NBA's highest-paid player. At least that's what he told reporters in Indianapolis after a shootaround in preparation for Friday night's game against the Pacers. When James left Cleveland for Miami in 2010, he took less money in order to play with Dwyane Wade and Chris Bosh in hopes of winning a title, which...
LeBron James has contemplated a return to the Cavaliers throughout his tenure with the Heat, according to a report.
Game time: Sunday at 2 p.m. TV: Sun Sports LeBron James and Dwyane Wade have played some of their best basketball against Chris Bosh's former team, and the Miami Heat have yet to drop a meeting with Toronto since the three joined forces. They've yet to face a Raptors squad featuring Rudy Gay, though. The Heat seek a 10th straight victory in this series Sunday as they conclude...
LeBron James had 24 points, nine rebounds and seven assists, and the Miami Heat blew out Brooklyn in the second half for a 105-85 victory Wednesday night, their 13th in a row over the Nets. Dwyane Wade added 21 points and Chris Bosh had 16 for the Heat, who outscored the Nets 56-36 in the second half after it was tied at halftime. In their first game since falling in double overtime...
P.J. Carlesimo is convinced after a month on the job: The Brooklyn Nets are a winning team. He still needs to see, even after one of the best months in franchise history, if they can consistently be one against the teams already at that level. Well, here comes their chance. The Nets begin a tough three-game stretch Wednesday night against LeBron James and the NBA champion Miami...
NBA News

Delivered to your inbox

You'll also receive Yardbarker's daily Top 10, featuring the best sports stories from around the web. Customize your newsletter to get articles on your favorite sports and teams. And the best part? It's free!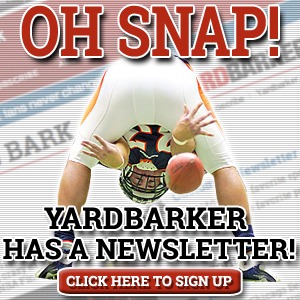 Latest Rumors
Best of Yardbarker

Today's Best Stuff

For Bloggers

Join the Yardbarker Network for more promotion, traffic, and money.

Company Info

Help

What is Yardbarker?

Yardbarker is the largest network of sports blogs and pro athlete blogs on the web. This site is the hub of the Yardbarker Network, where our editors and algorithms curate the best sports content from our network and beyond.